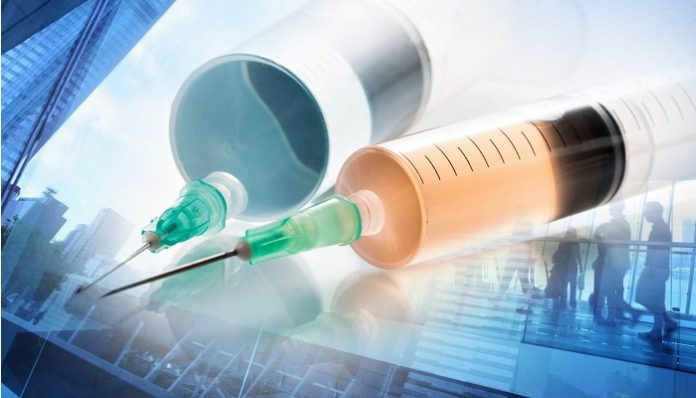 The global market for prefilled syringes reached a value of USD 18.43 billion in 2023 and is expected to experience a compound annual growth rate (CAGR) of 11.95% from 2023 to 2030. This growth is primarily fueled by the increasing demand for user-friendly drug delivery devices and the healthcare sector's efforts to reduce errors in medical settings. Furthermore, advancements in self-injection technology, combined with the impact of the COVID-19 pandemic, are anticipated to further boost market expansion.
The COVID-19 pandemic has significantly boosted immunization efforts worldwide, leading to a surge in demand for prefilled syringes, especially those suitable for storing vaccines at low temperatures. For example, BD strategically positioned itself in the COVID-19 vaccine market by offering glass prefilled syringes designed for ultra-low temperature storage of mRNA vaccines. The global outbreak of COVID-19 in 2020 resulted in a substantial increase in prefilled syringe sales.
The rise in the development of biological therapies is another contributing factor to market growth. Biologic drugs, including therapeutic vaccines, are increasingly replacing traditional treatment methods due to their higher effectiveness and safety. These drugs require innovative packaging solutions to maintain their potency and stability, making prefilled syringes an ideal choice. The expanding biological drug market directly correlates with the growing demand for prefilled syringes.
Concerns about needlestick injuries and the transmission of diseases like HIV and Hepatitis have prompted a focus on safety measures. The prevalence of HIV and accidental needlestick injuries among healthcare professionals underscores the importance of safer alternatives. Prefilled syringes offer a convenient and secure option, reducing the risk of sharps-related injuries and enhancing patient safety.
The use of prefilled syringes in healthcare settings has the potential to significantly reduce needlestick injuries. Safety measures such as concealed needles and the elimination of dose preparation steps make prefilled syringes an effective solution. According to the Centers for Disease Control and Prevention (CDC), the adoption of prefilled syringes could potentially reduce sharps-related injuries by 60-88%.
Regulatory approvals from agencies like the FDA and the EU, coupled with market expansion efforts, contribute to the industry's growth. Companies like Owen Mumford Pharmaceutical Services have received regulatory nods for their safety devices, driving the demand for prefilled syringes.
Auto-injectors are gaining popularity due to their benefits, including patient convenience and reduced contamination risk. Innovative auto-injector platforms like the Aidaptus by Owen Mumford Pharmaceutical Services are expected to stimulate market growth by accommodating various prefilled syringe sizes.
Government investments in advanced syringe production, as seen in Hungary, are poised to support market growth by meeting the increasing global demand for prefilled syringes.
Type Insights:
In 2023, disposable prefilled syringes accounted for the largest market share at approximately 78.98%. These devices are widely used due to their ability to reduce contamination risks. Unsafe practices like reusing prefilled syringes and needles without proper precautions can lead to needlestick injuries. While traditional disposable prefilled syringes protect recipients, they do not ensure patient safety. Hence, there is a growing preference for disposable devices in healthcare facilities and home care, driving the segment's growth.
The segment of reusable prefilled syringes is projected to experience the highest growth rate during the forecast period. Companies are increasingly focusing on designing reusable devices to reduce costs, especially for multi-dose scenarios like insulin pens and Epipens, where timely dosages are frequently needed. Emerging economies are also promoting the use of reusable prefilled syringes and needles to reduce disease transmission, further boosting the segment's growth.
Material Insights:
Glass syringes dominated the market with a revenue share of approximately 53.27%. Glass syringes are considered the industry standard due to their ease of use for healthcare professionals and the ability to detect particulate impurities. The transparency and inertness of glass ensure the purity of the dose, making it a reliable option. However, the demand for safer products for self-administration and the fragility of glass during transportation may pose challenges to the use of glass syringes.
From a manufacturer's perspective, bulk sterilization and reuse of glass syringes can significantly reduce costs and increase profit margins. For instance, SCHOTT AG and Credence MedSystems have partnered to integrate Credence Companion technology with TOPPAC, a polymer syringe, and syriQ, a pre-fillable glass system. This collaboration aims to offer a unique solution for administering injectable medicines using prefilled syringes.
The plastic syringes segment is expected to witness significant growth in the forecast period. Innovative materials like Crystal Clear Polymer (CCP) and Polypropylene, which are inert to most drugs, are driving the application of plastic-prefilled syringes. These syringes offer advantages such as increased patient safety, customization based on patient requirements, and ease of transportation.
Application Insights:
Diabetes dominated the application segment, accounting for approximately 53.75% of the revenue share in 2023. The segment is expected to maintain its dominance due to the large patient base, the increasing prevalence of diabetes, and the demand for effective and safer insulin delivery devices. According to the International Diabetes Federation, the number of people with diabetes is projected to increase from 537 million in 2023 to nearly 783 million by 2045.
Major companies like BD are producing prefilled syringes specifically designed for chronic disease therapy. For instance, BD's Hypak SCF PRTC glass pre-fillable syringe is used to treat chronic disorders. BD also announced plans in May 2023 to spin out its Diabetes Care division as a separate, publicly traded company, aiming to drive product demand. Additionally, segments like vaccines and biotech drugs are expected to experience significant growth as prefilled syringes simplify storage and eliminate the need to transfer drugs from vials.
Distribution Channel Insights:
Hospitals held the largest market share of 52.39% in 2023, driven by the increasing admission of patients with conditions like diabetes, cardiovascular diseases, and cancer. Hospitals are the primary users of prefilled syringes due to their wide range of applications. The development of healthcare infrastructure in emerging economies in the Asia Pacific and Africa regions is expected to fuel segment growth. However, the trend of self-care and devices enabling fewer visits to healthcare professionals may negatively impact the growth of this segment.
The mail-order pharmacies segment is projected to exhibit the fastest growth rate during the forecast period. These pharmacies cater to patients with chronic conditions such as diabetes and anaphylaxis. Subscription services through mail-order pharmacies are preferred by patients who require regular injection doses, reducing the overall cost of therapy. Prefilled syringes sold through this channel need to be designed for maximum patient convenience, as patients self-inject the doses.
Regional Insights:
Europe dominated the prefilled syringes market in 2023, holding the highest share of 39.51%. This is attributed to healthcare practitioners' preference for prefilled injectable devices to reduce needle-related injuries. The region is home to major market players, strengthening their presence over the years. These companies, including Gerresheimer AG, SCHOTT group, Stevanato Group, Haselmeier AG, and Owen Mumford Ltd., have a consolidated market presence in Europe, making it challenging for new players to enter. Various government measures to promote the use of single-use medical supplies for infection prevention and the presence of prominent market participants are expected to contribute to the region's growth.
Asia Pacific is expected to register the fastest compound annual growth rate (CAGR) from 2023 to 2030, driven by fast-growing economies and a largely untapped market. Favorable demographic factors, such as a large population and increasing prevalence of chronic diseases, will fuel market growth in the region. China, Japan, and India provide significant growth opportunities, attracting major market players with increasing Foreign Direct Investment (FDI) and product demand. In China, chronic non-communicable diseases (NCDs) account for approximately 80% of mortality among adults aged 60, with conditions such as Ischemic Heart Disease, Stroke, Chronic Obstructive Pulmonary Disease (COPD), and Type 2 Diabetes being the most common.
Key Players in the Prefilled Syringes Market:
VETTER PHARMA INTERNATIONAL GMBH
BAYER AG
BAXTER INTERNATIONAL
ABBOTT LABORATORIES
BECTON DICKINSON AND COMPANY
GERRESHEIMER AG
WEST PHARMACEUTICAL SERVICES INC.
NIPRO CORPORATION
TERUMO MEDICAL CORPORATION
MEDTRONIC PLC