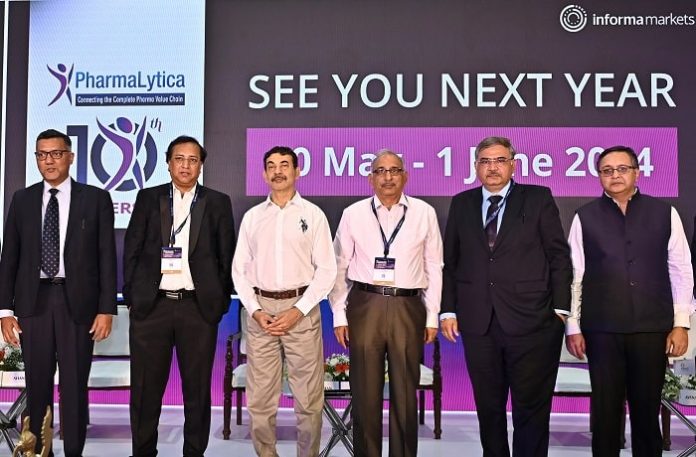 The 9th edition of PharmaLytica, a premier pharmaceutical exhibition, commenced with an unwavering commitment to adapt to the changing healthcare landscape, and meet dynamic patient and business requirements. Organised by Informa Markets in India, the three-day event is taking place at HITEX, Hyderabad, hosting over 150 exhibitors. Allied to South Asia's largest Pharma event, the CPhI & P-MEC India show, PharmaLytica is expected to witness over 6000 domestic and international visitors from 16 countries and 21 Indian states, and approximately 250 delegates over the duration of the expo.
This event serves as a testament to India's vision of becoming the pharmacy of the world, providing a platform that contributes significantly to achieving this ambitious objective. The future of pharma will leverage Robotics and Digitalization to a significantly high degree. These include the use of automated systems, data analytics, and cloud-based architecture, which attendees can witness at PharmaLytica 2023.
The Event had participation from key stakeholders from the Pharmaceutical Industry including Chief Guest Shri Jayesh Ranjan, IAS, Principal Secretary, Industries & Commerce Dept, Government of Telangana; R.K. Agrawal, National President, Bulk Drug Manufacturers Association of India (BDMAI); Harish Jain, President, Karnataka Drugs & Pharmaceutical Manufactures (KDPMA); Avinash Kumar Talwar, Vice President, Dr. Reddy's Laboratories, Shankar Gupta, Chief Sales Officer, ACG; Yogesh Mudras, Managing Director, Informa Markets in India and Rahul Deshpande, Senior Group Director, Informa Markets in India.
Highlighting the importance of technology, Shri Jayesh Ranjan, IAS, Principal Secretary, Industries & Commerce Dept, Government of Telangana said, "The pharmaceutical, biotechnology, and medical devices industry in Telangana has experienced remarkable growth, surpassing initial expectations. Initially projected to reach $100 billion in ten years, the industry has already reached a substantial size of $80 billion, prompting a revision of the target to $250 billion. This buoyancy reflects the industry's potential and highlights the need for the sector to showcase advanced and sophisticated technologies, moving beyond bulk manufacturing. The pharmaceutical industry plays a pivotal role as part of the government's "Atmanirbhar" strategy, necessitating introspection and revaluation to propel further growth. Additionally, the increasing importance of Environmental, Social, and Governance (ESG) standards, driven primarily by European buyers, is shaping the future trajectory of the pharmaceutical sector. The industry must prioritize the integration of cutting-edge knowledge and technology into their processes, and participants in this exhibition will greatly benefit from the extensive showcase of advanced technology, equipment, and machinery."
R.K. Agrawal, National President, BDMAI said, "The pharmaceutical industry is moving towards transparency and visibility, where maintain comprehensive and digitalized records becomes imperative to showcase processes, testing and manufacturing to regulatory authorities during audits. Further, automation and technological advancements contribute to increased efficiency and reduced reliance on manual labor. Despite a highly regulated industry, with approximately 30 Government Departments monitoring operations, the Pharma sector has embraced stringent pollution norms, resulting in improved conditions within pharmaceutical plants. Furthermore, the Indian Government's supportive policies such as streamlining regulatory processes, promoting research and development, and encouraging investments create a conducive environment for industry growth. India is already being recognized as the Pharmacy of the world, and the country is a net exporter of drugs to over 195 countries, which is widely accepted. The sector was growing at a rate of 5% during the Pandemic, and now expected to grow at a rate of 8 to 10%. The Indian drug industry can provide good quality drugs at an affordable price thereby changing the landscape of affordability by providing anti-viral drugs at 1/10th of price to countries like Africa. Bulk Drugs constitute 25% ($15 Billion) of the Indian Pharma industry. Also, once the new Pharma City comes up in Telangana, investment of more than INR. 15000-20000 crores are easily possible by the local API manufacturers, which will further attract more FDI."
Focused on achieving the aspirational growth, Harish Jain, President, Karnataka Drugs and Pharmaceutical Manufacturers Association (KDPMA), said, "India's aspirations in the pharmaceutical industry go beyond its current ranking of 14th in value. The aim is to break into the top five and elevate its position in the value chain. While India is poised for a substantial 8 to 10% volume growth, the focus lies on achieving aspirational growth through innovation rather than traditional generics. This entails embracing new drug delivery systems to propel the industry forward. Research and development, along with awareness of cutting-edge equipment and testing methods, play a crucial role in realizing this vision. Events like PharmaLytica serve to enhance awareness about the latest advancements in equipment, testing methods, and machinery, enabling us to stay informed about emerging technologies."
Mr. Avinash Kumar Talwar, Vice President, Dr. Reddy's Laboratories said, "Hyderabad is the biggest market for pharmaceuticals, and the city is known as the Pharma hub of India. The Indian Pharmaceutical industry is valued at around $50 Billion and is expected to grow at a CAGR of 10.7% by 2030. The pharmaceutical market in India is expected to reach $65 Billion by 2024, and $130 Billion by 2030. As the growth of Pharma market is coming from complex molecules, it will force them to invest and build future state-of-the art labs. The demand for sophisticated equipments and instruments to aid in the process of drug discovery, development, analysis and modelling of the compounds will continue to grow at the same pace. We should be proud that in total there are 214 US FDA approved facilities in Hyderabad which is impressive and that is another reason why Hyderabad is known as the Pharma hub of India. There are many small laboratories in Hyderabad and other South Indian cities like Chennai and Bengaluru who probably cannot visit the overseas equipment manufacturers and other such great expos. Hence, events like PharmaLytica will help provide them with the opportunity to participate and modernize their labs with technologies that will be displayed during the exhibition. Buyers and sellers can exchange their views and explore business opportunities through this event. Pharma packaging involves all the operations, from productions to drug distribution channels to the end customer. Factors such as rising number of pharmaceutical industries in an emerging economy, and rising demand for drug deliver devices, packaging are the major drivers for the pharma packaging market. The current challenge for the packaging industry is to have sustainable packaging at the optimum price along with new industry trends like ESG, and I am sure events like this would help the industry align better and take it to new heights."
Shankar Gupta, Chief Sales Officer, ACG said, "We are proud of India's pharmaceutical industry, which has gained immense recognition during the COVID-19 pandemic. Our country has earned global fame by supplying medicines, including COVID vaccines, not only to our own citizens but also to people worldwide. The pharmaceutical industry in India is experiencing remarkable growth, being the third largest producer by volume and 14th largest by value. However, we strive to further expand our presence and increase the value of our products. Going global is crucial for this endeavor. Events like the one organized by Informa Markets are instrumental in promoting the Indian pharmaceutical industry on an international scale. The tremendous footfall and networking opportunities at this event are a testament to the team's remarkable efforts. We are determined to seize this opportunity and propel ourselves to greater heights"
PharmaLytica featured a wide array of industry-leading exhibitors showcasing their innovations. Notable participants included Advanced Expertise Technology, Allyone Environmental Technologies, Burkert India, IFB Industries, Indu IonPure, Integrated Cleanroom Technology, Labtop Instruments, Lennox Clean Air Technologies, Nicomac Taikisha Clean Rooms, NKP Pharma, Peppermint Robots, Petals Engineers, Scientific Research Instruments Company, Standard Group of Companies, TESTO India, Watermass Systems, and many more.
On the 9th edition of PharmaLytica, Mr. Yogesh Mudras, Managing Director, Informa Markets, India, stated, "With a current value of around $50 billion, India is the third largest pharmaceutical industry in the world. Current projections state this will grow in revenue to $130 billion by 2030. As the Indian pharmaceutical industry charts its path towards becoming a global powerhouse, this expo stands as a crucial event for industry players, investors, and stakeholders to come together, capitalize on the projected revenue growth, and contribute to this remarkable success story. All this is made possible through the expo's pan-India footprint ensuring unparalleled exposure and access to a broad range of industry professionals from around the world which we witnessed here. The growth potential of the Indian pharmaceutical industry is attributed to its large domestic market, cost-effective manufacturing capabilities, and skilled workforce. Supported by the government's policies and initiatives like 'Pharma Vision 2020' and 'Make in India', India aims to become a global pharmaceutical hub. PharmaLytica 2023 offers a unique platform to explore the factors driving the industry's growth and foster discussions, collaborations, and partnerships."