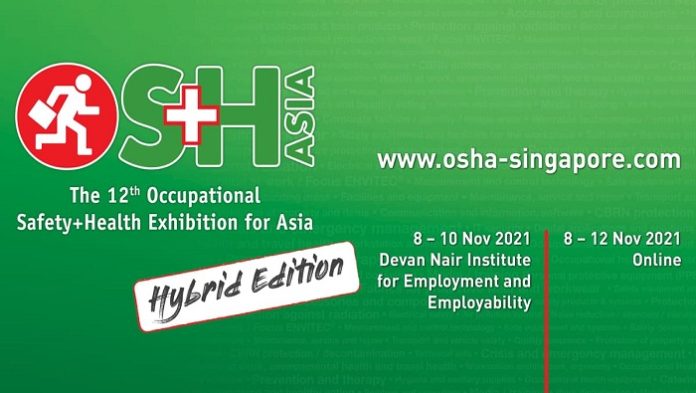 The 12th OS+H Asia exhibition opens next week in the  form of a hybrid edition, bringing the best of both worlds — in-person
experience and online convenience — on the Integrated Virtual  Showcase (IVS). The 'live' component will take place at e2i West (Devan
Nair Institute for Employment and Employability) from 8-10 November,  while the virtual format runs from 8-12 November
With a focus on key issues dominating today's occupational health and safety (OSH) landscape as well as knowledge building and upskilling opportunities for safety professionals, the hybrid edition is based on four key pillars:
Tech Innovation Stage | 8-10 November
Hosted Buyer Sessions | 8-10 November
Integrated Virtual Showcase | 8-12 November
Thought-leadership Industry Events | 8-12 November
The OS+H Asia Hybrid Edition sheds a spotlight on technology and innovation, with presentations and demonstrations by some of the top brands in the workplace safety and health (WSH) space such as ABBOTT, Carestar Robotics, Dräger, Fischer Bell, and Zoll Medical. The Tech Innovation Stage, streamed live and available on-demand, is at the heart of the hybrid edition. Presenting companies will be joined by invited WSH decision makers and buyers from six key sectors: building and construction, marine, transportation and warehousing, medical and healthcare, cleaning and environmental services, F&B hospitality, and manufacturing and processing.
Complementing the Tech Innovation Stage is the Exhibitor Showcase – a sourcing and procurement platform which will profile 60 companies and brands from 19 countries presenting their latest WSH products, newly launched innovations, and latest preventive solutions.
Commenting on this hybrid format, Mr Gernot Ringling, Managing Director at Messe D?sseldorf Asia, says: "This year continues to be a
page-turner, and the pandemic has shown us the importance of innovation and technology particularly in workplace safety, health, and
security. The challenges brought on by the pandemic have presented opportunities for us to rethink how we deliver our events, thus the Tech Innovation Stage will continue to be an integral part of OS+H Asia in future editions."
"We are looking forward to reconnecting with exhibitors, visitors and industry partners and the return of in-person events albeit on a smaller scale for now. With the mandated Safe Management Measures in place, we are confident in a safe, secure, and successful business and networking experience for all involved," he added.
With thought-leadership and knowledge-sharing an integral component of OS+H Asia 2021, there will be a comprehensive line-up of concurrent events, including:
8 November | Asia Pacific OHS Training Convention [hybrid] organised by
Singapore Institute of Safety Officers (SISO), SISO Academy and WSH Council,
– WSH Training in the COVID-19 Endemic Environment
9 November | Forum on Workplace Safety + Health with the theme Fulfilling the WSH 2028 Vision [hybrid]. Jointly organised by Messe Düsseldorf Asia and SISO, the Forum is aimed at empowering WSH professionals with advanced competencies to better implement safety and health practices at different workplaces.
10 November | 19th SISO WSHO Conference [hybrid] – Role of Workplace Safety and Health Officers in Occupational
11 November | National Safety Council Symposium – Ensuring a Safe and Healthy Singapore [online]
Webinar series:
11 November | (IPAF) International Powered Access Federation – A Look at Some Significant Technological Advancements for Safe Use of Mobile-Elevating Work Platforms
11 November | (IALI) International Association of Labour Inspection – Roles of Labour Inspectorates in Respect of Migrant Workers
12 November | (IES) Institution of Engineers Singapore – Design for Safety
12 November | OSH Trends Online Webinar on Hazardous Area: Explosion Prevention by TÜV SÜD | Assets Training & Technical
Services | CTE Australia
OS+H Asia's shift to a hybrid edition in 2021 will ensure its continuity in the OSH space as Singapore prepares to open further and more travel corridors are set up as the COVID-19 pandemic turns becomes endemic.
The physical edition of OS+H Asia will return in September 2022.