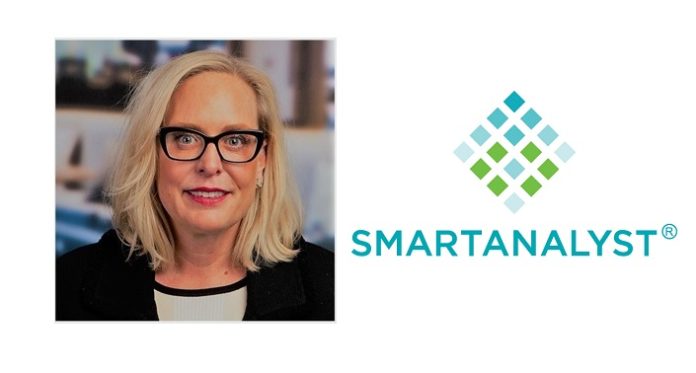 SmartAnalyst, an Ashfield Advisory company, part of UDG Healthcare plc., has appointed Sasha Richardson as Chief Executive Officer.
With 24 years' experience, most recently as a Managing Director and senior leader in Ernst and Young's Health Sciences & Wellness practice, Sasha is skilled in commercial strategy, innovation, value optimization and transformation.
Since its inception 20 years ago, SmartAnalyst focuses on supporting Bio-Pharma innovation by driving the pipeline and portfolio value of pharmaceutical and biotech companies. Sasha succeeds founder and CEO Manu Bammi and Vice President of Research Ritu Kishwar to drive forward this successful business, which is underpinned by a strong client base and served by a team with deep clinical and commercial expertise.
"SmartAnalyst thrives on evidence-driven innovation, curiosity and collaboration, and these are qualities that I strongly identify with," explains Sasha. "The pharmaceutical and biotech industry is constantly evolving and developing at a rapid pace. This past year alone has demonstrated the rate at which progress is happening in healthcare, and this extends beyond the current pandemic.
"Developments in oncology, for example, are transforming the management of cancers. New treatment options, combined with the rise of personalized healthcare, have the potential to change what a cancer diagnosis may mean. SmartAnalyst is well-placed to support these rapidly changing landscapes with our expertise and team of high performance-driven individuals; and this is a challenge I am ready for."
SmartAnalyst provides strategy consulting services, HEOR / RWE solutions, and syndicated databases and insight reports that are compelling, strategic and actionable. Focused on oncology, hematology, immunology & inflammation, neurosciences, cardiometabolic, ophthalmology and rare diseases, SmartAnalyst strives to improve patient outcomes and garner market success for our client partners.
As part of the newly formed Advisory Ecosystem Model Ashfield Advisory, a business unit of Ashfield, SmartAnalyst sits alongside Vynamic, Putnam Associates and STEM Healthcare, combining their expertise to provide specialist, yet integrated services to customers spanning insight, strategy, action and evaluation.
About SmartAnalyst
SmartAnalyst, an Ashfield Advisory business, is a strategic consulting and analytics business focused on the pharmaceutical and biotech sector. Founded in 2001, SmartAnalyst has 150 employees working across operations in New York, London and Gurgaon, India. Deep science-based specialists who can seamlessly navigate the complex healthcare ecosystem; we bring strategic insights that inform biopharma client decisions for pipeline development and clinical investment at the asset, disease and portfolio level. Ultimately to help patients have access to differentiated therapeutics.
About Ashfield Advisory
Ashfield Advisory, part of UDG Healthcare plc, is an ecosystem of connected advisory and consulting businesses including Vynamic, Putnam Associates, STEM Healthcare and SmartAnalyst. All four businesses have specific areas of expertise and are focused on market access and shaping the healthcare industry by hiring top talent, building deep industry expertise, cultivating a boutique approach to client partnerships, and capitalizing on the team's expansive research and data insights.
About Ashfield
Ashfield, part of UDG, is an integrated healthcare services partner, offering a breadth of services across strategic consulting, benchmarking, commercialization, customer engagement, events, marketing and communications. Ashfield comprises of three clearly defined, integrated business units: Ashfield Advisory, Ashfield Engage and Ashfield Health. Together, the Ashfield team uses imagination, strategy and action to redefine and deepen client partnerships, reimagine health and improve lives. Ashfield has carefully curated its business through the acquisition of 22 companies and is committed to offering streamlined services to best meet its clients' needs. With a presence in 50 countries, over 7,000 employees strive to provide best-in-class service for more than 300 clients, including the top 30 global pharmaceutical companies.