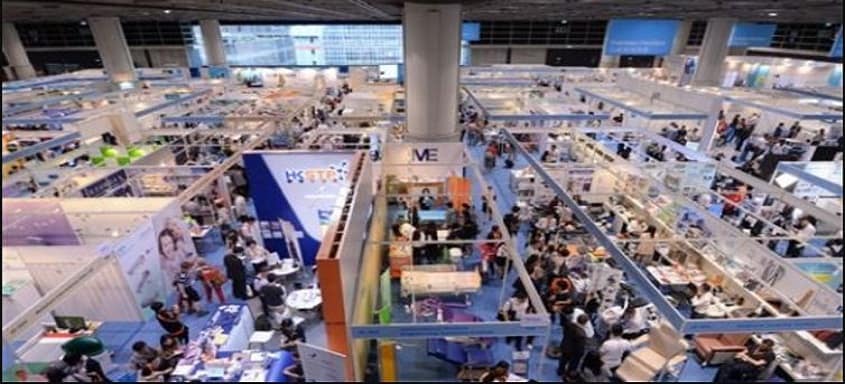 The eighth HKTDC Hong Kong International Medical Devices and Supplies Fair opened today at the Hong Kong Convention and Exhibition Centre (HKCEC).
Organised by the Hong Kong Trade Development Council (HKTDC) and co-organised by the Hong Kong Medical and Healthcare Device Industries Association (HKMHDIA), the three-day fair (16-18 May) showcases the latest medical equipment, technology and related services, providing a one-stop business platform for the medical industry.
This year's Medical Fair welcomes a record 270 exhibitors from 14 countries and regions. The HKTDC has also organised 37 buying missions, bringing more than 1,400 buyers to the fair, including representatives of Ziwell Medical (S) PTE LTD and NTUC Unity Healthcare Co-operative Ltd from Singapore, ServiPlus Medical Equipment Inc from the Philippines, Malaysia's Felco Medical Supplies Sdn Bhd, and Health-Care Equipment from the United Kingdom.
"The aging population and increasing awareness of healthcare needs have resulted in a flourishing global demand for medical and healthcare products," said HKTDC Deputy Executive Director Benjamin Chau. "As technological advances are hugely important in the medical devices industry, there is also growing demand for new equipment for the medical industry. In response to the rapid development of the medical devices and healthcare industries, the Medical Fair is launching the new 'World of Healthcare' and 'Startup' zones. The Medical Fair also features a number of specialised products zones, including the 'Household Medical Products' zone and 'Rehabilitation and Elderly Care' zone, creating a comprehensive trading platform to help the industry grasp the rapidly growing medical supplies market."
New pavilions present the latest equipment and technology
This year, the Medical Fair welcomes new group pavilions from the US State of Illinois, as well as from the Czech Republic, India and Poland's Wielkopolska region. An exhibitor from the United States is showcasing a professional ultrasonic fetal heart monitor and surgical equipment for gynecological cryotherapy. Returning pavilions include those from the Chinese mainland's Ningbo city, Pakistan and the HKMHDIA, which comprises about 30 companies. Exhibitors from Korea, Singapore and Thailand also made their debut at the fair, further enriching the variety of medical equipment and devices on show.
Debut of "World of Healthcare" and "Startup" zones
Responding to growing awareness of the importance of personal health, the fair introduces the "World of Healthcare" to present healthcare products and services, including fitness products, health food and beverages, and nutritional supplements. The medical industry is also becoming a popular sector for entrepreneurs, with many start-ups developing new medical supplies and technologies in recent years. The "Startup" zone, which is being introduced at the Medical Fair this year, showcases the creativity of Hong Kong start-ups, allowing them to meet with buyers and potential business partners to explore new business opportunities. One of the start-ups offers an automated full bathing system with temperature control, surrounding water jets and warm-air drying, and features that reduce the risk of falls during a shower (Booth no: 3G-D23). Another start-up is showcasing a series of products for treating and relieving back pain (Booth no: 3F-J03).
Special zones for quality medical equipment and technology
Organised into more than 15 specialised product zones for easy sourcing, the Medical Fair gathers a wide spectrum of medical and healthcare equipment and services. According to the United Nations, the total global population is estimated at around 7.5 billion people, with 960 million or 13 per cent of the total population who are aged 60 or above in 2017. To keep pace with rising demand in the "silver market," the Rehabilitation and Elderly Care zone showcases products and services for general care and rehabilitation after illness or injury among elderly people. Products include an exercise machine equipped with various muscle-training programmes that improve respiratory and cardiovascular system functions among patients with Parkinson's disease (Booth no: 3F-F15), as well as an innovative tank-top developed by the Hong Kong Polytechnic University, which features a bio-feedback system with multiple sensors used to treat scoliosis (Booth no: 3F-F09). As household medical products and services grow more popular, many companies have launched products specific to the household market. The Household Medical Products zone, another fair highlight, presents various household medical devices, including an electrocardiograph smart-watch band (Booth no: 3F-G03) that can facilitate immediate diagnosis and treatment of heart disease.
With new innovations in medical technology, there is growing demand for diagnostic and surgical equipment. The Hospital Equipment zone showcases specialist equipment and technology, including ultrasound and imaging tools, as well as a range of surgical instruments. The fair's Physiotherapy zone presents the latest physiotherapy equipment, devices and related services and products, including a therapy mattress, therapy light, physiotherapy plinth and physiotherapy massage equipment.
Seminars to analyse market trends
To help industry professionals monitor the pulse of the market and expand their business networks, a series of seminars are being organised. Today's (16 May) events include a seminar on "The Hottest Trends Revolutionising the Medical and Healthcare Device Industries"; the Continuing Medical Education workshop on "Disease Prevention: Cervical Cancer and HPV Infection", co-organised with the Hong Kong Doctors Union; as well as the Continuing Nursing Education workshop, co-organised with the Hong Kong Health Care Federation. The Czech Republic pavilion, participating in the fair for the first time, will invite professionals to present an overview of the Czech medical market and their latest medical equipment and services tomorrow (17 May). Representatives from the Hong Kong Electrical Appliance Industries Association and Hong Kong Medical and Healthcare Device Industries Association will also speak at the seminar "Sparking Innovation: The Game Changers of the Healthcare Sector". The seminar on "Worldwide Medical Device Regulatory Updates" and the Continuing Medical Education workshop "Coronary Angioplasty: Update for Daily Clinical Practice 2017" will be held on 18 May.
Professor John Leong Chi-yan, Chairman of Hong Kong's Hospital Authority, was the officiating guest at today's networking reception (16 May). Offering added synergy with the fair, the Hospital Authority Convention 2017 (16-17 May) is expected to bring in more than 5,000 delegates, making it one of Asia-Pacific's largest events for medical professionals.
Hong Kong's total exports of medical and healthcare equipment reached HK$12.8 billion in 2016, an increase of 8.1 per cent over the previous year, with favourable growth in many markets such as the Chinese mainland, the US, ASEAN and the UK.
Hong Kong International Medical Devices and Supplies Fair:www.hktdc.com/hkmedicalfair