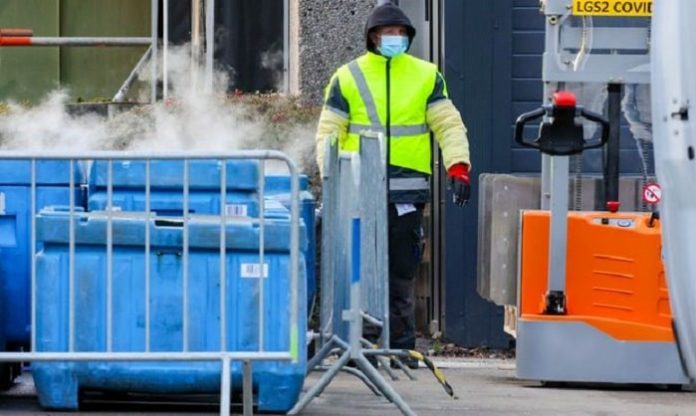 The large amounts of dry ice needed to speed Covid-19 vaccine candidates to pandemic-weary populations will call for special attention from airlines and safety regulators.
Dry ice, the solid form of carbon dioxide, is a critical part of plans to transport the vaccine developed by Pfizer Inc. and BioNTech SE, which must be kept at ultracold temperatures. Pfizer expects to ship 50 million doses world-wide by the end of the year. The vaccine was the first to be authorized in the West, receiving clearance for emergency use in the U.K. last week. It is under review by the Food and Drug Administration in the U.S.
Widely used as a refrigerant, dry ice is classified as a dangerous good by the International Civil Aviation Organization and the U.S. Department of Transportation because it changes to gas form as it breaks down, a process called sublimation. Shippers must use ventilated containers that allow the gas to release, to prevent pressure from building up and rupturing the packaging.
The gas can also displace oxygen in confined spaces with poor ventilation, creating a suffocation hazard, though the risk is minimal under normal cabin ventilation, according to the Federal Aviation Administration.
"If oxygen levels get down below 19%, that could cause a hazard to people and animals," said Delmer Billings, technical director for the Dangerous Goods Advisory Council, a nonprofit trade group that promotes safe transportation of hazardous materials. "If you deplete oxygen sufficiently, it could cause unconsciousness, even death," he added.
Air carriers involved in vaccine transport efforts are asking aviation regulators to increase the amount of dry ice they are allowed to carry on flights hauling vaccines as they work with drugmakers and governments to set up distribution channels. Restrictions on the amount of the material on planes are typically based on aircraft ventilation rates and factors such as the size of the plane and whether it is used for passenger or cargo flights, said Robert Coyle, senior vice president of pharma and healthcare strategy at freight forwarder Kuehne + Nagel International AG.
On Thursday, Delta Air Lines Inc. said it had received FAA approval to double the allowed load of dry ice on its Airbus A330 and A350 wide-body jets, and six times the prior allowed load for shipments using a special suitcase-sized storage container that Pfizer designed.
Delta has done trial runs with vaccine cargoes from Europe and to Latin America, and within the U.S., all on cargo-only flights.
United Airlines Holdings Inc. secured FAA approval last month to boost its dry-ice allowance to 15,000 pounds from 3,000 pounds, for chartered cargo flights between Brussels International Airport and Chicago O'Hare International Airport to support distribution of the Pfizer and BioNTech vaccine. A United spokeswoman said the airline "has effective procedures in place to ensure we safely handle all the hazardous materials we are permitted to carry on board our aircraft."