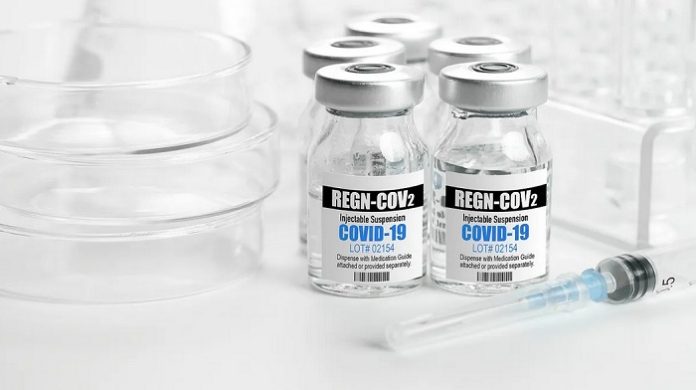 Regeneron Pharmaceuticals, Inc. announced that the U.S. FDA updated the Emergency Use Authorization (EUA) for the investigational COVID-19 antibody cocktail REGEN-COV™ (casirivimab and imdevimab). The authorization now includes post-exposure prophylaxis in people at high risk for progression to severe COVID-19, who are not fully vaccinated or are not expected to mount an adequate response to vaccination, and have been exposed to a SARS-CoV-2 infected individual, or who are at high risk of exposure to an infected individual because of infection occurring in the same institutional setting (such as in nursing homes or prisons).
In those who require repeat dosing for ongoing exposure, REGEN-COV can also now be administered monthly. This new indication in people aged 12 and older is in addition to the previously granted authorization to treat non-hospitalized patients. REGEN-COV is not a substitute for vaccination against COVID-19, and is not authorized for pre-exposure prophylaxis to prevent COVID-19.
"Today's FDA authorization enables certain people at high risk of developing severe COVID-19 infection to access REGEN-COV if they have been exposed to the virus – the first time an antibody treatment has been authorized for this purpose," said George D. Yancopoulos, M.D., Ph.D., President and Chief Scientific Officer of Regeneron. "With this authorization, the FDA specifically highlights the needs of immunocompromised people, including those taking immunosuppressive medicines, who may not mount an adequate response to vaccination, who are exposed to a person with COVID-19 or are in an institutional setting and are at high risk of exposure because of infection occurring in the same setting. Today's FDA decision to expand the use of REGEN-COV in post-exposure settings is a very helpful step, and we continue to work with the FDA as it undertakes its review of REGEN-COV in a broader group of people including in a pre-exposure prophylactic setting for people who are immunocompromised, and in patients hospitalized due to COVID-19."
Experts estimate that approximately 3% of the U.S. population may not respond fully to COVID-19 vaccination because of immunocompromising conditions or immunosuppressive medicines. This includes people receiving chemotherapy, people with hematologic cancers such as chronic lymphocytic leukemia, people receiving stem cells or hemodialysis, people who have received organ transplants, and/or people taking certain medications that might blunt immune response (e.g., mycophenolate, rituximab, azathioprine, anti-CD20 monoclonal antibodies, Bruton tyrosine kinase inhibitors). This authorization enables these groups to use REGEN-COV to prevent infection in post-exposure and certain institutional settings.
Under the EUA for post-exposure prophylaxis, REGEN-COV can be administered by subcutaneous injection or intravenous infusion. For people who aren't expected to mount an adequate immune response to vaccination and who have an ongoing exposure to SARS-CoV-2 for more than four weeks, the initial 1,200 mg dose can be followed by subsequent repeat dosing of REGEN-COV 600 mg once every four weeks, for the duration of ongoing exposure.
REGEN-COV has not been approved by the FDA, but is currently authorized for the duration of the declaration that circumstances exist justifying the authorization of the emergency use under section 564(b)(1) of the Act, 21 U.S.C. § 360bbb-3(b)(1), unless the authorization is terminated or revoked sooner.
Multiple analyses, including a recent publication in Cell, have shown that REGEN-COV retains potency against the main variants of concern circulating within the U.S., including Delta (B.1.617.2; first identified in India), Gamma (P.1; first identified in Brazil) and Beta (B.1.351; first identified in South Africa). Consequently, REGEN-COV remains available for use across the U.S., and Regeneron will continue actively monitoring the potency of REGEN-COV against emerging variants.
The development and manufacturing of REGEN-COV have been funded in part with federal funds from the Biomedical Advanced Research and Development Authority (BARDA), part of the U.S. Department of Health and Human Services' Office of the Assistant Secretary for Preparedness and Response, under OT number: HHSO100201700020C.
Regeneron is collaborating with Roche to increase global supply of the antibody cocktail, with Roche primarily responsible for development and distribution outside the U.S. Regeneron and Roche share a commitment to making the antibody cocktail available to COVID-19 patients around the globe and will support access in low- and lower-middle-income countries through drug donations to be made in partnership with public health organizations.
About Regeneron
Regeneron is a leading biotechnology company that invents life-transforming medicines for people with serious diseases. Founded and led for over 30 years by physician-scientists, our unique ability to repeatedly and consistently translate science into medicine has led to nine FDA-approved treatments and numerous product candidates in development, almost all of which were homegrown in our laboratories. Our medicines and pipeline are designed to help patients with eye diseases, allergic and inflammatory diseases, cancer, cardiovascular and metabolic diseases, pain, hematologic conditions, infectious diseases and rare diseases.
Regeneron is accelerating and improving the traditional drug development process through our proprietary VelociSuite technologies, such as VelocImmune, which uses unique genetically humanized mice to produce optimized fully human antibodies and bispecific antibodies, and through ambitious research initiatives such as the Regeneron Genetics Center, which is conducting one of the largest genetics sequencing efforts in the world.