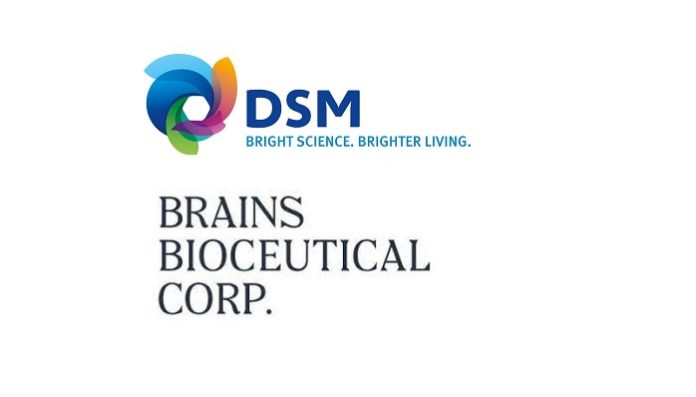 Royal DSM, a global science-based company active in Nutrition, Health and Sustainable Living, announces it has entered into an exclusive commercial partnership with global leader and pioneer in cannabinoid active pharmaceutical ingredients (APIs), Brains Bioceutical. The partnership extends DSM's capabilities as a purpose-led innovation partner in the pharmaceutical market – creating a platform from which it can enable agile early-stage drug development to unlock and deliver value-added cannabinoid-based products that benefit global patient health. Together, DSM and Brains Bioceutical are strategically positioned to lead the development of cannabinoid based pharmaceutical products, using Brains' EU-GMP APIs.
The cannabinoid API market is fast-growing, powered by strong scientific evidence demonstrating the potential of cannabinoid in several therapeutic areas, including Central Nervous System (CNS) diseases. CNS diseases – a broad category of neurological conditions including epilepsy, Alzheimer's disease, Parkinson's disease, and stroke – are increasingly recognized as one of the most prevalent disorders worldwide with a high burden to patients. With positive findings in more than 160 clinical trials to date, there is an opportunity to create a new platform that will support pharmaceutical manufacturers in the development of bespoke cannabinoid-based drug products that expand treatment possibilities.
Enabled by Brains Bioceutical's leading portfolio of naturally-sourced, EU-GMP cannabinoid APIs – registered with the UK Medicines and Healthcare products Regulatory Agency (MHRA) and with a filed Drug Master File (DMF) with the Food and Drug Administration (FDA) in the USA – and extensive expertise in the sector, the partnership will see DSM apply its science and marketing capabilities to bring the highest quality cannabinoid APIs to customers, with the capability to manufacture custom cannabinoids. This will create new innovation opportunities for prescription drug (Rx) manufacturers and enable them to enter the cannabinoid market with confidence.
"DSM's commitment to quality, innovation and sustainable and secure supply makes us an ideal partner in benefitting patient health worldwide via cannabinoid-based, patient-driven innovation," says Kelsey Achenbach, Senior Director Pharma and Medical Nutrition, DSM. "We are delighted to offer a cannabinoid active ingredient portfolio in addition to our extensive range of APIs and lipid intermediates. Research in cannabinoids is increasing rapidly, and their potential in therapeutic areas, such as CNS diseases, is very exciting. A purpose-led partner in early-stage drug development, DSM has the core competencies, combined with a deep understanding of patient needs, to support pharmaceutical companies in entering the cannabinoid market with science-backed pharmaceuticals. This partnership will help our customers on their mission to continue to provide alternative therapeutic options and solutions to their patients, and ultimately to improve lives.
Brains Bioceutical is the ideal partner due to its extensive EU-GMP certified cannabinoid manufacturing capabilities and unparalleled expertise in the cannabis and hemp sectors. As one of the only companies worldwide to provide a secure supply of standardized API cannabinoids of natural origin, Brains Bioceutical is setting the global standard for cannabinoid API innovation. Together, we are committed to helping pharmaceutical players in realizing the exciting potential of these ingredients and support them during the early drug development stages."
DSM Venturing, the corporate venture arm of Royal DSM, acted as lead investor in a US $31.9 million capital raise completed by Brains Bioceutical. DelMorgan & Co., an internationally recognized investment banking firm headquartered in Santa Monica, California, acted as exclusive strategic transaction advisor to Brains. The landmark investment and strategic transaction solidify the position of Brains Bioceutical as one of the leading pharmaceutical companies in the CBD sector and will allow it to take advantage of strategic partnerships that DSM has developed.
Rick Brar, CEO and Chairman of Brains Bioceutical adds: "Brains Bioceutical is thrilled to be teaming up with such a credible player in the pharmaceutical market, and one that so closely aligns with our ambitions to uncover the full potential of this space. We know the science behind our cannabinoid actives and, by partnering with a market leader in DSM, we are looking forward to unlocking the therapeutic potential of our cannabinoid actives for the benefit of patients worldwide. The partnership solidifies our commitment as the leader in research, development and commercialization of clinically proven products and actives in the pharmaceutical cannabinoid market. Together, we will deliver a high-quality and sustainable cannabinoid portfolio that will provide the building blocks for new therapeutic drugs."
DSM's move into the cannabinoid market highlights its position at the forefront of innovation after more than 70 years of experience in the pharmaceutical market.