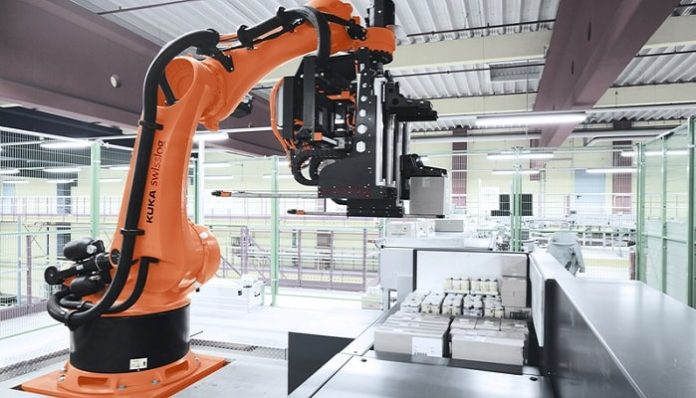 The first pallet leaving the center in Wustermark headed for our dm drugstores marks a milestone," said Christoph Werner, Chairman of the dm Board, in Karlsruhe on May 19; referencing the coronavirus crisis, he continued: "Considering the current situation, it's that much sweeter a success and marks an important investment in the future for us. Especially since the availability of goods in the dm drugstores and the online shop is our top priority." Christoph Werner spoke at the official opening of a new, high-technology distribution center for the drugstore chain.
Built from scratch on a green field in Wustermark near Berlin: incrementally, all dm drugstores in northern and eastern Germany will eventually be supplied from here – extremely quickly and efficiently, thanks to logistics automation. "With its innovative robotics solution, the new distribution center is a flagship project for dm and German commerce," says Christian Bodi, the dm managing director responsible for logistics. The concept and intralogistics originate from Swisslog and represent a high-profile reference for the general contractor, especially for the intelligent SynQ system control and visualization software as well as the ACPaQ robotics system. The solution recently won the German Innovation Award.
Swisslog supplied data and robot-controlled logistics
With a floor area of around 30,000 square meters, Wustermark features a logistics mix composed of the core components of an automated pallet high-bay warehouse with 24,000 slots and a shuttle warehouse – the CycloneCarrier by Swisslog – with 265,000 slots for small sized goods. These are connected to a total of 15 picking lines: eight manual and seven ACPaQ robot cells.
"In the distribution center, the dm-drogerie markt is completely implementing the goods-to-human and goods-to-robot principle," explains Daniel Hauser, Senior Vice President and Head of Region Central Europe & Middle East, Swisslog. ACPaQ refers to fully automated mixed case palletizing by "automated case picking." A KUKA robot simultaneously grips multiple containers and in this way, picks a shipping pallet up to three times more quickly than a human could. The software used ensures that the pallet is formed in a stable manner for transport and reflects the depalletizing needs of the local store.
"We are proud and happy that the data-controlled robotics system we developed has outgrown the testing phase and is now putting its powerful capabilities to the test in real life, under high load operation," Daniel Hauser is happy to report. It's a breakthrough for our company as well, and we are convinced that this will also be true for the retail market as a whole." The Swiss intralogistics expert refers to the constantly increasing efficiency pressure, which commerce has to contend with now and in the future, to meet the demands of around-the-clock preparedness – which can only be met over the long-term through automation and robotics. Christian Baur, CEO of Swisslog, proudly adds: "Without the tireless efforts of our staff, we would never have successfully commissioned the new distribution center in Wustermark in spring 2020 while simultaneously dealing with the challenges presented by the coronavirus."
Longstanding partnership celebrates third major project
The new dm distribution center in Wustermark is an outgrowth of an expansion strategy that Germany's favorite drugstore chain has been pursuing consistently for many years. dm has invested more than 100 million euros for its new logistics site, including construction. For Swisslog, after Waghäusel in Baden-Württemberg and Weilerswist in North Rhine-Westphalia, Wustermark in Brandenburg marks the third major plant realized in Germany by the intralogistics specialist for dm. After laying the cornerstone in 2018, the project took two years for planning and construction, through to commissioning.
About Swisslog
Swisslog delivers data-driven & robotic solutions for your logistics automation alongside reliable, modular service concepts. Collaborating with forward-thinking companies, we are committed to setting new standards in warehouse automation to provide future-proof products and solutions. As part of the KUKA Group, our customers trust the competence of our passionate employees – more than 14,000 people working across the globe.