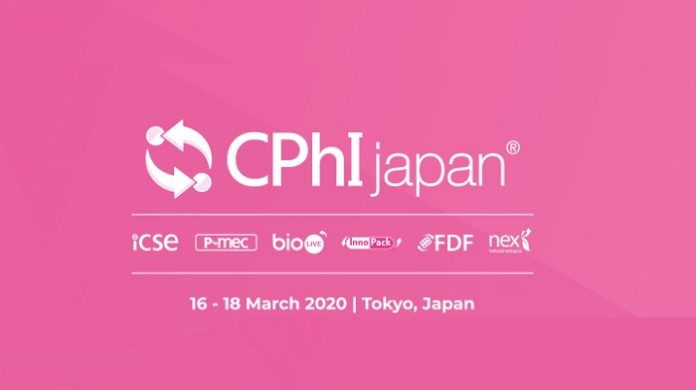 CPhI Japan – organised by Informa Markets – announces that the event will be postponed until a new date later in the year after extensive consultation with key stakeholders and consideration of all alternatives. The event, which was due to take place at the Big Sight Exhibition Centre in Tokyo (16-18 March), will be rescheduled due to the increasingly complex travel arrangements many of its attendees are experiencing as a result of COVID-19.
The decision was taken after many of the event's largest stakeholders – international exhibitors and major pharmaceutical employees – reported that they would be unable to travel to the exhibition at this time.
"The event is now in its 18th edition and we have always listened to the feedback of our exhibitors and attendees. Due to unforeseen circumstances of COVID-19, many felt that it will be difficult to travel to the exhibition at this time. We will work with our attendees and exhibitors so that we can deliver another successful event for everyone involved. We wanted to communicate this as fast as possible, and we will confirm the new dates imminently. I thank our partners for their continued support and understanding, and we express our solidarity with those affected around the world," commented Christopher Eve, Managing Director, Informa Markets and UBM Japan
About CPhI
CPhI drives growth and innovation at every step of the global pharmaceutical supply chain from drug discovery to finished dosage. Through exhibitions, conferences and online communities, CPhI brings together more than 100,000 pharmaceutical professionals each year to network, identify business opportunities and expand the global market. CPhI hosts events in Europe, Korea, China, India, Japan, South East Asia, North America, and the Middle East and Africa. Co-locating with ICSE for contract services; P-MEC for machinery, equipment & technology; InnoPack for pharmaceutical packaging; bioLIVE for biopharma; Finished Dosage Formulation for every aspect of the finished dosage supply chain; and NEX for natural extract products, applications and solutions. CPhI provides an online buyer and supplier directory at CPhI-Online.com. For more information visit https://www.cphi.com
About Informa Markets
Informa Markets creates platforms for industries and specialist markets to trade, innovate and grow. Our portfolio is comprised of more than 550 international B2B events and brands in markets including Healthcare & Pharmaceuticals, Infrastructure, Construction & Real Estate, Fashion & Apparel, Hospitality, Food & Beverage, and Health & Nutrition, among others. We provide customers and partners around the globe with opportunities to engage, experience and do business through face-to-face exhibitions, specialist digital content and actionable data solutions. As the world's leading exhibitions organiser, we bring a diverse range of specialist markets to life, unlocking opportunities and helping them to thrive 365 days of the year.
For more information, please visit www.informamarkets.com.