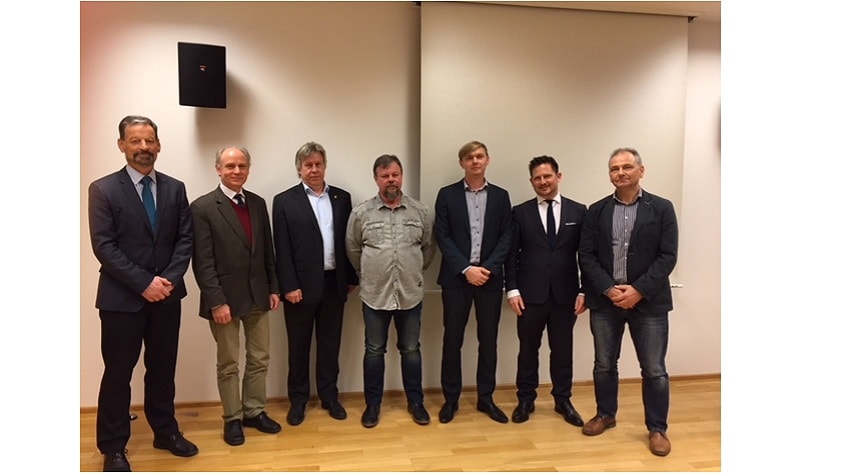 BioGenes GmbH, specializing in ELISA development and production and a global leader in host cell protein (HCP) assay development, today announces the establishment of a Scientific Advisory Board which includes the following four renowned experts:
Prof. Dr. Hans Henning von Horsten, Industrial Biomanufacturing, HTW-Berlin University of Applied Sciences, Berlin
Prof. Dr. Frank F. Bier, Dept. Biosystems Integration and Process Automatisation, Fraunhofer IZI-BB, Potsdam-Golm
Dr. Wieland Wolf, CEO ProBioGen AG, Berlin
Dr. Jens Knauer, Method Development Virology Testing Quality Control, IDT Biologika GmbH, Dessau-Rosslau
The Scientific Advisory Board will provide BioGenes with significant expertise and experience throughout the whole drug development and manufacturing value chain to help strengthen and extend the Company's position in the field of quality control for biopharmaceuticals.
Dr. Alexander Knoll, Managing Director of BioGenes states: "We are pleased to welcome these renowned experts to BioGenes' Scientific Advisory Board. Creating the SAB represents another important step forward for the Company. Its members bring a wealth of experience in the area of biomanufacturing and analytics and will provide crucial advice based on their specializations which will be essential to guide us in prioritizing and driving forward our goals."
Prof. Dr. Hans Henning von Horsten is co-inventor of several patents and pending patent applications for the biomanufacturing business. He was among the key inventors of ProBioGen's GlymaxX antibody engineering technology that was outlicensed to Boehringer-Ingelheim, Novartis, Thermo-Fisher Scientific and several other drug developers. Hans Henning von Horsten is also Head of the Working Group Biotechnology at the Berlin-Brandenburg branch of the VDI Association of German Engineers.
Prof. Dr. Frank F. Bier is the founder of the Molecular Bioanalytics branch of the Fraunhofer Institute for Biomedical Engineering (Fraunhofer IBMT). In 2003, he was appointed Chair of Applied Bioelectronics and Biochip Technology at the University of Potsdam. Since 2014 he is the Head of the Department Biosystems Integration and Process Automatisation of the newly formed branch Fraunhofer Institute for Cell Therapy and Immunology, Biotechnology and Bioproduction (Fraunhofer IZI-BB) in Potsdam-Golm, Germany.
Dr. Wieland Wolf is the CEO of ProBioGen, an internationally operating Contract Development and Manufacturing Organization (CDMO). He has three decades of experience in the biopharmaceutical industry. Wieland Wolf was involved in pioneering product registrations at Bioferon GmbH, headed a production unit for API and parenteral dosage forms at the same company, and was responsible for the biotechnology division of the Rentschler Group, which he led through its transformation from a product-oriented enterprise into an established service provider and contract manufacturing organization (CMO). Wieland Wolf is the President of the European Association for Pharma Biotechnology and a member of the Board of Trustees of the Fraunhofer Institute for Interfacial Engineering and Biotechnology (Fraunhofer IGB) in Stuttgart, Germany.
Dr. Jens Knauer has a strong background in GLP/GMP contract research, method development and as a Principal Investigator in several clinical trials. Before joining IDT Biologika GmbH, he was involved in the development and validation of immunological assays at the Fraunhofer Institute for Cell Therapy and Immunology where he was also instrumental in building a GLP laboratory for immuno-toxicological assays.
About BioGenes
BioGenes GmbH specializes in highly sophisticated and customized antibody and immunoassay development and is an experienced and reliable partner for process development improvements in all areas of quality control, diagnostics and drug discovery. BioGenes is certified to meet the international requirements and regularities of quality assurance and animal welfare. The Company maintains long-term relationships with research institutes, universities and biotech and pharmaceutical companies, including eight of the ten largest pharmaceutical companies in the world. The company has been evaluated by a leading global accounting and auditing firm to be one of the leading companies in HCP assay development.
Contact

Dagmar Schwertner-Knoll
Marketing/Sales Director
BioGenes GmbH
+49-30-65762380
dagmar.schwertner@biogenes.de