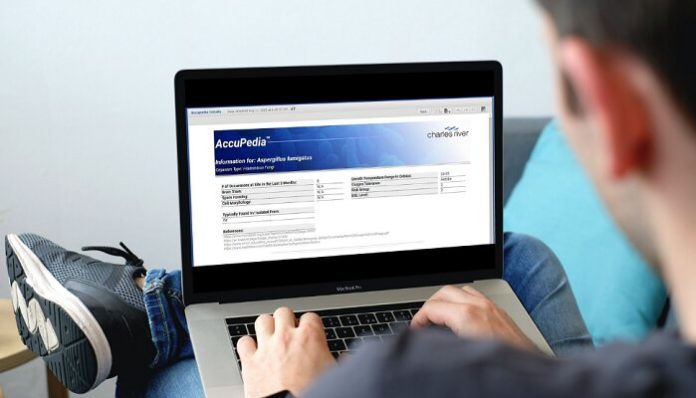 You are evaluating your identification results for an unknown isolate – what does this organism mean to your manufacturing process, your final product, and the patient? Is it an objectionable, pathogenic organism? Will the correct operational decision be made? The answers to these questions have far-reaching consequences so it's imperative to thoroughly understand your microflora.
The identification of microorganisms can be done through different processes, each with its own level of accuracy and reproducibility. The methods chosen directly impact the confidence in the data and the consequential decisions made thereafter. Routine identifications are made as part of an environmental monitoring (EM) program which provides useful information on the baseline picture of the normal microbiome and categorize the resident bioburden. Critical applications can occur during investigations of sterility failures and other out-of-specification situations. Sequence-based identification technologies should be used in these situations but can also be used for routine applications. MALDI-TOF is known to be a reliable method for the identification of intact bacteria, yeast, and fungi, and is more accurate than phenotypic systems, but not as accurate as sequence-based approaches.
Your microflora is highly dependent on the robustness of your identification system and the library database. An accurate environmental isolate identification relies on the library and its continuous updates of taxonomic changes and new species. No identification or inaccurate identifications are mainly due to missing relevant species in the database. The higher the identification rate, the better representation of your environmental microflora. However, it's critical that the identification rate doesn't sacrifice accuracy.
The impact of identifications of unknown organisms goes far beyond just the identification report. Regulators expect manufacturers to distinguish what organisms are present, at what bioburden load, and where they are located in the manufacturing environment so that controls can be put in place to protect the product from contamination. It's difficult to have this information readily available if you are unfamiliar with your microflora. An accurate and reliable identification is the first step to understanding your environment's microflora, especially during an investigation or contamination event.
Charles River Laboratories is committed to providing a complete identification solution for customers. All of Charles River's global Accugenix® laboratories offer identifications through AccuGENX-ID® DNA sequencing service and AccuPRO-ID® MALDI-TOF service. Both methods can identify organisms to the species level. However, in some cases a species-level ID is not enough, and these technologies alone cannot distinguish between the strains. The MALDI-TOF system is unable to differentiate closely related organisms due to the similarity of their spectral patterns, and DNA sequencing of the 16S or ITS regions can have a high percentage in sequence similarity for a single species resolution. Other methods are available to combat this and help identify the organism to the strain level, by using single and multilocus sequence typing or by using protein-coding genes.
How do you determine when the species-level ID is sufficient for reporting?
For example, consider if a Bacillus cereus was recovered in a Grade A environment using DNA sequencing. A review of the facility's environmental monitoring data using the Accugenix® customer web portal tracking and trending application, found Bacillus cereus was recently recovered in a Grade B room where Grade A is located, as well as a raw material. Personnel need to understand how that organism made its way into the facility. Was the Grade A contaminant from the Grade B room or the raw material? Was the room contaminated from the raw material? In this case, a species-level ID does not provide enough information as the source of the isolates is critical to apply appropriate remediations. A higher resolution method using highly variable loci (regions) in the organism's genome can achieve an increased discrimination to the strain level which helps the investigation by comparing whether the isolates are the same strain.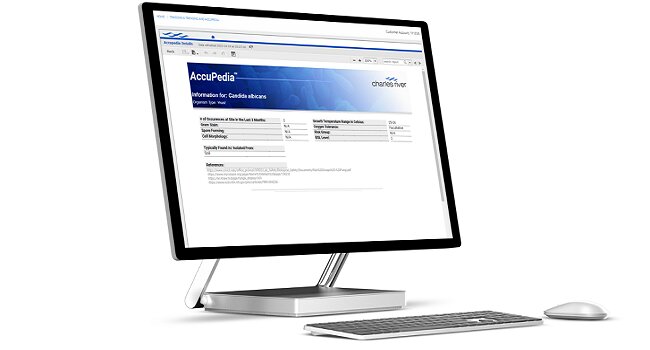 Multilocus sequence typing (MLST) allows comparison of specific genes which can be used to compare the strain found in Grade A, versus the strain found in Grade B. This helps personnel understand the source of contamination and determine root cause. Charles River Laboratories maintains an extensive list of species with validated MLST schemes for these critical customer investigations.
Reviewing the data for remediation and root cause
As part of the investigation, manufacturers need to determine what actions to take based on the identification results. Accugenix® provides a secure, 21 CFR Part 11 compliant data management web portal for Charles River's customers, including a tracking and trending tool which simplifies result data that can be automatically aggregated into validated tracking and trending reports for analysis. The tracking & trending tool helps customers facilitate investigations. In the example provided above, they were quickly able to determine the same organisms were recovered from Grade B room and raw material. It's important to not only know what organisms are in your facility but understand their egress and implications. In addition to the tracking and trending tool, the Accugenix® web portal provides customers with AccuPedia™, a key reference tool to help understand your facility's microflora. The common characteristics, derived from peer-reviewed literature, are listed within AccuPedia™ and support this level of insight when analyzing your microflora. AccuPedia™ can be used in conjunction with the tracking & trending tool to facilitate the investigation and determine root cause.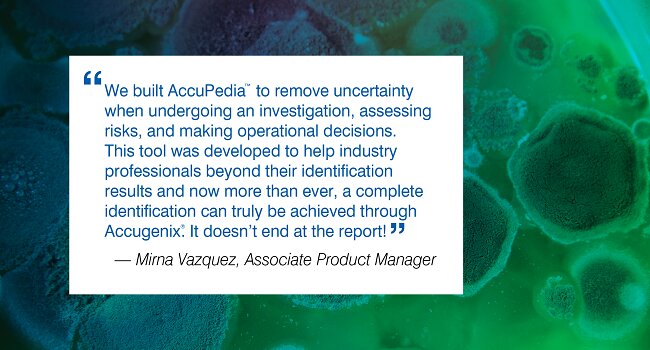 The AccuPedia™ tool can be used to understand the characteristics of Bacillus cereus. Bacillus cereus is a Risk Group 2 organism, a spore former, and can be found in soil. Given these characteristics, the facility should investigate movement of materials into the cleanroom and the personnel's aseptic technique when working in Grade A. Considering the same example, the facility found that a box had been opened in the warehouse where materials were placed on a 'dirty' cart and was then brought into the cleanroom. The Risk Group indicates the pathogenicity of the organisms, with Group 2 indicating "agents that are associated with human disease which is rarely serious and for which preventive or therapeutic interventions are often available. These agents represent a moderate risk to an individual but a low risk to the community." Often, these are considered objectionable, depending on the patient population, dosage, route of administration, etc.  Although there is no official objectionable organism list, manufacturers can use the information provided by AccuPedia™ to asses' risk. The system goes beyond just answering what organism was identified to providing greater insight into risk assessments, investigations, and product release.
Now that EU GMP Annex 1 was published in August 2022, with the expectation of any microbial recovery in grades A and B must have a species level identification in effect August 2023. An accurate and reliable identification has never been more significant to keep you compliant. Using the appropriate identification methods can help manufacturers track and trend contamination events and implement appropriate remediations along with definitive root cause.
From identification to reporting, to tools that help you understand your microflora, to making confident operational decisions, Charles River's Accugenix® laboratories have the experience and technology necessary to rapidly and accurately handle all of your microbial identification needs. Accugenix® has the assays, data analysis, and tools to ensure you get a complete identification.