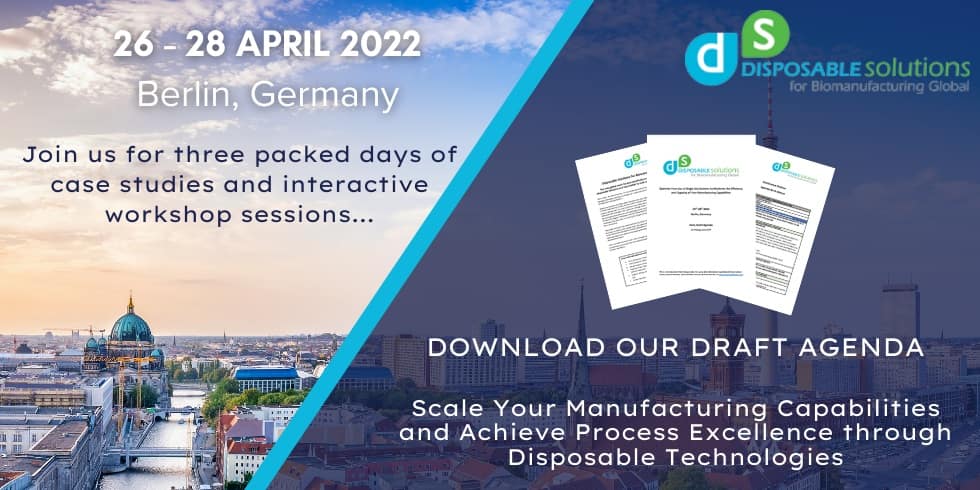 Event Name: Disposable Solutions for Biomanufacturing
Event Venue: Berlin, Germany (venue to be announced soon)
Event Date: 26th-28th April 2022
Event website link: https://www.pharma-iq.com/events-disposablebiomanufacturing/landing/disposable-solutions-for-biomanufacturing-draft-agenda/?utm_source=16499.014%20world%20pharma%20tracking&utm_medium=Media%20Partner&utm_campaign=16499.014%20world%20pharma%20website%20link&utm_term=&utm_content=&disc=&extTreatId=7556004
Event Organizer Name: IQPC
Communication number (with country & area code): UK
Email ID: amy.leary@iqpc.co.uk
Social Media Link's: https://www.linkedin.com/groups/155593/
Disposable Solutions for Biomanufacturing is the only global event focused specifically on Single Use Systems and Disposable Solutions as a key enabler to scale-up biomanufacturing capacity. We're back – live and in-person. It's an extremely exciting time for biomanufacturing as advanced biological therapies continue to develop at a rapid rate and the world's eyes are on vaccine development and production. Join us in Berlin on 26th-28th April 2022!