Eirik Pettersen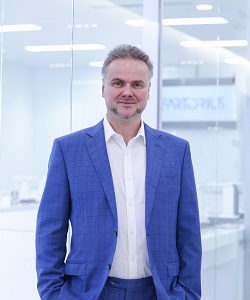 Eirik Pettersen, Sartorius's Head of Lab Product Solutions APAC, has been based in Asia for 30 years and is as fluent in Mandarin as he is in Norwegian and English. He began his life in Asia when he enrolled in a multi-institutional degree programme with Norway's University of Oslo (UiO) and Nanjing University in China, where he spent the next 2 years living and studying in China. He later did an internship in the representative office of what was then Nycomed Amersham in China, which set him up for a fulltime position when he graduated in 1996, just in time to be part of the burgeoning of the biopharma industry in China. He spent the next 25 years building his career in the pharmaceutical industry, managing complex multinational projects involving over-the-counter (OTC) and prescription drugs, diagnostics, and clinical and research laboratory equipment. Since 2012 Eirik has been Head of Lab Product Solutions Group Asia Pacific at Sartorius.
Company:Sartorius
Sartorius is a leading international laboratory and process technology provider for the life sciences, pharmaceutical and food industries. We help our customers implement complex and quality critical laboratory and production processes in a time and cost-efficient way. We are strongly rooted in the scientific and research communities and closely allied with customers and technology partners in our dedication to pursuing our philosophy of "turning science into solutions".
At Sartorius we like to say we are part of the solution. We empower scientists and engineers to simplify and accelerate progress in life science and bioprocessing, enabling the development of new and better therapies and more affordable medicine. We help to ensure that new scientific discoveries can be translated more quickly into effective patient care. With technologies, platforms and partnerships for a common goal: better health for more people. The 21 st Century is going to be the biotech-century, already we have seen remarkable advances and Sartorius stands ready to support scientists, engineers and companies with the state-of-the-art equipment and technical support they need to make the next big breakthrough.