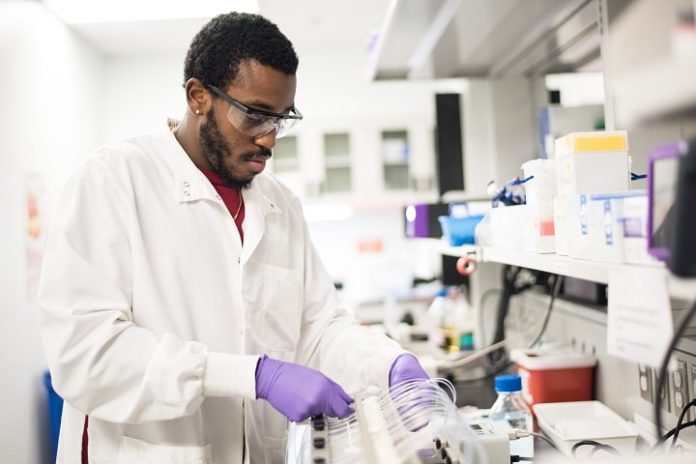 The most common way to deliver a drug is systemically via an oral tablet or injection. In many cases, delivery of a drug via these routes may not be possible (poor bioavailability) or desirable (due to side effects); In these cases, topical delivery (e.g., dermal, ocular, buccal, nasal, etc.) and transdermal formulations may provide the best solution to meeting a clinical need.
Pharmaceutical companies want to reduce risk and at the same time accelerate the advancement of their development programs and they are increasingly appreciating the benefit of using specialist contract research organizations that have unique, cost-effective performance testing models to get early readouts on their drug's performance following topical or transdermal delivery.
Topical drug delivery systems can be tailored to deliver a drug locally, therefore minimizing systemic bioavailability whereas transdermal drug delivery systems offer an alternative route to systemic delivery which avoids first-pass metabolism. Topical and transdermal formulations often take the form of liquids, semi-solids (e.g. creams, lotions, gels, ointments), and self-adhesive patches. The composition of these formulations have a major impact on the product's performance, and can be tailored to deliver drugs to the target location and exert their therapeutic effect. In vitro performance testing models are central to optimizing these types of formulations and have been shown to be predicative of in vivo drug distribution and performance.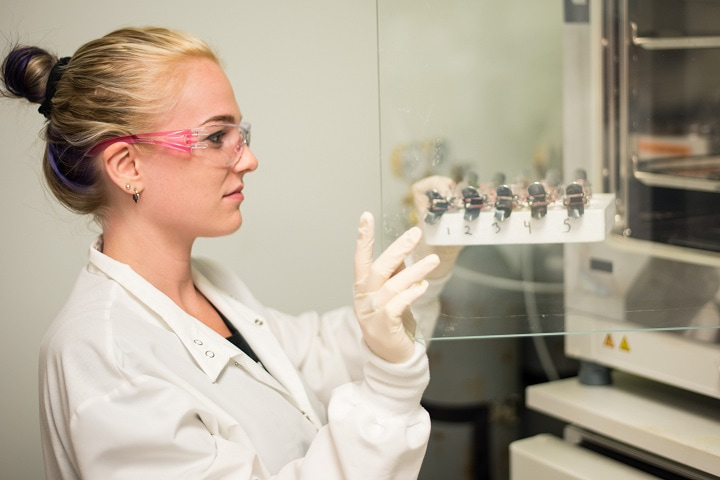 Moving away from in vivo testing
In vivo testing, whether in humans or laboratory animals, is expensive and risky. There is also a drive to reduc the uses of laboratory animals to a minimum for ethical reasons. In vitro performance testing allows developers the opportunity to understand how their topical product is likely to behave in the clinic so they can be more confident about its chances of success before it reaches here or the market. Furthermore, both the U.S. Food and Drug Administration (FDA) and the European Medicines Agency (EMA) have both recently released draft guidance documents that allow solely in vitro paths for the demonstration of bioequivalence for generic topical products (1,2).
These guidance documents specify the use of in vitro release testing (IVRT), a topical analog of solid dosage form dissolution testing which monitors the release of the drug out of the formulation, and in vitro permeation testing (IVPT), an in vitro surrogate for a topical pharmacokinetic bioequivalence clinical trial. One major driver for the issuance of these guidance documents is the fact that topical dermatological drug prices have continued to rise significantly as in many cases there is a severe lack of generic drug product competition (3). These in vitro approaches minimize the need for expensive clinical trials and can accelerates the time to market.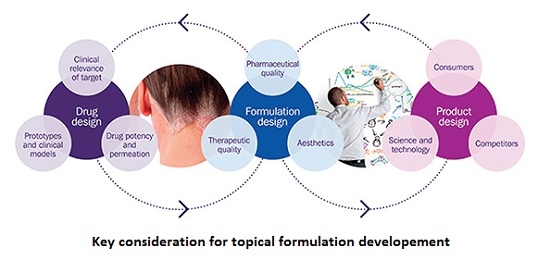 Contract providers with this specialist expertise are therefore increasingly relied upon to help pharmaceutical companies navigate the complexity of the topical and transdermal drug development process, from new drug product approvals to the demonstration of bioequivalence using in vitro models.
Ensuring the future needs of in vitro testing are met
The biggest challenge for contract developers, such as MedPharm, is that these in vitro assays generate a large volume of samples that need to be analyzed quickly. Depending on the study size,hundreds, or sometimes thousands, of samples are generated. It is also important to have good analytical sensitivity so that very low levels of the drug (down to picogram/ml concentrations) in the biological samples can be detected.
In IVPT, a formulation is applied to the surface of a piece of fresh human skin contained in a diffusion cell apparatus. The amount of the drug that permeates through to the receiver fluid below the skin layer, as well as how much of the drug remains in the different layers of the skin, may all need to be determined. The layers need to be carefully separated prior to analysis. There are many variables to consider and it is essential to minimise variability through careful handling of equipment and samples and perform sufficient replicates in order to generate statistically significant data.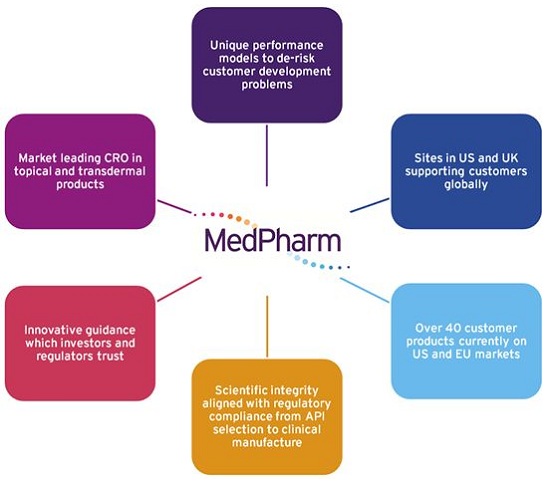 Investing in high-quality bioanalytical instrumentation ensures the increased global demand for topical formulation development is achievable and the current and future needs of in vitro performance testing models are met.The leading contract developers are at the forefront of investing in automation to improve testing procedures.
Investment in instrumentation
New technologies offer rapid analytical capabilities with extremely low limits of detection. Analytical technology, such as quantitative ultra-high performance liquid chromatography coupled with tandem mass spectrometry (UPLC-MS/MS) managed by powerful software, are crucial for increasing the throughput and reliability of performance testing models. They can deliver the sensitivity and performance that researchers need to accurately, robustly, and reproducibly measure compounds at very low concentrations, which is vital in topical and transdermal delivery research and testing.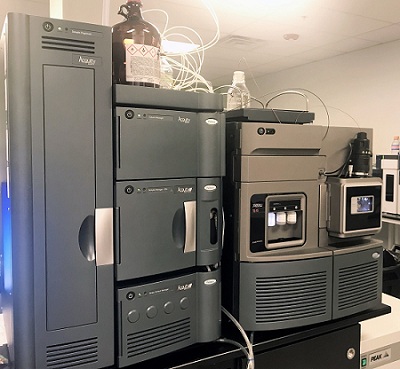 The sensitivity of these systems to detect picogram concentrations of drugs in a variety of biological tissues is crucial to produce the robust data needed to make good decisions on formulation selection. For example, a developer may want a drug to target a specific layer of the tissue. These technologies can be used to measure the concentration of drug in the different tissue layers following application of different potential formulations to assess which one offers the optimal delivery. Alternatively, it could be that the developer needs the drug to be delivered through the systemically following topical application or from a transdermal patch. In this case,the analytical technology is used to measure how much permeates through the skin and to select the optimal formulation.
Increase throughput via automation
Automation reduces the need for manual operation and enables researchers to deliver more robust and reliable data in a timelier fashion. Automating sample handling and streamlining workflows requires fast and sensitive bioanalytical instrumentation, from vendors such as Waters, to manage this increased throughput. Automation reduces testing variation, dramatically increases throughput and has helped to manage the growth in demand globally for these sophisticated in vitro performance testing models.
Conclusion
Ultimately, the optimal composition for any product is dependent on a range of aspects in addition to performance, including factors such as aesthetics, market suitability, and manufacturing and regulatory considerations.
Over the next 3-5 years, we will see continued investment in bioanalytical instrumentation capabilities, including MS platforms, to keep up with the projected growth in topical and transdermal performance testing. With the latest in bioanalytical technology, researchers can achieve the high throughputs and the picogram detection limits they need as they expand their service offerings.
References

(1) U.S. Food and Drug Administration, Draft Guidance on Acyclovir, 2016.
(2) European Medicines Agency, Draft guideline on quality and equivalence of topical products, 2018.
(3) JAMA Dermatol. 2018 Dec 1;154(12):1441-1446. doi: 10.1001/jamadermatol.2018.3798., Association Between Market Competition and Prices of Generic Topical Dermatology Drugs., Li DG, Joyce C, Mostaghimi A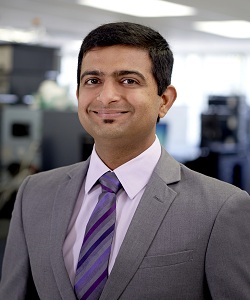 NikunjTanna is a senior scientist in the scientific operations group at Waters Corporation. His focus is on complete workflow solutions for quantitation of small and large molecules using tandem quadrupole and HRMS platforms. He is also a member of the small molecule drug discovery and biomedical research team, looking at driving LC-MS based solutions in early small drug discovery.

Waters Corporation , the world's leading specialty measurement company, has pioneered chromatography, mass spectrometry and thermal analysis innovations serving the life, materials and food sciences for nearly 60 years. With approximately 7,000 employees worldwide, Waters operates directly in 31 countries, including 15 manufacturing facilities, and with products available in more than 100 countries. Waters Corporation's businesses include Waters, TA Instruments, VICAM, ERA, and Nonlinear Dynamics.