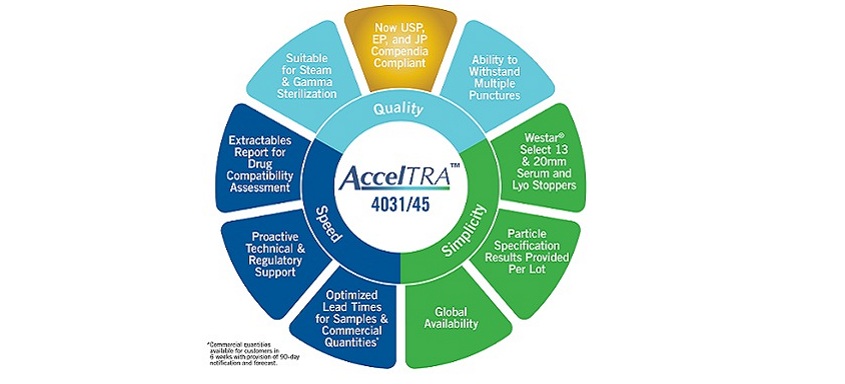 Around the world, the pharmaceutical market is rapidly evolving, driven by greater access to medicines, an increased focus on patient needs and the emergence of innovative therapies for chronic conditions such as diabetes, multiple sclerosis and rheumatoid arthritis.
Industry analyst firm QuintilesIMS predicts that global medicine spending will grow 4-7% and reach nearly $1.5 trillion by 2021. India will play an important role in this phenomenon, especially as access to healthcare increases and global and domestic drug manufacturers expand their footprint in the country. As such, India is expected to be one of the top 10 pharmaceutical markets by 2021.1
Alongside this growth, there is increasing demand for high-quality packaging components across the pharmaceutical, biotechnology and generics markets as drug makers look to pair their injectable drugs with container/closure and delivery systems that can help ensure speed to market and competitive differentiation.
In India and globally there are a number of trends driving the need for innovation and quality in injectable drug packaging and delivery. These include:
Growth of Generics–The generics segment is experiencing dynamic growth in India and the Asia Pacific region. According to a 2016 study, the global generics market is expected to experience a 10.53 percent compounded annual growth rate (CAGR) from 2016-2020, with the value of drugs coming off expired patents equaling $150 billion by 2020. IMS Health found that more than 90 percent of dispensed medicine will be generic by 2020.
One of the biggest challenges faced by generics manufacturers is ensuring speed to market. Generics makers offer low-cost options for patients and provide needed medications when critical drugs are in short supply. But to lead in today's generic drug environment, manufacturers need to file drug applications quickly, as well as respond to unforecasted market demand. Once a medicine is manufactured, it's important to get it to market, and to patients, quickly without compromising quality or reliability. Pairing an injectable generic with quality packaging components that can be quickly and efficiently produced can aid in reducing the time to market and help enable generics manufacturers to stay competitive.
Biologics and Biosimilars on the Rise–Over the past several years, the industry has seen a steady rise in new biologic drugs coming onto the market for the treatment of many chronic conditions. As these drugs come off patent, India has the potential to become a major player in biosimilars manufacturing. These therapies often have very specialized containment needs. They can be sensitive to certain materials used in injectable drug packaging and delivery systems, such as silicone oil or tungsten. Concerns around possible interactions between biologics and the materials used in container/closure systems are driving the need for packaging that minimizes the adverse impact on injectable drug
products. Many manufacturers are adopting packaging components produced from novel materials, such as cyclic olefin polymer containment and delivery systems, as high-performance offerings designed to help maintain drug safety, purity and efficacy.
Increasing Demand for At-Home Administration and Combination Products–Self-administration and biologics have increased the popularity of combination products, such as wearable auto-injector systems and self-injection systems used for the management of chronic diseases. These new developments in wearable drug delivery technology are helping to provide a safe, reliable and effective method for home-based drug administration, which more and more patients are desiring.
Patients have different reasons for wanting home-based drug administration. For some, it's about convenience. Others do not want to inject themselves with medications, or their conditions make it difficult for them to do so. Additionally, for some injectable medicines with higher-volume doses, it can be hard to administer the drug consistently via a prefilled syringe. Furthermore, some drugs – including many new biologics –require large volumes of viscous solutions, making a single-dose option difficult or impossible.
While patient-controlled self-injections systems and wearable injectors both offer tremendous opportunity for advancing at-home administration, developing these new systems can pose a significant challenge for pharmaceutical manufacturers: how to design a wearable injector that patients not only can use, but also want to use. To meet this challenge the makers of injectable medicines must fully understand and incorporate the needs of end users when bringing a self-injected therapy to market. This requires giving careful thought to how a medication will be administered by patients in order to ensure optimal patient outcomes. As such, the design of an injectable medicine's delivery system is fast becoming an essential aspect of the manufacturer's go-to-market strategy for a drug.
Auto-injectors, wearables and other new systems will only increase the already budding demand for combination products in the coming years as companies in India and Asia Pacific create them for local use and for export to the rest of the world.
Regulatory Focus on Quality –Driven by concerns for patient safety, regulatory agencies are asking drug and packaging manufacturers to build quality into their products from the start to ensure consistent quality throughout a drug product's lifecycle. Quality by Design (QbD) is,therefore, growing in importance in the pharmaceutical industry. A QbD approach to packaging design and manufacturing delivers an improved, data-driven output that can lead to a superior product. Utilizing a QbD approach can also help to minimize disruptions to the supply chain. By incorporating QbD principles into the development of packaging,drug manufacturers can be confident that the products they provide to patients are contained with packaging of the highest quality.
The regulatory requirements are increasing for generics as well. For example, as more Indian biopharmaceutical generic manufacturers are trying to market their drugs globally, they will need to comply with evolving regulations such as the U.S. FDA's Generic Drug User Fee Amendments (GDUFA), which was updated in 2017.
Because of their smaller operating budgets, generics manufacturers are looking to leverage existing delivery system components and combination products. This can be challenging given that in many cases, the original combination product for an injectable biologic drug is custom-made and there may be exclusivity with a delivery system manufacturer.
Summary
There is continued focus across the pharmaceutical, biotechnology and generics industries on ensuring that drugs are brought to market and delivered to patients safely, efficiently and reliably. Pairing injectable drug products with innovative, high-quality packaging components and delivery systems is key to helping drug manufacturers address these trends and stand out in an increasingly crowded marketplace. Early collaboration between drug manufacturers and their packaging partners is critical to ensure optimal speed to market, effective drug delivery and, most important of all, enhanced outcomes for patients.
Reference
[1] QuintilesIMS Institute. Outlook for Global Medicines through 2021. 2016. Available at https://www.iqvia.com/-/media/iqvia/pdfs/institute-reports/global-outlook-for-medicines-through-2021.pdf. Accessed 4/25/2018.