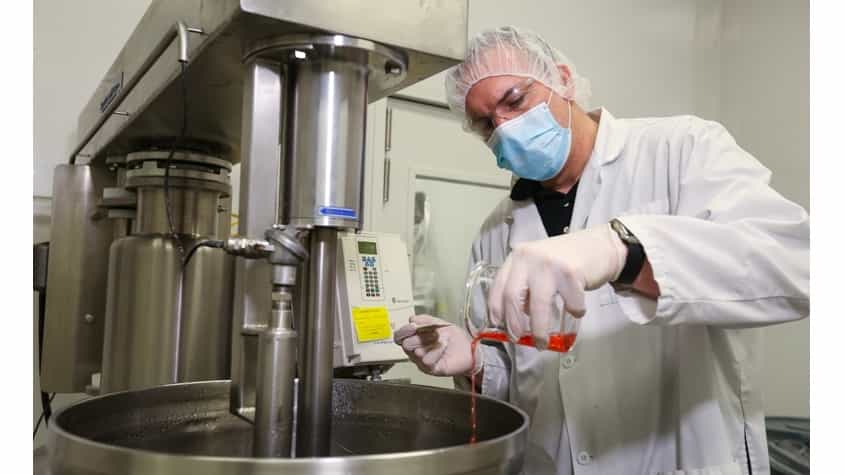 CURE Pharmaceutical has developed innovative drug delivery technology in CureFilm, an oral film strip that dissolves in the mouth, allows for multiple active ingredients in one dosage, and features higher bioavailability.
CureFilm is the next generation market alternative to traditional tablets, capsules, chewables, injections and liquids when delivering active pharmeceutical ingredients. It's designed for oral administration, and dissolves to release active ingredients to the bloodstream enterically, buccally, or sublingually.
New drug delivery platforms are a necessary technology for modern patients. Many struggle with accurate dosing, properly timed absorption, and the challenge of taking multiple active ingredients at one time. Traditional drug delivery platforms, such as pharmaceutical pills or injection, are not an optimal or convenient option for all health conditions.
As much as 40 percent of adults have difficulty swallowing tablets or pills, according to Harris Interactive. For children or elderly patients, swallowing large pills can be challenging or impossible. Patients in underdeveloped countries do not always have access to clean drinking water to take large pharmaceutical pills.
Another disadvantage of pills or tablets is the use of additives to make the active ingredients large enough to be handled by patients. Crushing or breaking down tablets for easier consumption can destroy release properties, as well as create a bad taste. Injections come with a risk of infection or arterial damage. These traditional drug delivery platforms can be inconvenient to administer or transport.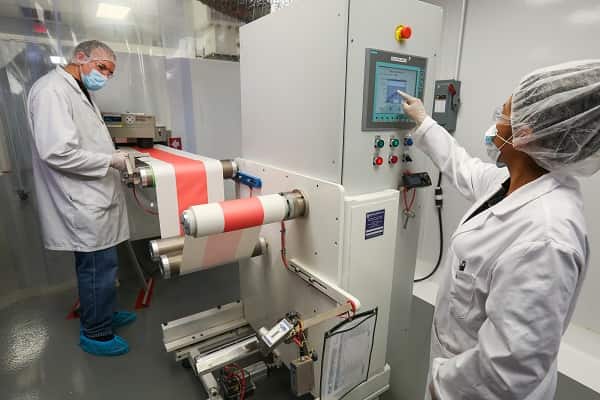 The benefits of CureFilm's oral drug delivery method include absorption that bypasses the gastrointestinal system, more accurate and efficient dosing, and an enhanced experience for the patient which encourages better engagement and compliance. Patients of all ages and geographical locations can benefit from this innovation.
How CureFilm Works
Using buccal delivery, CureFilm adheres to oral mucosa of the inner cheek in seconds with its matrix of pliability and mucosal permeation enhancers. The top layer of CureFilm allows it to adhere, while the bottom layer contains the drug actives that are absorbed. Essentially, it adheres to the patient's cheek for quick absorption.
This is made possible by CURE Pharmaceuticals' proprietary micro-encapsulation process, in which microscopic particles or droplets envelope the active ingredients to protect and shield them. The micro-encapsulation technology allows for higher dosing with better flavor masking than other drug delivery options. Headquartered in Oxnard, California, CURE Pharmaceutical is a fully integrated specialty pharmaceutical bioscience company that leverages disruptive proprietary drug delivery technologies for a broad range of molecules serving the pharmaceutical, veterinarian, medical foods and pharmaceutical cannabis markets.
Oral drug delivery is one of the most preferred routes of drug administration as it is more convenient, cost effective, and the ease of administration leads to a high level of patient compliance.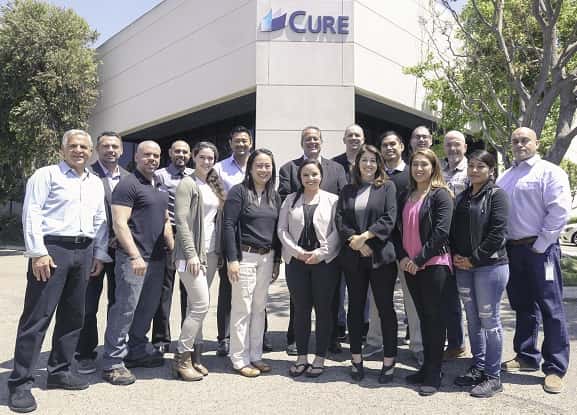 Convenient For Patients
CureFilm is easy to use by simple placement in the patient's inner cheek. It can be transported easily, fitting in a wallet or pocket. The active ingredients go directly into the patient's bloodstream, so it is fast-acting compared to traditional drug delivery methods. Dosing can be controlled by simply cutting or tearing the film.
While CureFilm dissolves, the patient is able to talk and move their mouth normally as they experience a pleasant taste from CureFilm's unique flavoring system.
Patients are familiar with oral dissolving strips thanks to popular non-medical products such as LISTERINE POCKETPAKS® Breath Strips.
Oral dissolving strips require no water or liquid to administer. They are also easy to store and transport, which makes them convenient for many lifestyles and encourages patient compliance with dosages. For patients who require multiple active ingredients, oral film strips can replace multiple prescription pills.
CureFilm has high bioavailability and can be easily administered regardless of state of consciousness, which is a valuable aspect to emergency medicine.
The film has taste-masking and musco-adhesive qualities, which is especially convenient for children who are more sensitive to taste, thus more likely to spit out medicine.
CURE Pharmaceutical's licensing goals aim to maintain full control over all manufacturing processes, which will keep the patient price point comparable to traditional drug delivery methods.
The Future of Drug Delivery Routes
CureFilm is different from previously patented oral dissolving strips because it can be manufactured to dissolve at different intervals allowing for faster absorption through the mouth or slower absorption through the gastrointestinal tract. It also allows for the need to lower the active ingredient dosing to mitigate side effects from the active ingredient.
CureFilm takes oral film strips a step further into the future by allowing for more control of not only dosage, but drug delivery routes.
The unique delivery matrix of CureFilm allows for delivery of active ingredients in several drug delivery routes. There are a plethora of molecules that can be applied to CureFilm. Limitations are based on molecule size and dosing amount, although CureFilm can deliver higher amounts of active than any other oral film in the market.
This new technology is ideal for medication where rapid delivery would be necessary and swallowing pills is not optimal.
Since the invention of oral films, challenges included controlling the dosage, as a small change in the dimensions of the film can affect the amount of active ingredient. There are regulations on the amount of variation in the active ingredients per dosage. Several patents have addressed the issue of dosage variation, as well as uniformity and drying.
New Methods, New Medicine
CureFilm improves the onset of action for active pharmaceutical ingredients. It lowers dosing and enhances the efficacy, widening the therapeutic index.
In yet another area of innovation, CURE's pharmaceutical cannabinoid division plans to use CureFilm to administer cannabinoid drug molecules.
The division was established to research and develop clinically ready cannabinoid drug formulations and delivery systems for both human and animal patients targeting unmet medical needs in traditional pharmaceutical markets that could be disrupted by cannabinoid-based options.
CURE Pharmaceutical plans to use CureFilm for various medicines including pain relievers, sildenafil (Viagra) and vitamins, though there is great potential for various active ingredients. As medicine continues to evolve, drug delivery platforms can evolve as well to ensure that the patient experience is safe, efficient and effective.