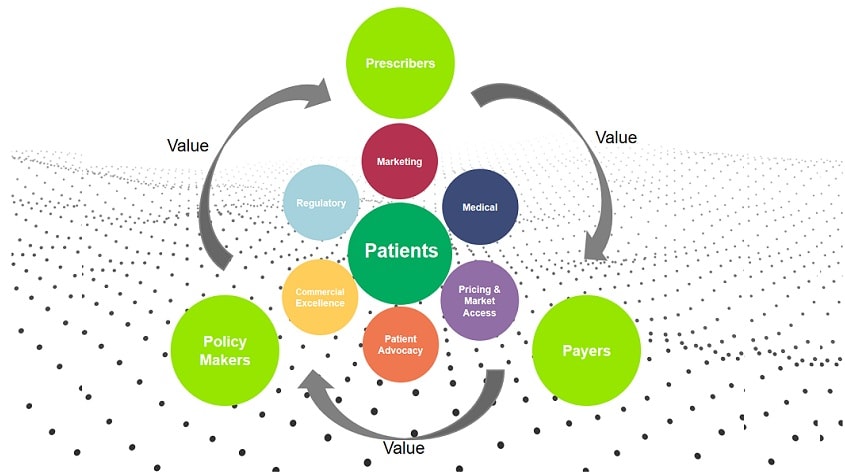 CRM, CLM, KAM, Big Data, customer focus, patient centricity… for the last 20 years,buzzwords and concepts have been raining down on the Pharmaceutical Industry, generating a flurry of projects, proof of concepts, pilots and even some successful implementations.
Consultants were consulted, Steering Committees gave clear guidance, hundreds of millions of dollars were invested in CRM, multi-channel, digital and customer experiences …  What has changed? Essentially not much. Yes, of course, compliance is more important than it used to be. Every company is now equipped with a code of conduct that prevents the biggest risks of mis behaviour. Yes, also the crazy race for Field Force share of voice seems reversed. Even if the latest numbers of Medical Reps in the US indicate the game is not totally over. And we are still in a pure Marketing and Sales play, focused on creating big revenues out of thinner pipelines. The Pharma commercial beast still moves, because its Darwinian evolution to environmental changes allowed it to survive. However, the conditions are getting tougher everyday, and what is required now is more than just another feather change, but a DNA level reengineering.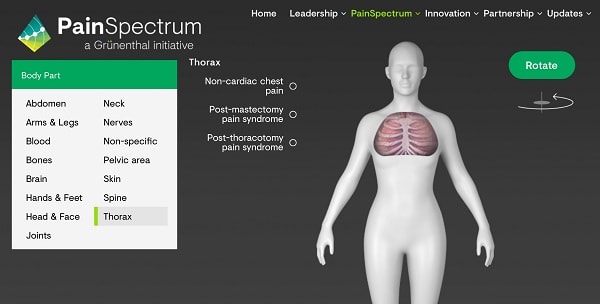 Anyone who has worked in the pharmaceutical industry has experienced the paradox of an industry whose purpose is ultimately to save lives, cure diseases and make everyone have a better life, but which remains constantly under scrutiny, and has a public image as deteriorated as the weapon or chemical industries.Of course, there were clear and multiple reasons for that:the incredible growth of the sector, the ethically blind blockbuster quest, and the published profits coming out of fundamentally undifferentiated drugs. But that does not explain it all, as, for instance,the telecom or IT sectors grow and generate profit in the same way but do not identically attract criticism.
In my opinion,the Pharmaceutical commercial practices are under permanent fire because it has chosen to react to environmental changes by evolving in a soft, targeted, Darwinian way, while cautiously protecting the core of a commercial model that used to work exceptionally well.
Despite the growing pressure of health authorities and public opinions, the Pharma industry still did not come forward with ambitious proposals that would demonstrate it has gone beyond the pure race for profits. For instance, we did not bring to the market products that would be funded through "pay for performance" schemes based on value for the patient and the healthcare system. Rather, the Pharma R&D focused on smaller target patient groups with the possibility to fund highly expensive drugs,in order to generate the same or even higher revenues (and in some cases higher shareholder returns). Pharma went around the access limitations by trying to "shape the market" or using alternative channels (Medical Science Liaison, Digital tools, …) to still deliver the same marketing and sales pitch.
But in the world of Facebook and Twitter, this does not suffice anymore. Because people, including patients and HCPs, talk to each other, in places the Pharma industry cannot control. And what was good enough to convince all America that they needed bacon at breakfast in the 30s (i.e. 4500 physicians selected by E. Bernays, Sigmund Freud's nephew) does not work today. And, of course our usual set of answers are not up to the new challenges faced by the industry.  Those vocal patients and HCPs talk about themselves and their diseases. They talk about the way the pharmaceutical industry helps them or not, they talk about our products and medicine. What they share should wake us up.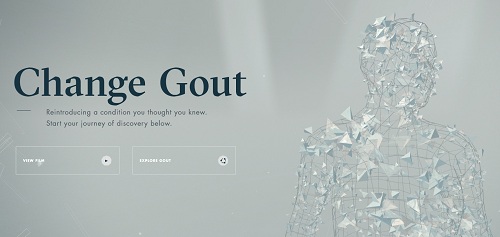 A rapid analysis of patient websites (Patients Like Me) or social media (Twitter) shows instantly that the customer experience we deliver today is still very poor, as an industry. It is poor for the HCP, who still receives irrelevant solicitations and information. It is also poor for the majority of patients, frequently diagnosed too late, not supported to express what they feel and what their disease feels like and finally not convinced they should keep respecting their treatment despite a symptom decrease. As an outcome, they do not really understand what happens to them, they do not feel listened to, they do not know what to expect. In a nutshell, the patients go through a really terrible customer experience that is scary and obscure. This now becomes a real issue for the Pharmaceutical industry, as customer experience is the one thing which the same patients and HCP shave seen improving in all the non-healthcare related moments of their daily life.
When you think about it, isn't it ironic you receive better customer support when you purchase a barbecue, with tons of forums, online support, tutorials on YouTube on how to cook food with it, rather than when you are prescribed an SGLT2 or a bronchodilator that will go directly inside your body? The Consumer Goods sector has a lot to teach to Pharma, because it went through the same radical transformation years ago, going from retail to online, from industrial to Digital, and has made an art of reinventing itself deeply, not just on the surface.
And to add to the burning platform, the FMCG strategists foresaw the emergence of customer experience quality as a key predictor of commercial success. They even used it as an asset to drive their strategies (Apple does not sell mobile phones, they sell us the Apple experience) and eliminate their competitors (Nokia thought people just wanted different phones) and despite the immense cost increase they generated in what is ultimately consumption of basic services (phone and internet), they did not face any public backlash, in fact quite the contrary.
With this accumulated wealth and years of learning curve, the strategists turned their eyes toward agigantic, dinosaur populated market: healthcare. And they were quick to find this Achilles' heel of our Commercial model: the customer experience. Now, they work to propose a new one.
The recent progress of Artificial Intelligence has demonstrated that not only could AI better predict cancers than oncologists, but in fact that AIs can have a far better diagnostic rate than most GPs and even pass all exams required to become a certified GP, as demonstrated in June 2018 by Ali Parsa and Babylon Health in the UK.

Add to this the at-home same day treatment delivery capabilities of the GAFA(Google, Amazon, Facebook, Apple) and their ability to digitalize payments and reimbursement within their owned systems. You can picture a patient-centric healthcare system where the only remaining GPs are contacted by patients through GAFA owned Visio conference tools, diagnosed through readout of key health indicators (symptoms, blood analysis, medicine consumption), diagnostics and analysis coming from wearables provided to patients affiliated to their preferred healthcare coverage partners. All of this owned by the GAFAs.
Now we talk about a truly great customer experience, in an ecosystem where the Pharmaceutical industry has no space, no role to play: our whole commercial model, made of market shaping, peer influencing, HCPs engagement,collapses instantly, as we have no one left to talk to. And of course, we cannot count on healthcare authorities to save the industry: not only does this new model bring the overall cost down for governments, but people will stop complaining about how they are treated. It even allows better patient identification for the expensive treatments the Pharmaceutical industry is bringing. What better way to keep under control those innovative – and expensive – treatments that are all over the news (Targeted therapies, Immunotherapies, Own stem cell based medicine, …) than to make sure they are used only for a subset of patients on which they will be highly effective and reimbursed based on that efficacy? What better way for healthcare authorities to avoid the unsustainable growth of spend that is predicted when you add each pharmaceutical company innovative drug sales forecast in oncology, respiratory, etc….?
Despite all those elements being clearly visible, there does not seem to be any real movement in the Pharmaceutical industry toward a deep, broad change. We could blame the very conservative mindset and "Super-Tanker" nature of the Big Pharmaceutical companies in which cultural changes take years to diffuse in the multi layered organisation. We could also finger pointat a widely spread Taylorian organisational model, where handover is key, from R&D to Medical, then from Medical to Marketing and ultimately to Sales, for complicating company wide changes in depth. We could add that in a company model where the best statistician usually sit in the R&D teams, the rest of the organisation is quite weak data-wise, allowing ego based strategies to take over and silence what should be obvious signs of danger for the company.
Those are valid reasons. But in fact, there is one underlying element supporting all those: the lack of desire for every single individual in the organisation to do whatever it takes to make sure the patient will get the best possible treatment delivered with the best possible customer experience. Tapping into that phenomenal force that has the power to unite everyone in an organisation, give them a purpose and make them change the way Pharma works is a path we have decided to take here at Grünenthal.
Our company is family owned, German headquartered, and we are driving it through a deep and broad transformation to get ready for the future healthcare environment. As we acknowledged the changes everyone including us will soon be facing, we realized how important it was for us to act boldly and rapidly. Over the course of 2017 a vast majority of the employees were engaged in re-designing the whole operating model, and this one came to life starting in January 2018. We called it the New Commercial framework, not very original but quite clear, and spent the first six months of 2018 rolling it out across the whole organization.
One key pillar of our strategy is to build a diverse, cross functional organisation, by design. So we hired enthusiastic, energized highly skilled team members coming from all geographies and companies to complement our internal talents, and keep doing it. We brought together in one team all functions at equal level,equal share of voice, and made them collectively accountable for the performance. We included both global and local members in the team, and functions going from R&D to sales and operations through to medical and marketing….
By doing so we were able to build our second pillar (for real, not only on slides)and put the patient at the centre of everything we do – not the products, not the customers. All this in order to deliver R&D and Commercial strategies based on solid patient journeys, articulated around deep insights, identifying where we can help patients and HCP have the best possible treatment experience. This results in clear efficiency gains as we now have a single common strategy, centred on patients and what they are suffering from, which is supported by the whole organisation, independently of your function or location.
Of course, to deliver the full value we work on creating our third pillar which is reengineering our commercial culture by relentlessly encouraging people to take risks, by visibly rewarding successes and not hammering people for failure when the risk is worth taking. We also focus on making Grünenthal a Great Place to Work, successfully so far as we were recognized as one of the top 25 places to work in Europe, which is amazing for an organization going through such a massive change. And finally, and most importantly we are putting Patient centricity at the core of our Leadership Capabilities, so that all can relate to it in every day's life.
You cannot drive such a change if you do not walk the talk, and as a leader we really have to create time for our team members and push them to go out, to talk to patients,to meet with doctors and nurses. We must also look attentively at what is happening around us, with the patient benefits always in mind. We have to regularly challenge our teams on the patient centricity of their initiatives and that allows us to deliver great patient driven impacts, like the SIP (Societal Impact Of Pain) that helps drive better management of Pain, or the Cannes Lions awarded campaign  #ChangeGout to raise awareness about a disease that is not well enough recognized and treated but that impacts millions of patients…
This is a fascinating management journey, and also a greatly rewarding human experience. We, as a team,know we drive forward for the benefit of the patients and through this we will make our company more successful. What is good for the patient is ultimately good for the company when you have the right treatments, when patients can get access those treatments, and when their healthcare consumer experience improves significantly due to your efforts.I fundamentally believe that,as of now,  this is where the Pharma industry should focus its commercial efforts, the rest of the usual practices sounding to me like … Dinosaur Pharma culture. And one knows what happened to the dinosaurs.