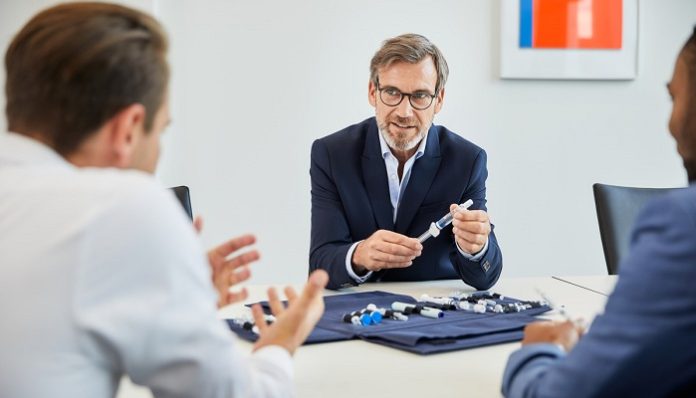 For companies in the early stages of developing a new parenteral therapy, the focus within the product teams is naturally on the molecule and the science behind it. But when it's time to transition that molecule from lab to clinic, drug developers need to shift their focus to a very different process: aseptic filling.
For most biopharma companies, sourcing the support needed to fill clinical materials means finding and forming a partnership with a CDMO – one of the first and most important early outsourcing decisions many drug developers make.
"Aseptic filling is a technically demanding process that requires specialized expertise, infrastructure, and resources. But with the right CDMO partner, you can stay focused on your molecule and still be confident that your product is being filled to the highest possible quality standards."
– Andrea Wesp, Vice President New Business Development, Vetter Pharma.
Finding the right CDMO partner can take time: time to identify strong candidates, vet their capabilities, and perform thorough due diligence to ensure they not only have the appropriate fill and finish expertise, but also a deep understanding of the sponsor's molecule and development goals. If you're an early-stage drug developer and need a CDMO to support you with an aseptic filling project, here are some valuable best practices to keep in mind during your search.
Getting to know CDMO candidates
When you and your team approach different CDMOs, compatibility is the ultimate goal. You want an aseptic filling partner whose skills, resources, and experience align with your development strategy, timelines, and team needs. This takes a two-way exchange of information, with both parties asking important questions of each other.
An easy way to identify strong CDMO candidates: focus on what questions they ask. A smart, strategic CDMO will ask about:
Key properties of your drug substance: For example, viscosity, light sensitivity, storage temperature, and other characteristics will have a big impact on how your API needs to be handled in an aseptic filling facility.
Logistics to obtain your API: The location it will be shipped from, the container closure you've selected, and other factors can impact how long it takes to obtain the drug substance needed to start your filling project.
Project roles and responsibilities: It's especially important to know who will own key steps like analytical testing, which can bog down project timelines when decisions aren't made up front.
The audition process is your time to ask questions too. Make sure you get clear answers on each CDMO's:
Supply chain: Do they already have ready access to the compounds and excipients needed to fill the API? Do they need to source and qualify those suppliers?
Schedules and timelines: Do they have the time and resources to support the molecule and fill it within the required timeline?
Resources and availability: Will they have the right filling line capabilities available when it's time to start your project?
The answers to these questions will help you zero in on the CDMOs with the greatest potential to be a valuable partner. Once you've made a list of your most promising options, it's time to start a key phase of the partnership process: the request for proposal (RFP).
Planning an effective CDMO RFP process
The RFP process is a critical step for both sponsor and CDMO. It allows the drug developer to formally assess whether the capabilities and skills of the CDMO align with their molecule and goals, and it gives the CDMO the opportunity to verify that they can confidently support the sponsor's success.
When you're selecting an aseptic filling CDMO, an effective, efficient RFP should focus on three critical areas:
API considerations. To accurately plan your project, the CDMO needs detailed information on how to handle the API during both the transfer to their facility and the filling process. Share as much information as possible about your drug substance, its characteristics, and storage format, including packaging, excipients, sensitivities, stability, potency, and – above all – toxicity.
Technical parameters. To pinpoint an appropriate scope of work, the CDMO will need to accurately define the resources and processes they need to complete the project, taking into account factors like container closure, target batch size, predicted API yield, analytical methods, and storage after filling.
To ensure your selected CDMO is ready to fill when you are, be as detailed and precise as possible in your milestone dates and project timelines. The more your CDMO knows about when you need to fill and release to clinical sites, the better able they'll be to meet your expectations.
Get access to these insights and more
To support companies through the clinical manufacturing process, the Vetter team has created a library of in-depth videos on how to approach and navigate different steps in the process. Available on the Vetter Video Hub, these videos cover a range of key topics like implementing cGMPs, selecting a product stability strategy, and leveraging consultants.
Sign up here to explore these videos >
I had the pleasure of contributing to a video that outlines how to select the right CDMO partner. If you enjoyed the information in this article, sign up at the Vetter Video Hub to watch the video – and also get access to many more in-depth insights about clinical manufacturing.