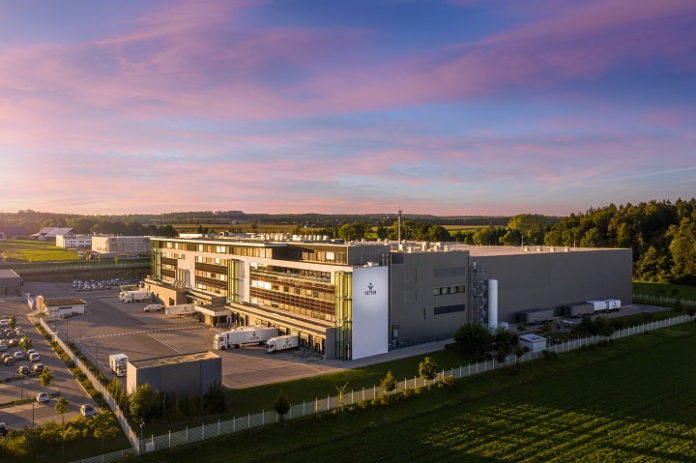 Pharmaceutical service provider is focused on sustainability
The history of Vetter started with a simple pharmacy. This late Gothic, half-timbered house in Ravensburg's city center is a reminder of these first entrepreneurial steps taken by the founder, Senator h.c. Helmut Vetter in the 1950s. Today, the family business is one of the globally leading pharmaceutical service providers as well as one of the largest employers in the Lake Constance-Upper Swabia region.
The pharmaceutical service provider produces drugs for its customers in the pharmaceutical and biotech industries that are vital for patients around the world. Among them are medications for cancer patients, drugs against multiple sclerosis and rheumatoid arthritis, as well as treatments for rare diseases. Vetter employees 5,500 staff in Ravensburg and Langenargen as well as at the sites in Austria, North America and Asia.
The high-tech company takes a reserved attitude towards its business, an approach not uncommon to the region. "We have remained down-to-earth and are proud of our roots in the region which have enabled us to achieve this positive corporate development," said Thomas Otto, Managing Director. Since its foundation, Vetter has consistently pursued its path as a family-owned business that focuses its activities on the well-being of the patient and acts in the long term. "The topic of sustainability plays a central role for us on many levels. We aim to improve the quality of life of millions of patients worldwide in a sustainable manner," as summarized by Managing Director Peter Soelkner. "At Vetter, responsibility for the patient and social responsibility are inseparably linked."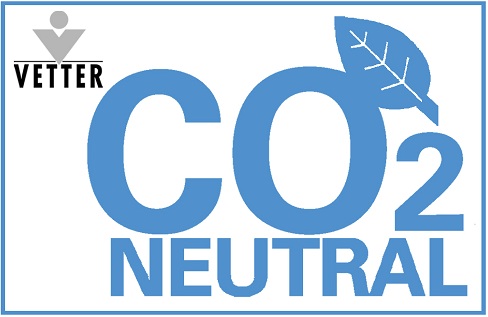 Commitment to climate protection
The understanding that global carbon dioxide emissions must be sharply reduced has continued to grow worldwide. Vetter recognized this need early on and has been using green technologies for many years while making continuous investments in climate protection. Since 2014, all of its German sites have been operating with green power from hydroelectric plants. The pharmaceutical service provider reached another milestone last year when it achieved carbon dioxide neutrality in all its corporate activities at every German site. In view of the high-quality standards and numerous regulatory requirements in the pharmaceutical industry, residual emissions cannot be completely avoided. This makes it all the more important for the company to compensate for this inevitability in a sensible manner by supporting climate protection projects. These projects are subject to strict criteria, for example, the exclusive production of renewable energies including wind, solar or biogas. The pharmaceutical service provider also has its environmental, energy management and occupational safety activities certified on a regular basis.
The Center for Visual Inspection and Logistics in Ravensburg is a good example of Vetter's sustainability strategy. It combines the operation of an environmentally friendly biogas block-type thermal power station with the use of geothermal energy and surplus energy as well as photovoltaic systems. In this way, a sustainable energy concept is consistently implemented. The site has already won a prestigious international industry award for its efforts as a "factory of the future".
Focus on sustainable mobility
But it doesn't always have to be high-tech. Vetter is also breaking new ground for healthy mobility and a greener region. For example, the company offers its staff members a leasing model for e-bikes and bicycles. Vetter also encourages its workforce to collect green kilometers by participating in initiatives such as 'Green Ways to Work'. "Cycling is a great way to do something good for yourself and the environment at the same time," said Peter Soelkner. "We are very pleased with the enthusiasm of our employees for the campaigns and their many benefits."
For cyclists who have worked up a sweat on their way to work, showers are available in the buildings. In addition, Vetter invests in a better infrastructure for cycling. For example, modern bicycle parking facilities with battery charging stations for e-bikes as well as on-site kits for minor repairs are intended to make switching to bicycles even more attractive.
Baden-Wuerttemberg's Minister of Transport Winfried Hermann supports the project. "The efforts of sustainability have been advanced here with commitment and initiative which is important for the sustainable development of economic and living spaces," said Hermann. Staff members can use electric bicycles between the individual sites – a model project in cooperation with Technische Werke Schussental.
Culture of responsibility
Companies have many ways to act in a sustainable manner and make it a significant part of their corporate philosophy. High standards in the areas of environment and energy use, health and occupational safety are just as much a part of Vetter as social commitment, diversity and education. "We are constantly working to keep our ecological footprint as small as possible," emphasized Thomas Otto. "As a family business with a long-term focus, we see this as an important component of our social responsibility not just for today, but for our children and grandchildren as well."