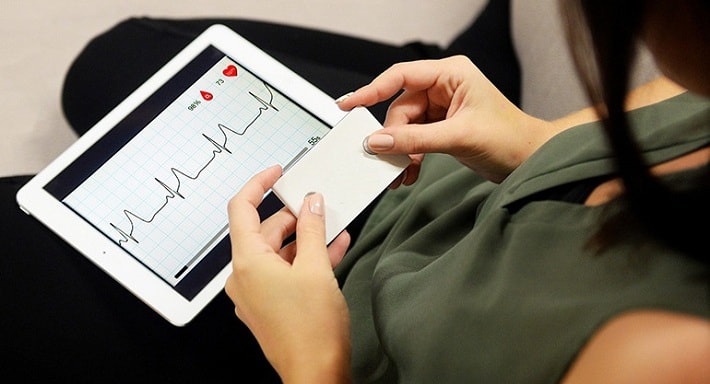 We normally associate heart disease with old age. Doctors have been warning that the average age of first heart attacks has been coming down due to multiple factors like sedentary lifestyles, fast food and increased smoking and drinking.
In India, we have even found that the rate of diabetes among teenagers in some pockets may be doubling.iMedrix, a Silicon Valley and Bangalore based startup, is highlighting an alarming trend that came out as an insight from their analytics – There is a 2x jump in abnormal ECGs right around the age of 35.
iMedrix combines a game changing mobile ECG device, KardioScreen, that is hospital grade with complex cloud connected AI in real time. Using this technology, doctors can not only look for imminent problems, but derive over 200 parameters instantly to measure the extent of Cardio Vascular Disease in the patient. This allows doctors to personalize treatments for each patient.
KardioScreen has been deployed at over 400 locations in India including the prestigious AIIMS, New Delhi. Data from across the country is coming in by the thousands and consistently points to a disturbing trend – Right around the age of 35, the number of ecg abnormalities seen in the population doubles. Other Asian/African countries have shown similar trends. One of the revolutionary aspects of iMedrix is that an unskilled operator in a remote area can take a hospital grade ecg reading and get feedback from a remote specialist and cloud AI in real time.
According to a WHO report, India is about to lose $4.5 Trillion by 2030 to heart disease, so this finding by iMedrix is very significant to individuals, policy makers and employers. We all need to adopt healthy lifestyles, universal screening and preventive regimen as early as possible for adults.
"Most of the CVD risk algorithms and protocols are based on a Western demographic, we are seeing the application of analytics to Indian/Asian demographics for the first time using KardioScreen", said Srikanth Jadcherla, CEO of iMedrix, "Watch this space for more precision analytics for each population subgroup and individual".
"Hitherto, we were inputting factors like Body Mass Index, Lipid profile and HbA1c into risk calculations but we weren't actually measuring the individuals CVD functions; KardioScreen parametric analysis changes that with a precise assessment," said, Nagesh Rangappan, CTO of iMedrix.
"As Cardiologists, we have been seeing patients getting younger and it is distressing", said Dr. Nagraj Desai, Eminent Cardiologist, "data from iMedrix is now strongly evidencing that this is indeed the trend. We really need to address detection and prevention as early as possible for adults."
Similar analytics has been done by iMedrix for Cambodia and during Hajj 2018 in Saudi Arabia across people from various countries. At this time, iMedrix is presenting its data to various policy making bodies to help them devise strategies to combat the epidemic of Cardio Vascular Disease.