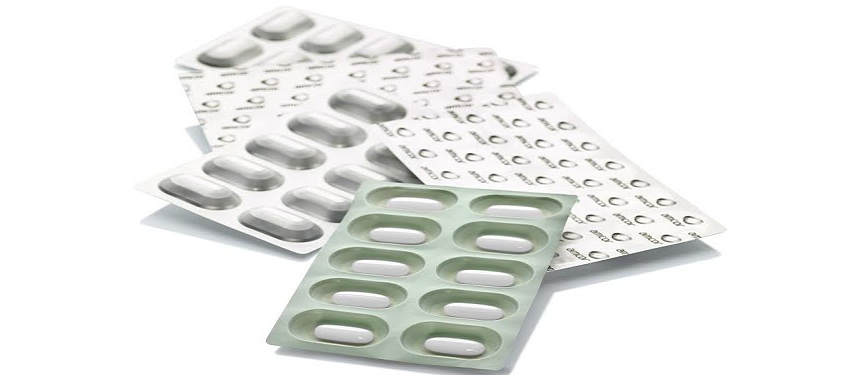 Amcor's patented Dessiflex Blister System has been adopted by some of the world's largest pharma manufacturers.Amcor Flexibles, a world leader in flexible packaging for the pharmaceutical sector, will celebrate a major milestone on the occasion of Pharmapack 2017.
The exhibition is now in its 20th year, and it will also be 10 years since the development of Amcor's award-winning Dessiflex Blister System for ultimate moisture protection.
Dessiflex Blister System, which is covered by a granted EU patent, is a ground breaking cold form blister material boasting an integrated desiccant solution in the sealing layer. It offers unrivalled protection against moisture ingress from cross-diffusion through the lid seal, avoiding the need for desiccant sachets or wads within the pharmaceutical package, and enhancing patient safety by removing the risk of desiccant consumption. It is also impermeable to light, oxygen and other gases. Since its launch in 2006, Dessiflex Blister System has been adopted by some of the world's largest pharmaceutical brands. 
Dessiflex Blister System features desiccant particles that are integrated into the sealing layer using a solventlesscoextrusion coating process. The product holds major commercial and quality benefits: it is ideally suited to highly moisture-sensitive molecules as well as hot and humid climates where pharmaceutical degradation can occur quickly 
For manufacturers seeking to launch new drugs, Dessiflex Blister System maximises stability and accelerates stability testing, so reduces costs, shortens time to market and dramatically improves drug development ROI. Avoiding the costs and complexity of overwrapping or extra blister cavities, the technology helps to maintain quality and significantly extends shelf life. Tests have shown that Dessiflex Blister System can delay all moisture ingress into blisters for over five years.
As well as its ability to keep tablets and capsules dry over an extended period, Dessiflex Blister System offers energy efficiency thanks to improved sealing temperatures, higher yield and lower manufacturing costs – the tablet drying process can be completed within the blister, during storage.
Following its introduction ten years ago, Dessiflex Blister System has been repeatedly recognized by the international packaging industry. Since winning its first major industry recognition in 2007, an Alufoil Trophy from the European Aluminium Association (EAFA), it has gone on to win the WorldStar Packaging Award from the World Packaging Association (WPO), a DuPont Award for Packaging Innovation, and another EAFA Alufoil Trophy. 
Amcor's technical experts will be on hand at stand D25 to demonstrate the cost savings and quality improvements that Dessiflex Blister System offers to pharmaceutical manufacturers. Visitors will also be able to learn more about the company's other advanced packaging solutions, including pulmonary services and thermoforming films.
About Dessiflex Blister System:
Dessiflex Blister System offers many advantages over traditional packaging solutions including:
Optimal moisture protection
Extended product safety and shelf-life
Accelerated speed to market
High and irreversible absorption capacity and tablet drying capabilities 
Increased product detection in the blister cavity due to blue desiccant colour
Reduced manufacturing and packaging costs ensuring maximum return on investment 
Lower environmental fees  
About Amcor:
Amcor Limited is a global leader in responsible packaging solutions, focusing on a broad range of flexible and rigid plastic packaging that enhances the products consumers use in everyday life, with 95 percent of its sales into the food, beverage, healthcare and tobacco industries.  The company employs more than 31,000 people worldwide, operating in 40-plus countries and across more than 190 sites.
John Forsyth
Global Product Manager, Global Pharma
Tel: +34 637 468 291
Email: john.forsyth@amcor.com
Florence Rocq
Marketing Communications Manager, Global Pharma
Tel: +33 1 5700 3619
Email: florence.rocq@amcor.com