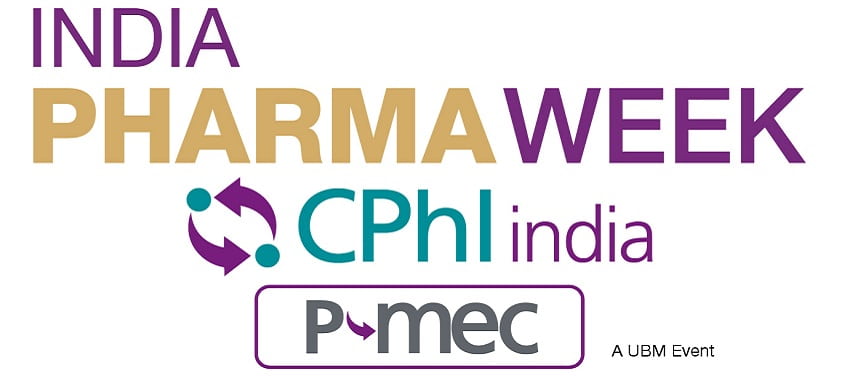 UBM India, India's leading B2B exhibition organizer, is all set to bring in the third edition of the widely appreciated India Pharma Week (IPW), a week-long celebration packed with avant-garde events from December 10-14, 2018 alongside its flagship expo CPhI & P-MEC India (December 12-14, 2018) to North India.
Unlike the previous editions organised in Mumbai across a number of venues, this year all the engagements of the IPW, which is also South Asia's largest Pharma event will be held at the world class venue — the India Expo Mart – Greater Noida, with all its attendant facilities.  This will enable all the key stakeholders and professionals of the pharma industry the convenience to congregate, network and celebrate the industry under one giant umbrella for an entire week.  

Commemorating the 12 years of the CPhI & P-MEC India expo, the India Pharma Week will organise more than 10 events and activities pertaining to the streams of business, knowledge, leadership, innovation, recognition and networking in the field of Pharma. The week is scheduled to be packed with dynamic engagements such as Pharma Leader's Golf, Pre-Connect Congress, Plant Visit, Women in Pharma, India Pharma Awards, Networking Evening, the CPhI & P-MEC India Exhibition, a closed-door CEO Roundtable, among others.  This will also help the magnum opus further develop and nurture a complete pharma ecosystem in the sectoral pockets of the North, also keeping in mind its power corridors.
Originally Incepted in 2006, the CPhI & P-MEC India exhibition has grown remarkably larger over the years with exhibitors and visitors from Indian and overseas engaging over significant levels of business. It has been approved and comprehensively assisted in its endeavours by governing bodies such as Pharmaceuticals Export Promotion Council (Pharmexcil).   The India Pharma Week with its mélange of events was launched in 2016 to celebrate CPhI &P-MEC's ten years of existence.
Speaking on the newest development on the IPW, Mr. Yogesh Mudras, Managing Director, UBM India said, "I am delighted to announce that the third edition of the week-long India Pharma Week will be held this year at India Expo Mart, Greater Noida, Delhi NCR. The IPW is an unmatched offering to the world of exhibitions along with the CPhI & P-MEC India, UBM's flagship engagement platform, and one of the world's leading Pharmaceutical networking event.
An elite congress such as the one we have at the IPW deserves superlative infrastructure and facilities that the chosen venue will impart. One of the core commitments of UBM worldwide is to put our customers at the heart of what we do and respond to their needs in dynamic ways. We are sure the move will prove truly beneficial and convenient for the vast magnitude of exhibitors and visitors. They will get to experience the show and all its verticals under a single roof without needing to factor in the travel and meeting logistics that the previous locations had posed."
"The India Pharma Week stems from the proactive role it plays in driving key Governmental initiatives such as 'Make in India', 'Start-Up India, Stand Up India', and 'Skill India', connecting the global community to eke out solutions to challenges, and establishing superior standards within it. The shift to the Delhi-NCR region, in close geographical proximity to the Centre, policy makers, consulates and government bodies will enhance our community building efforts as well as the creation of a robust pharma eco-system," he further added.
Pharmaceutical Industry in India
Indian pharmaceutical sector accounts for about 3.1 – 3.6 per cent of the global pharmaceutical industry in value terms and 10 per cent in volume terms and is expected to grow to US$ 100 billion by 2025. India contributes the second largest share of pharmaceutical and biotech workforce in the world. In February 2018, the Indian pharmaceutical market grew at 7.1 per cent.
 
With 71 per cent market share, generic drugs form the largest segment of the Indian pharmaceutical sector. India has become the third largest global generic API merchant market by 2016, with a 7.2 per cent market share. The country accounts for the second largest number of Abbreviated New Drug Applications (ANDAs) and is the world's leader in Drug Master Files (DMFs) applications with the US Indian Drugs & Pharmaceuticals sector has received cumulative FDI worth US$ 15.59 billion between April 2000 – December 2017
Indian drugs are exported to more than 200 countries in the world, with the US as the key market. Generic drugs account for 20 per cent of global exports in terms of volume, making the country the largest provider of generic medicines globally and expected to expand even further in coming years. India exported pharmaceutical items worth US$ 16.84 billion in FY17 and US$ 10.76 billion during April 2017–January 2018.
 
The Government of India plans to set up a US$ 640 million venture capital fund to boost drug discovery and strengthen pharmaceutical infrastructure. The 'Pharma Vision 2020' by the government's Department of Pharmaceuticals aims to make India a major hub for end-to-end drug discovery. Currently, India has 2,633 FDA-approved drug products. India has over 546 USFDA-approved company sites, the highest number outside the US.
 
About the CPhi-P-MEC expo:
Originating from CPhI Worldwide – CPhI India has become South Asia's leading Pharma meeting place covering every step of the supply chain from drug discovery to finished dosage, encompassing CROs, CMOs and manufacturers of API, Generics, Excipients and Drug formulation, Fine chemicals, Biosimilars, Finished Formulations, Lab chemicals and Biotechnology. P-MEC, on the other hand, includes manufacturers of Pharma Machinery and Equipment, Analytical Equipment, Automation & Robotics, Packaging Equipment & Supplies, Plant / Facility Equipment, Automation & Controls, Processing Equipment, RFID, Tableting / Capsule fillers, Clean room equipment, Filling equipment and Laboratory products.