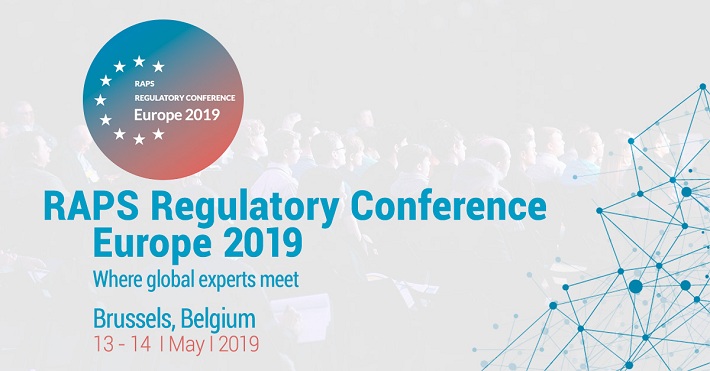 The Regulatory Affairs Professionals Society (RAPS) released the updated agenda for its upcoming European conference in Brussels, 13–14 May.
Among the speakers for the inaugural RAPS Regulatory Conference – Europe 2019 are representatives from the European authorities, notified bodies and trade representatives, all thought leaders and stakeholders with crucial responsibilities in the effective implementation and functioning of the changing European regulatory environment.
"Europe's regulatory environment for medicines and medical technology is always evolving but we are now going through a period of major transition," said RAPS Executive Director Paul Brooks. "The new Medical Device and IVD Regulations, impacts on pharmaceutical manufacturers of combination products and the uncertain future of Brexit present a unique and complex set of challenges for the European life sciences sector. It is vital for all stakeholders to engage in productive and informed dialogue. This conference presents an opportunity for regulators, thought leaders and regulatory professionals to come together to discuss the critical questions, practical implications and important steps ahead."
Conference speakers include:
Erik Hansson, European Commission
Bassil Akra, TÜV SÜD Product Service GmbH
Olivier Bisazza, MedTech Europe
Sabina L. Hoekstra-van den Bosch, Central Committee for Research Involving Human Subject
Graeme Tunbridge, MHRA
Valerie Nys, Federal Agency of Medicines and Health Products
Maren von Fritschen, PhD, European Confederation of Pharmaceutical Entrepreneurs
Henrike Potthast, BfArM
Corine Delorme, GMED Group LNE
Marie-Helene Pinheiro, EMA
Andreas Stange, TÜV SÜD Product Service GmbH
Armin Ritzhaupt, EMA
Tim De Schutter, Federal Agency of Medicines and Health Products
Kees Maqueline, Afdeling Medische Technoligie
Katrien Martens, Federal Agency of Medicines and Health Products
Waldo Weijers, Medicines Evaluation Board (NL)
About RAPS
The Regulatory Affairs Professionals Society (RAPS) is an international membership organisation of regulatory professionals in the rapidly growing medical device, pharmaceutical and biotechnology sectors.
As regulatory professionals, RAPS members perform vital work in all areas of the healthcare product lifecycle; ensuring products are safe and effective, while driving organisational strategy and sound decision-making.
RAPS supports these individuals and the regulatory profession as a whole by providing education and training, certification, professional standards, research, knowledge-sharing, publications, networking and career development opportunities and other valuable resources. It is committed to helping its members continually develop the knowledge and skills they need to excel.
Regulatory professionals looking to join RAPS or learn more should visit RAPS.org