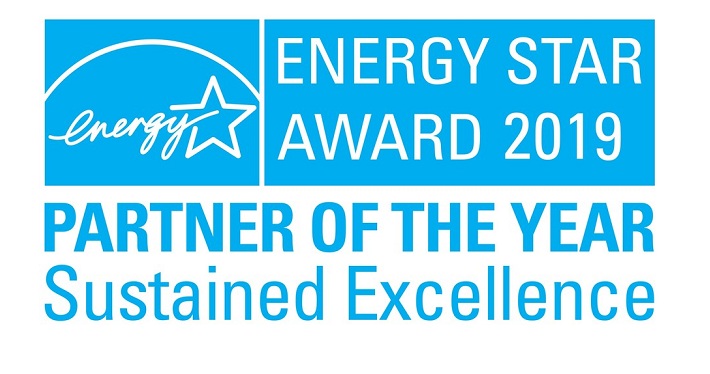 Allergan plc , a leading global pharmaceutical company, announced that it has received the 2019 ENERGY STAR® Partner of the Year Sustained Excellence Award for its continued leadership in energy management and efficiency.
The U.S. Environmental Protection Agency award recognizes Allergan as an ENERGY STAR® partner that has demonstrated exemplary commitment to energy leadership year over year. Allergan has a long history of promoting environmental responsibility within its global operations including through reducing greenhouse gas emissions and increasing use of renewable energy.

2019 marks the sixth consecutive year Allergan has received the Partner of the Year Sustained Excellence Award, the highest honor among ENERGY STAR® Awards. Prior to receiving the Sustained Excellence distinction, Allergan was recognized as an ENERGY STAR® Partner of the Year for two consecutive years. Additionally, Allergan's manufacturing facility in Waco, Texas was recently named an ENERGY STAR® Certified Manufacturing Plant for superior energy performance, a distinction only earned by plants in the top 25 percent of energy performance in the United States. Allergan also achieved ENERGY STAR® certification on four buildings located at its Irvine, California campus.
"Allergan is extremely proud to earn ENERGY STAR's highest honor, the Partner of the Year Sustained Excellence Award again in 2019. At Allergan, we are passionately committed to improving our energy efficiency and minimizing our impact on the environment. I applaud our Global Operations team and Allergan colleagues around the world for their dedication toward achieving our goal to reduce our total energy usage by 20 percent between 2015 and 2020. Our partnership with ENERGY STAR has provided tremendous support for Allergan in progressing toward this goal and strengthening our leadership in energy conservation," said Wayne Swanton, Executive Vice President, Global Operations at Allergan.
Allergan has been an ENERGY STAR® partner since 1996. The Company will be formally recognized by the U.S. Department of Energy at a ceremony in Washington, D.C. on April 11, 2019.
About Allergan plc
Allergan plc , headquartered in Dublin, Ireland, is a bold, global pharmaceutical leader. Allergan is focused on developing, manufacturing and commercializing branded pharmaceutical, device, biologic, surgical and regenerative medicine products for patients around the world.
Allergan markets a portfolio of leading brands and best-in-class products primarily focused on four key therapeutic areas including medical aesthetics, eye care, central nervous system and gastroenterology.
Allergan is an industry leader in Open Science, a model of research and development, which defines our approach to identifying and developing game-changing ideas and innovation for better patient care. With this approach, Allergan has built one of the broadest development pipelines in the pharmaceutical industry.
Allergan's success is powered by our global colleagues' commitment to being Bold for Life. Together, we build bridges, power ideas, act fast and drive results for our customers and patients around the world by always doing what is right.
With commercial operations in approximately 100 countries, Allergan is committed to working with physicians, healthcare providers and patients to deliver innovative and meaningful treatments that help people around the world live longer, healthier lives every day.
For more information, visit Allergan's website at www.Allergan.com
About ENERGY STAR
ENERGY STAR is the government-backed symbol for energy efficiency, providing simple, credible, and unbiased information that consumers and businesses rely on to make well-informed decisions.
Thousands of industrial, commercial, utility, state, and local organizations—including more than 40 percent of the Fortune 500®—rely on their partnership with the U.S. Environmental Protection Agency to deliver cost-saving energy efficiency solutions. Since 1992, ENERGY STAR and its partners helped save American families and businesses nearly 4 trillion kilowatt-hours of electricity and associated reductions of over 3 billion metric tons of greenhouse gases. In 2017 alone, ENERGY STAR and its partners helped Americans save $30 billion in energy costs.