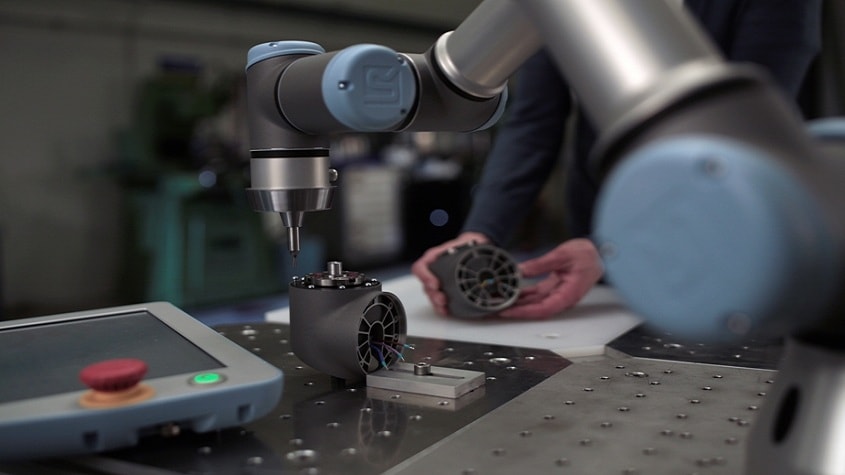 Automation in its broadest sense has expanded from its original industrial manufacturing base to laboratories and businesses.
The application of robotics and automation has been successfully achieved in a wide range of industries dealing with well defined processes and products like the manufacturing industry, FMCG, automotive industry, the healthcare industry, the pharmaceutical industry, to name a few. 
Technological advancements have revolutionized automation to the current level of complexity and flexibility; even so the pharmaceutical industry faces a few issues like the commercial environment is getting harsher, as healthcare payers impose new cost constraints on healthcare providers and scrutinize the value medicines offer much more carefully. This leads to a sharp rise in the customer expectations for newer therapies, which are economically better than existing alternatives, while being medically superior.
The industry output has remained at a stable level for the past decade. Using the same discovering and developing processes, there's little reason to think its productivity will suddenly soar. Lastly, the prevailing management culture, mental models and strategies on which the industry relies are the same ones it's traditionally relied on, even though they've been eclipsed by new ways of doing business, leaving a huge margin for human error. 
Today, with information technology, automation has extended its scope to include the management of data, connectivity and portability. Automation applications continue to grow with enabling technologies such as wireless, nanotechnology, advance storage and memory, advance software algorithms, artificial intelligence, sensors and analyzers. Industrial and laboratory automation can be further classified into process and discrete automation. Process automation deals mainly with handling raw materials in forms such as liquids or powders; whereas discrete automation essentially deals with assembly of parts requiring high levels of mechanical motion to produce consumer electronics products and products for the automotive industries.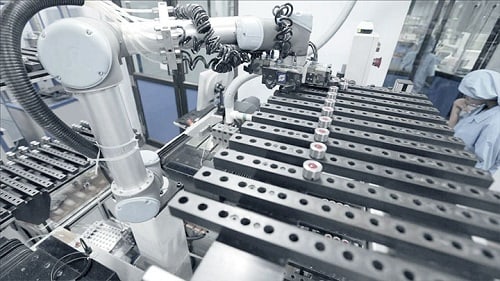 A study by the Association for Packaging and Processing Technologies (PMMI) found that robots are expected to handle 34% of primary pharmaceutical packaging operations in USA by 2018, compared with 21% in 2013. An increase in the use of robots is seen in dispensing, sorting, kit assembly, and light machine-tending as well as in more traditional applications associated with packaging. The global use of robotics in the Pharma sector has invariable increased in the past couple of years.
With the idea of higher production rate and the need for human interaction with machine automation, the Collaborative robots were first developed in 2008 by Universal Robots. Universal Robots are the leading manufacturers of advanced user-friendly and light industrial robotic arms from Denmark. Their latest technological advancement in collaborative robots or 'Co-bots' was brought out in the international market with a peculiar intention which is in line with Industrial 4.0; which is in sync with the automated revolution in the Pharma industry. 
Robotic arms from Universal Robots are designed to meet the Pharma industry's specifications for accuracy, precision and hygiene. Robotics in the pharmaceutical industry is performing a wide range of tasks: from packaging in medical devices and implants as well as assisting in surgeries. The robot arms from Universal Robots can be used for mixing, counting, dispensing and inspection to deliver consistent results for business-critical products. They can also be used for sterile handling and assembly of the small, delicate parts that are used in prosthetics, implants and medical devices. 
Three robotic arms from Universal Robots namely UR3, UR5 and UR10 can incorporated into the processes so that engineers could easily adapt the software to the specific needs of the drugs and the required tasks. The easy programming, installation and collaborative nature of the industrial robot arms allow them to work side-by-side with the workforce for efficient, high-quality medicines.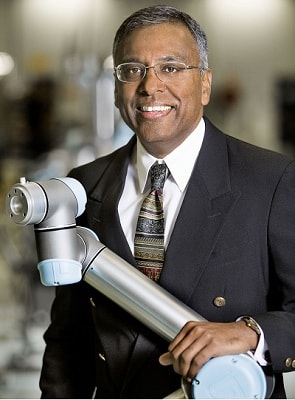 According to IBEF, the domestic Indian pharmaceutical industry is estimated to be $36 billion in 2016 growing at nearly 20% and is expected to reach nearly $ 55 billion in 2020. It is evident that a lot of internal factors are responsible for the growing Indian pharmaceutical industry. The Indian Pharma industry, within a span of 3 decades India has become one of the world's largest manufacturers of medicines.
During the past decade has seen a change in the mindset of most pharmaceutical companies and a digital wave has swept the $36 billion Indian pharmaceutical Industry. The pharmaceuticals are now keen in adopting technology in every aspect of their operations.
 Thus, the incorporation of collaborative robots will be a timely introduction to revolutionize the Indian Pharma industry. Incorporation of collaborative robots in the Indian Pharma sector will bring optimization of processes, reduce waste, improve yield in production, with higher efficiency and precision. The functions that have already embraced automation will continue to prevail with incremental improvements from the normal cycle of technology innovation. Areas that are likely to witness quantum leaps will be in the integration between development work and manufacturing, efficiency and utilization.