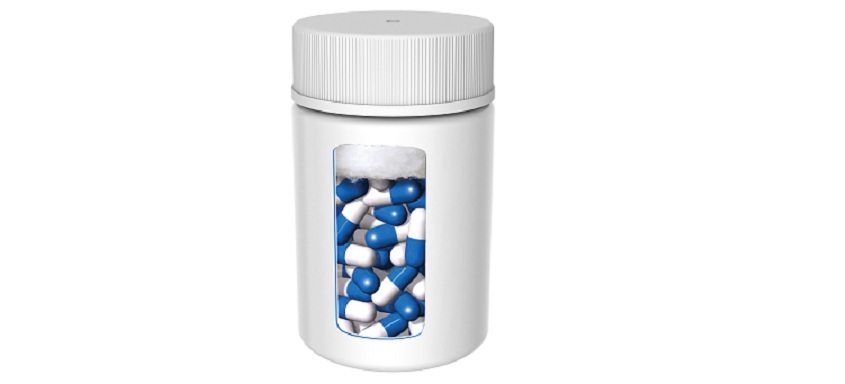 Today, the chief purpose of primary packaging is product protection. However this performance capability has become more challenging in recent years as the complexity of active pharmaceuticals and their supply chain increases.
There are many choices when considering material selection, most of which are driven by product performance or product compatibility. The decision is difficult if the standard materials HDPE, PET, PP) are not capable of meeting the performance requirements. In addition to standard materials there are a variety of barrier options including coatings, additives, and multilayer configurations all of which come with a separate set of considerations including cost,product compatibility, and recyclability.
Amcor Rigid Plastics has a bro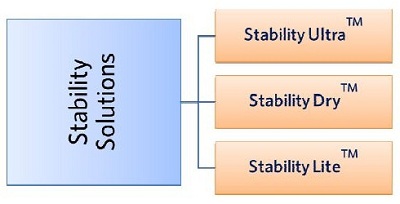 ad portfolio of barrier products ranging from additives and coatings to engineered resins offering both active and passive options. The company's"Stability Solutions" is a suite of three products specifically designed to protect pharmaceuticals and extend their shelf life. These barrier alternatives offer protection from moisture, oxygen, and CO2.
Portfolio includes mono-layer and multilayer configurations All three barrier options are capable of being customized to a variety of bottle sizes and geometries and allow the customer to control the level of barrier resistance both optimizing and managing shelf life throughout a product's life cycle. Amcor's technical center in Manchester,Mich. is equipped with the analytical tools capable of measuring moisture ingress, oxygen loss, and CO2 loss
Stability DryTM Incorporates Desiccant
Amcor has developed patent pending technology incorporating desiccant in the product contact layer of bilayer co-extrusion blow molded containers. The outside layer is formed from high moisture barrier polyethylene or polypropylene to protect the desiccant from permeating moisture from the environment.The primary container creates and maintains a dry head space. It regains a dry head space even after exposure to high relative humidity (RH).The thickness of the desiccant layer and the outside layer can easily be tailored to optimize package performance. Stability Dry is covered under both Amcor and the desiccant supplier's Drug Master File.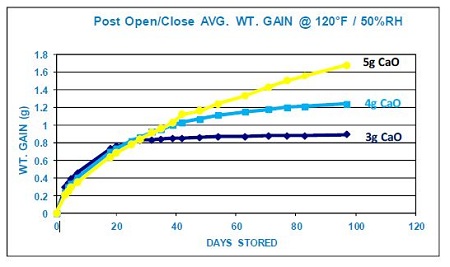 Maintains low relative humidity (RH) within sealed container
Product contact layer: Moisture Absorption from head space
CaO reacts with moisture forming calcium hydroxide [Ca(OH)2].
Ca(OH)2 is generally recognized as safe for direct food contact (CFR 21.184).
Theoretically 0.32g H2O + 1g CaO = Ca(OH)2
Ble nd 30% HDPE + 70% CaO Desiccant Concentrate
3g CaO, 39 mils thickness: Total Mass = 14.6g
4g CaO, 52 mils thickness: Total Mass = 20.8g
5g CaO, 65 mils thickness: Total Mass = 25.4g
Additional Benefits
No filling line canister or sachet equipment
Eliminates cost and inventory of canisters
Minimize product contamination from dust or canister/sachet breakage
No consumer ingestion of canister or sachet
Stability UltraTM
New option has provided maximum barrier protection for a leading pharmaceutical manufacturer since 2013.. The package is designed to protect the product from oxygen degradation by sandwiching a layer of EVOH between two layers of HDPE or PP. The bottle is produced through a co-extrusion process via extrusion blow molding (EBM) shuttle technology which allows flexibility in the layer structure.
Three-layer construction:
• HDPE + adhesive / EVOH / HDPE + adhesive
OR
• PP + adhesive / EVOH / PP + adhesive
Adhesive blended with structural layers
Bonds structural layer with EVOH oxygen barrier layer
Eliminates two specific adhesive layers
HDPE / EVOH / HDPE – Published patent application
PP / EVOH / PP patented
Conforms to FDA direct food contact for packaging dry products with no free fat or oil
Stability LiteTM
Monolayer solution is designed to light weight the container by 15-20% without sacrificing oxygen and moisture barrier as well as maintaining light protection. This material solution improves the container's dimensional stability, allowing a reduction in gram weight or an extension of shelf life at the existing gram weight.
Stability Lite is designed for injection blow molding (IBM) and can be used with existing tooling thus eliminating the need for additional capital investment.
Key Highlights: :
25-40% barrier improvement (MVTR and OTR)
Ability to light weight (15-20%)
Improved dimensional stability of critical variables
Permits use of existing tooling
Instead of light weighting, Stability Lite can be used to extend shelf life by 20-40%, providing a small extension when needed

Overview: Primary Benefits of Stability SolutionsTM
Extended shelf life and enhanced product protection
Total cost of ownership
Sustainability|
Package weight is optimized (e.g. eliminates over packaging)
Safety
Desiccant canister/sachets can open and leach into the drug product
Canisters and sachets are prone to dust
Sachets and canisters can be a swallowing hazard