STA Pharmaceutical Co., Ltd., (WuXi STA) – a subsidiary of WuXi AppTec – and Antengene Corporation, a biopharmaceutical company, recently announced a strategic partnership for the CMC development and manufacturing of innovative oncology drugs.
Under the terms of the collaboration, WuXi STA will provide Antengene an integrated solution in process R&D and manufacturing, using the MAH scheme to accelerate new drug development.

Antengene is a biopharmaceutical company focused on the development of new drugs in China and the Asia-Pacific region. Through both internal research & development as well as external partnership, Antengene strives to bring cutting-edge innovative therapies to patients. The company's pipeline includes several clinical-stage drug candidates, covering therapeutic areas from solid tumors, hematologic malignancies to viral infections. WuXi STA was chosen as the strategic partner thanks to its industry leading "end-to-end" CMC platform for new drug development from preclinical to commercial – for both API and finished dosage forms – as well as its expertise and track record for meeting global quality standards.

The collaboration will include both clinical stage and commercial projects – starting with Phase II/III candidate ATG-008 and then further expand into three dominant areas such as solid tumor, hematological tumor and viral infection. WuXi STA will provide process R&D and manufacturing from APIs to drug product. Beyond that, Antengene and WuXi STA will also explore expanding the collaboration to commercial stage assets as Antengene prepares for the commercialization of its late-stage pipeline agents.

ATG-008 is currently in multi-regional clinical trial (MRCT) for the treatment of hepatitis B virus positive (HBV+) advanced hepatocellular carcinoma (HCC) patients (TORCH study). Patient enrollment started in July 2018.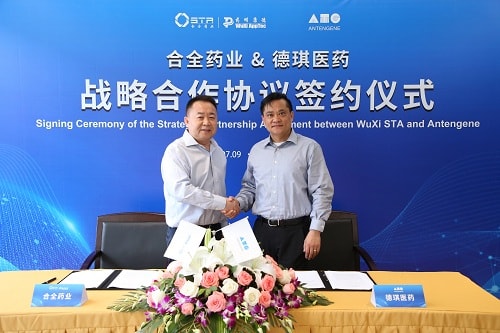 "We're delighted to partner with such a well-respected, world-class CDMO as WuXi STA," said Dr. Jay Mei, Founder and Chief Executive Officer of Antengene, "WuXi STA's end-to-end CMC platform enables us to focus on our research and development, and to move our drug candidates from clinical-stage to commercialization more efficiently. We look forward to a much broader collaboration in the near future."

Dr. Minzhang Chen, CEO of WuXi STA, added: "Our mission is to empower and accelerate customers to develop innovative drugs from clinical to commercial – faster and more efficiently. We are delighted to become the strategic partner of Antengene and look forward to helping them advance their drug candidates towards the clinic, bringing innovative medicines for the benefit of patients around the world".

About Antengene Corporation
Antengene Corporation is a clinical-stage biopharmaceutical company focused on developing and commercializing innovative therapeutics to meet unmet medical needs in Asia. Antengene aims to provide the most advanced and first-in-class anti-cancer drug treatments for patients in China and rest of Asia. On April 13, 2017, Celgene Corporation , a global leading innovative biopharmaceutical company became a long-term strategic partner and obtained an equity position in Antengene. Antengene's pipeline includes five clinical stage products, from Phase 2/3 and NDA stage ATG-010 for relapsed/refractory multiple myeloma, lymphomas and solid tumors, to ATG-008 that is in multi-regional clinical trial currently enrolling late stage HCC patients in Taiwan, South Korea and mainland China. Two other Phase 1 and Phase 2 clinical stage drugs, ATG-016 and ATG-019, are being studied in multiple cancer types, including MDS, colorectal and prostate cancers. ATG-527, studied in a completed Phase 1 trial, is being explored for multiple anti-viral indications, including influenza, respiratory syncytial virus (RSV), epstein-barr virus (EBV) related diseases. For more information, please visit www.antengene.com

About WuXi STA
STA Pharmaceutical Co., Ltd. , a subsidiary of WuXi AppTec, is a leading pharmaceutical development and manufacturing capability and technology platform company serving the life science industry, with operations in China and the United States. As a premier Contract Development and Manufacturing Organization (CDMO), WuXi STA offers our worldwide partners efficient, flexible and high-quality solutions for Active Pharmaceutical Ingredients (APIs) and finished dosage forms. For more information, please visit: http://www.STApharma.com

About WuXi AppTec
WuXi AppTec is a leading global pharmaceutical and medical device open-access capability and technology platform company with global operations. As an innovation-driven and customer-focused company, WuXi AppTec provides a broad and integrated portfolio of services to help our worldwide customers and partners shorten the discovery and development time and lower the cost of drug and medical device R&D through cost-effective and efficient solutions. With its industry-leading capabilities such as small molecule R&D and manufacturing, cell therapy and gene therapy R&D and manufacturing, and medical device testing, WuXi platform is enabling nearly 3,000 innovative collaborators from more than 30 countries to bring innovative healthcare products to patients, and to fulfill WuXi's dream that "every drug can be made and every disease can be treated." Please visit: http://www.wuxiapptec.com