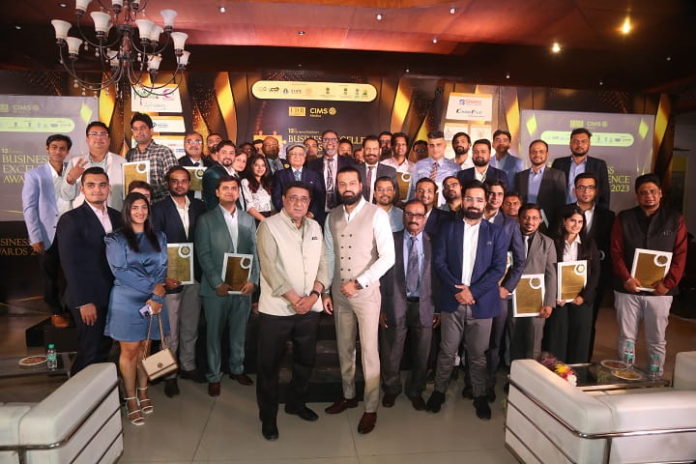 The 12th Edition of Indian Pharma Expo 2023 held on 18th and 19th Aug at Pragati Maidan, New Delhi. This monumental event, graced by luminaries from the global pharmaceutical sphere, commenced with an inaugural ceremony that radiated the brilliance of the attendees. Dr. (Prof.) Dulal Panda, the visionary Director of NIPER, Dr. RK Bharti, the astute Joint Director/HOO of the Ministry of MSME, Mr. DS Tomar, the perceptive Assistant Director of MSME, and Mr. Rajesh Tripathi, the illustrious Zonal General Manager of NSIC along with Mr. Joe Thomas, the Business Director and Mr. Alok Sharma, Vice President, India Operations at CIMS Medica India Pvt orchestrated the inception of this extraordinary symposium. Our association partners this year included Department of pharmaceuticals, Ministry of Chemicals and Fertilizers Government of India, Indian Pharmacopoeia Commission (IPC), NSIC and various National level trade associations IDMA, FOPE, AIFPA, MSME, IPA, AHPI and India China Chamber of Commerce and Industry, among others.
This year's IPE was an ideal platform to witness and appreciate the latest advancement and innovation in Manufacturing, Research and Development, Packaging Solutions, Supply Chain Management, Franchising, Distribution and domains pioneering the pharma sector. The roster of exhibitors was vast, including pharmaceutical manufacturing companies, Additives/API's Suppliers, Ayurvedic and Herbal product manufacturers, pharma machinery solution providers, CROs, and a host of other pharmaceutical service providers. Most exhibitors had been associated with us since over a decade. Having said that, the show has attracted many more companies this year. With international delegates from South Korea, Russia, Kazakistan and Japan, this Expo significantly contributed to helping eminent stakeholders of the pharma industry build new business leads and boost revenue potentials. The exhibitors were overwhelmed by the trade enquiries generated.
The Day 1 of the event was rendered unforgettable by the introduction of the conference. The eminent panel of speakers covered various topics, which helped the delegates understand challenges and changes in drug development, the streamlining of unique ideas, innovation, execution, Govt. aid & grants to promote entrepreneurship.
We had Dr. (Prof) Dulal Panda speak about "Drug discovery in India: Challenges and Opportunities Ahead". Mr DS Tomar gave us insights into the "Various schemes of MSME'', while Mr Rajesh Tripathi, informed the delegates of "Role of NSIC in the MSME Sector", and the resources available to growing companies. Dr Sunil Kheterpal spoke about "Entrepreneurship in Healthcare", both guiding and educating the delegated. The respected speakers and delegates engaged in an energetic Q&A, sharing enlightening insights, fostering a dynamic learning atmosphere.
The evening was full of glitter and glamour, and was graced by the presence of the who's who of the industry. The winners are selected in the fields of Research and Development, Active Pharmaceutical Ingredients, Formulations, Manufacturing, Packaging, Distribution, Marketing, Franchising, Outsourcing, Supply chain and Logistic Management, and other Support Services. Business Excellence Awards were conducted in the presence of Smt. Susmita R Jyotsi, Dr Sunil Khetarpal, Mr Rajesh Tripathi- Zonal Manager NSIC, and Mr DC Jain. Felicitating the business that brought innovation and freshness in the pharma industry, the winning companies and personalities this year were:
Mr DC Jain – Akums
Zydus Healthcare
GSK-Otrivin
Zandu Pancharishta-Emami
Bharat Serum & Vaccines Ltd
Lupisulin & Basugine-Lupin
Wings Biotech
Varenyam Healthcare
Sarian Healthcare
Helplab Healthcare
Enomark Pharma
Aleius Lifesciences
Ethnic Biotech
Santiago Lifesciences
Varenyam Healthcare
Finecure Pharmaceuticals
Sky sun Lifesciences
NDB Healthcare
Leo Nutricsience
Forgo Pharmaceuticals
Akshar Molecules
Claps Pharma
Glowria Lifecare Pvt Ltd
NB Healthcare
Microwin Labs
Mascot Health Series
The event wrapped up on August 19th 2023, with companies showcasing avant-garde products, creating and fostering global connections and emerging as the quintessential pedestal for diverse sectors within the pharmaceutical realm to unfurl their innovation, exchange triumphant ideas, and bask in the glory of recognition. This convergence was more than a mere event; it was an odyssey through the annals of industry trends, a kaleidoscope of evolution, and a beacon illuminating the trajectory of pharmaceutical progress. In a nutshell, IPE 2023 emerged as the quintessential rendezvous for the pharmaceutical realm this year, an opportunity not to be missed. For those who couldn't be a part of this extraordinary journey, mark your calendars for Hyderabad on 22nd & 23rd December 2023 at HITEX Exhibition Centre.