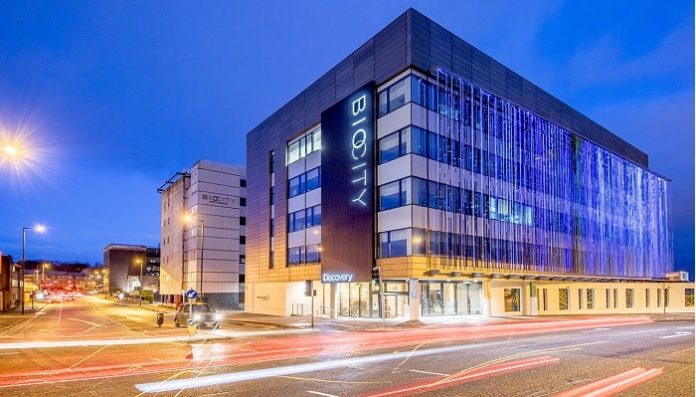 Sygnature Discovery, the leading independent drug discovery and pre-clinical services company, has announced its US office has moved. The new office, at 245 First Street in Cambridge, MA, is near Kendall Square, the heart of the Cambridge–Boston biotech hub.
It's only a small move geographically – just a couple of miles down the road from the old location near Harvard Square – but it is significant. There are more than 100 pharma/biotech companies within a mile of the new office, and many more in the wider Boston–Cambridge area.
'We have seen the benefits of having a physical presence in Harvard Square, and it has served us really well,' said Anders Lindstrom, Director of Marketing at Sygnature. 'The opportunity to move closer to the Kendall Square centre of the biotech cluster was one we could not pass up. One of our key strengths is our collaborative approach to drug discovery, and a physical presence as close as possible to customers is important, so this crucible of drug discovery is the perfect place for us.' Lindstrom added.
The US has been a significant market for Sygnature ever since it entered the drug discovery sector 15 years ago, and the first customer was US-based. Many Sygnature scientists studied and worked at US institutions, including MIT and Harvard. Half of the company's business is now in the US, with customers all across the country from West Coast to East Coast and between.
The company is experiencing huge demand from US companies, ranging from big pharma to small university spinouts. Sygnature's SVP of Business Development, Paul Clewlow commented: 'We believe the services and expertise we have within Sygnature is perfectly tuned to providing the resource and expertise our customers need to take forward their innovative drug discovery programmes. A huge amount of exciting drug discovery is going on in the Boston–Cambridge area – not just biotechs, but big pharma is congregating there now as well. It is a great hub for us from where to better serve our North American customer base'.
About Sygnature Discovery
Sygnature Discovery is a leading independent integrated drug discovery and pre-clinical services company. Private equity-backed since 2017, they operate fully enabled research facilities in Nottingham and Alderley Park, UK, housing more than 250 research scientists (over 80% of whom hold a PhD) and have an office presence in Cambridge, Massachusetts, US. Their experienced drug-hunters possess all the professional skills and know-how required to undertake the most demanding of research programmes, and drive them from target validation through hit identification, hit-to-lead and lead optimisation to pre-clinical development candidate. Since 2011, 30 compounds discovered by Sygnature for clients have entered pre-clinical development and so far 14 of these have progressed to clinical trials (Phases I, II and III). In 2017, Sygnature Discovery received the prestigious Queen's Award for Enterprise for International Trade. For further information, visit: www.sygnaturediscovery.com