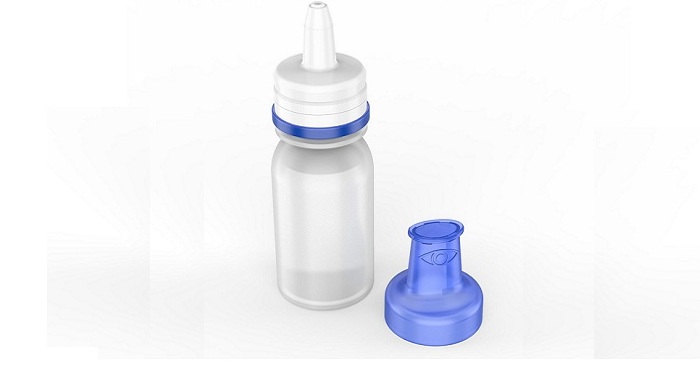 Silgan Dispensing, a global leader in the design, development and manufacturing of highly engineered pumps and sprayers in the pharmaceutical, home and beauty markets, will highlight its newest ophthalmic dispensing solution, Iridya™, at this year's Pharmapack, Europe's dedicated Pharmaceutical Packaging and Drug Delivery event.
Iridya , is a next-generation, preservative-free multi-dose, eye dropper that improves on existing technology by combining advanced ergonomics and precise dispensing to ensure proper dosage. The device addresses key consumer pain points and ophthalmologist dosing challenges and works with a specially designed plastic squeeze bottle that appeals in form and function to pharmaceutical companies, doctors and patients. In fact, the design and development of Iridya was supported with strong consumer research and physician input.
"We're targeting unmet patient needs in the ophthalmic market by offering our customers a preservative-free, multi-dose eye dropper that is both easy to use and precise, drop after drop," said Ralf Hergenröther, Product Line Manager, Healthcare, of Silgan Dispensing.   
Hergenröther added, "In independent testing, we found consumers were delighted with the ease of handling and drop control of Iridya. They've highlighted the low-squeeze force and elongated tip as making it easier to take their medication."
The Iridya™ eye dropper features Silgan Dispensing's NO-JET™ technology that ensures consumers an accurate dose and an easy-to-use design experience, while also providing safe delivery of unpreserved ophthalmic medications. The eye dropper's elongated tip provides greater accuracy than competitive preservative-free, multi-dose devices when dispensing drops into the eye, and its low-squeeze force and ergonomic grip on the overcap make it easy to use.
In addition, Iridya's sealing and barrier system to contamination is compatible with liquids from low to high viscosities, allowing for the use of preservative-free formulations for prescription and over-the-counter medications.
About Silgan Dispensing
Silgan Dispensing is a leading global supplier of highly engineered triggers, pumps, sprayers and dispensing closure solutions to major branded consumer goods product companies in the home, health and beauty markets. With several cGmp certified facilities around the world, approved medical device facility with ISO 7&8 clean room, consumer insights and manufacturing expertise, Silgan Dispensing provides innovative and customizable solutions that meet Brand owners' needs. Whether the application calls for a pump, a sprayer or a custom dispensing device, Silgan Dispensing can tailor our wide-ranging and well-known product portfolio for our customers' needs. As a leader in global dispensing solutions, Silgan Dispensing is committed to improving both customer experience and its partners' businesses. Visit www.silgandispensing.com for more information.