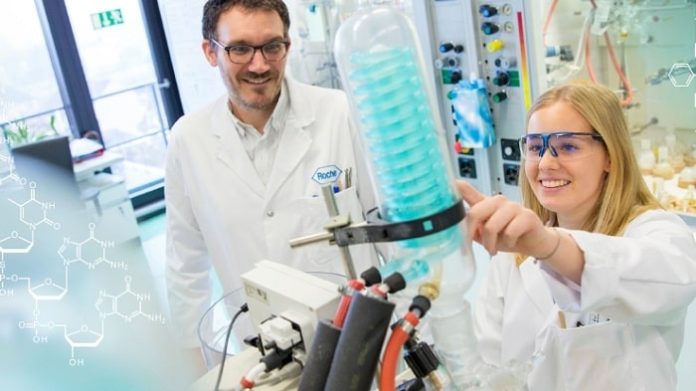 Hoffmann-La Roche Limited (Roche Canada) is pleased to announce the launch of the Roche Data Science Coalition, a group of like-minded public and private organizations committed to working with the global community to develop solutions to the challenges of the COVID-19 pandemic.
Effective response to the COVID-19 pandemic requires actionable data insights to support patients, frontline healthcare providers, health institutions, supply chains and government. The Roche Canada Data Science Coalition believes an important way in which this can be supported is through the sharing of knowledge and healthcare data to better inform patient care and health system decision making.
The Coalition has developed a centralized location for curated publicly available population datasets, which will be gathered from sources across the globe and used to enhance COVID-19 research. This will focus on informing the management of the global pandemic, as well as providing the scientific and research community with a robust foundation for current and future COVID-19 patient-level data work.
As patient level data is an important part of understanding and responding to COVID-19, the Coalition is also making a patient self-assessment tool available that can be used by anyone suspected to have or has been diagnosed (currently being treated or recovered) with COVID-19. Patients can self-report data and an anonymized COVID-19 dataset will be prepared and shared with the Roche Data Science Coalition data repository where it will be made freely available to the research community. Patients will also be able to use this data with their healthcare professional providing an overview of their symptoms and health history, which could help them to make more informed and efficient assessments based on the patient's data.
The Coalition has officially launched a challenge administered by Kaggle, an online community of data scientists and machine learners, called the United Network for COVid-19 Data Exploration and Research ("UNCOVER"). Roche Data Science Coalition datasets will be made accessible to the public on the Kaggle website, calling out to a community of 4.3 million users to answer questions that will focus on capacity management and research studies for COVID-19. The data may also help identify immediate resource and capacity constraints in treating the global COVID-19 patient population.
"It's critical that data on COVID-19 be collated and accessible in order to address this pandemic. Together with our collaborators, this centralized repository for publicly available and patient reported data can support accelerated research efforts and knowledge mobilization globally", said Fanny Sie, Strategic Healthcare Partner, Artificial Intelligence and Digital Health, at Roche Canada.
About Roche
Roche is a global pioneer in pharmaceuticals and diagnostics focused on advancing science to improve people's lives. The combined strengths of pharmaceuticals and diagnostics under one roof have made Roche the leader in personalized healthcare – a strategy that aims to fit the right treatment to each patient in the best way possible.
Roche is the world's largest biotech company, with truly differentiated medicines in oncology, immunology, infectious diseases, ophthalmology and diseases of the central nervous system. Roche is also the world leader in in vitro diagnostics and tissue-based cancer diagnostics, and a frontrunner in diabetes management.
Founded in 1931, Roche Canada is committed to searching for better ways to prevent, diagnose and treat diseases while making a sustainable contribution to society. The company employs more than 1,200 people across the country through its Pharmaceuticals division in Mississauga, Ontario and Diagnostics, as well as Diabetes Care divisions in Laval, Quebec.
Roche aims to improve patient access to medical innovations by working with all relevant stakeholders. Roche Canada is actively involved in local communities through its charitable giving and partnerships with organizations and healthcare institutions that work together to improve the quality of life of Canadians.