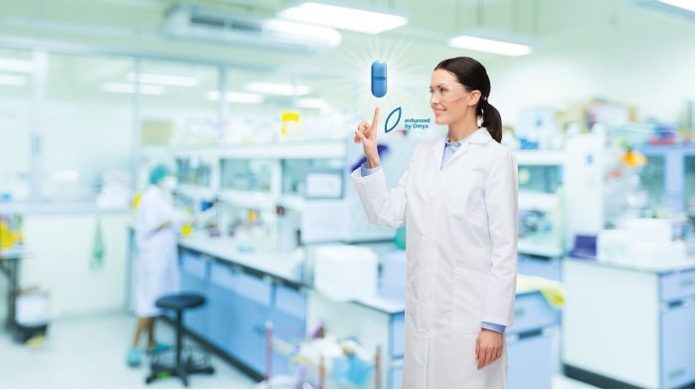 At CPhI, mineral producer Omya is presenting a new chewable tablet prototype with simethicone as an active ingredient (API). Simethicone is a highly viscous anti-foaming agent, usually used to reduce bloating, discomfort or pain caused by excess gas in the stomach and intestines.
The prototype is formulated with the multifunctional carrier Omyapharm® 500-OG, which helps convert liquids into compressible powders thus facilitating the production of tablets.
In fact, simethicone is loaded onto Omyapharm® 500-OG using a high-shear mixer and a pump, readily transforming the liquid API into a compressible and easy-to-handle powder. The simethicone-loaded powder is then blended with the rest of the ingredients and compressed into a convenient chewable tablet. The final formulation contains 68mg of simethicone in a 680mg chewable tablet.
Omyapharm® is an extremely efficient carrier for converting oils and liquids into compressible powders. In addition, the excipient facilitates the production of tablets with excellent compactibility, good mechanical stability, high absorption capacity and rapid disintegration. Simethicone tablets with 60N hardness can be yielded at compression forces below 13kN, while showing friability below 0.01% and a disintegration time of approximately two minutes. Higher contents of simethicone of up to 93.5mg are possible, as tested by Omya.
With its state-of-the-art laboratory, the company is able to provide specific formulation services. This includes creating innovative mineral solutions for the pharmaceutical market and supporting customers in the development of suitable applications.
About Omya Group
Omya International AG is a leading global producer of calcium carbonates and a worldwide distributor of specialty additives, premium services and solutions. Founded in 1884 in Switzerland, Omya has a global presence extending to 175 locations in over 50 countries with 8,000 employees. Omya provides sustainable added value products and services from responsibly sourced materials to meet the needs of current and future generations. In the Consumer Goods sector, Omya offers innovative solutions based on high purity natural minerals and complementary ingredients that comply with the most stringent regulatory and quality standards. For further information, please visit www.omya.com