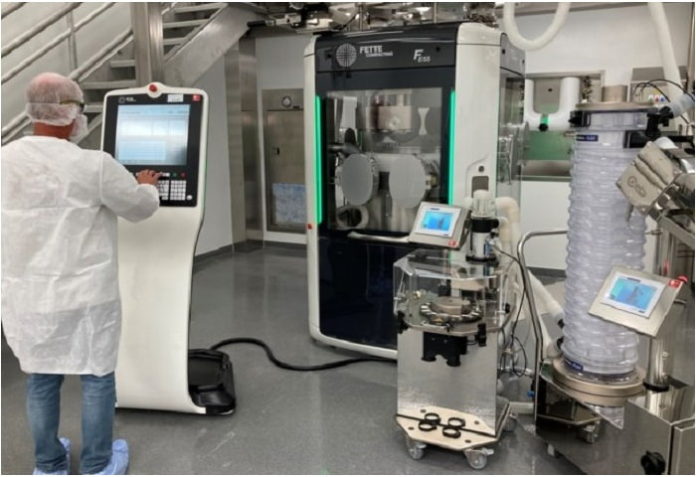 Metrics Contract Services (Metrics), a full-service global contract development and manufacturing organization (CDMO), has expanded its novel oral solid dose commercial facility in Greenville, North Carolina, adding 3,760 square feet of production space and new equipment.
The expansion completes a further $10 million investment following the completion of an $80 million project in 2018, and consists of three new manufacturing suites including a:
Combination dispensing/flex room
Flex room
Dedicated suite to house a newly commissioned Fette FE55 contained tablet press with bilayer capability.
All three suites feature: separate personnel and equipment airlocks for compliant one-way flow to prevent contamination; stainless steel doors and finishes; robust epoxy paint and floor finishes; low wall HEPA filter exhausts with bag in – bag out design; and fogging showers. The additions accommodate the company's growing portfolio of commercial services following sustained increase in demand from clients for high potent handling capabilities.
"The new commercial production suites will accommodate our customers' demand for increased flexibility and capacity. This trio of rooms will enable us to further tailor equipment trains to the applicable process, particularly those that require smaller batch sizes," said John Ross, President of Mayne Pharma U.S and Metrics Contract Services. "Our clients will see immediate benefits through greater flexibility and improved potent handling."
The expansion project began in Q3 2020 and is indicative of the company's ongoing commitment to expanding its novel oral solid dose manufacturing capabilities to provide clients with quality services from initial concept through to global commercialization. Metrics is looking ahead at the next phase of investment with the addition of further potent handling expansion and potential adjacent formulation technologies.
About Metrics Contract Services
Metrics Contract Services is a full-service pharmaceutical development and manufacturing organization serving clients worldwide delivering proven scientific and operational excellence for novel oral dosage forms. Metrics' areas of expertise include quality pharmaceutical formulation development; first-time-in-human formulations; Phase I-III clinical trial materials manufacturing; and analytical method development and validation services leading to commercial scale manufacturing. Technical capabilities include highly potent and unstable compounds; Schedule II-V controlled substances; and products with poor bioavailability, for which we offer an impressive portfolio of advanced delivery methods. Metrics manufactured products are now approved by medicines regulators in more than 40 countries. Located in Greenville, N.C., Metrics is a proud member of Mayne Pharma.
About Mayne Pharma
Mayne Pharma is an ASX-listed specialty pharmaceutical company focused on the application of drug delivery expertise to commercialize branded and generic pharmaceuticals. Mayne Pharma also provides contract development and manufacturing services to more than 100 clients worldwide.  Mayne Pharma has a 40-year track record of innovation and success in developing new oral drug delivery systems, and these technologies have been successfully commercialized in numerous products that continue to be marketed around the world. Mayne Pharma has two drug development and manufacturing facilities based in in Salisbury, Australia and Greenville, USA with expertise in the formulation of complex oral and topical dose forms including potent compounds, modified-release products and poorly soluble compounds.