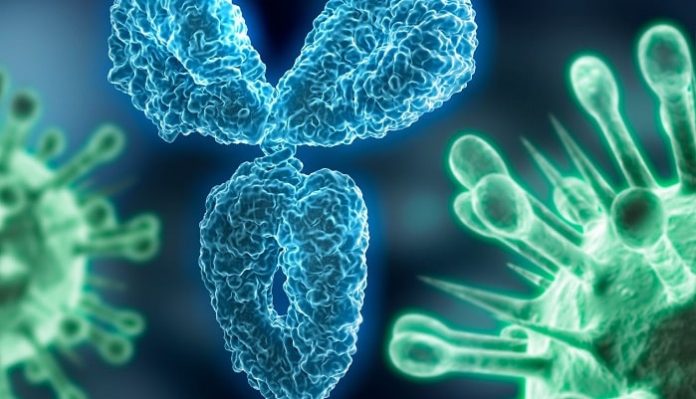 Roche announced that Japan's Ministry of Health, Labour and Welfare (MHLW) has approved Ronapreve™(casirivimab and imdevimab), for the treatment of patients with mild to moderate COVID-19 via intravenous infusion. The antibody combination was granted a Special Approval Pathway under article 14-3 of the Pharmaceuticals and Medical Devices Act.
"Ronapreve has been shown to improve survival in high-risk, non-hospitalised COVID-19 patients by reducing the risk of hospitalisation and death. In addition, its ability to retain activity against emerging variants, including the Delta variant, has been demonstrated in preclinical studies," said Levi Garraway, M.D., Ph.D., Roche's Chief Medical Officer and Head of Global Product Development. "Today's approval brings hope to patients in Japan who can now access this important treatment option."
The MHLW based the approval on results from the global phase III REGN-COV 2067 study in high-risk non-hospitalised patients with COVID-19, which showed that casirivimab and imdevimab reduced hospitalisation or death by 70% and symptom duration by four days, as well as a phase I clinical study, examining the safety, tolerability and pharmacokinetics in Japanese people.
Outside Japan, the antibody combination has been authorised for emergency use or temporary pandemic use in additional territories and regions, including in the European Union, United States, India, Switzerland and Canada. It is also undergoing rolling review by the European Medicines Agency and was granted a scientific opinion (under Article 5(3) of Regulation 726/2004) by the Committee for Medicinal Products for Human Use, supporting its use as a treatment option for patients with confirmed COVID-19 who do not require oxygen supplementation and who are at high risk of progressing to severe COVID-19.
In December 2020, Chugai obtained development and exclusive commercialisation rights in Japan from Roche, and is working with the Japanese government to ensure an appropriate and timely supply of Ronapreve.
In these exceptional times, Roche stands together with society, governments, healthcare providers and all those working to overcome the pandemic.
About Ronapreve (casirivimab and imdevimab)
Ronapreve is a combination of two monoclonal antibodies (also known as REGN10933 and REGN10987, respectively) and was designed to block infectivity of SARS-CoV-2, the virus that causes COVID-19. The two potent, virus-neutralising antibodies are believed to bind non-competitively to the critical receptor binding domain of the virus's spike protein, which is hypothesised to diminish the ability of mutant viruses to escape treatment and to protect against spike variants that may arise in the human population, as detailed in Science publications. In addition, data from preclinical studies, as referenced in publications in Cell and Nature, showed that casirivimab and imdevimab retained neutralisation activity against key emerging variants.
In addition to the REGN-COV 2067 trial in non-hospitalised patients, Ronapreve is currently being assessed in a phase II/III clinical trial for the treatment of COVID-19 in hospitalised patients (REGN-COV 2066). Recently, the phase III open label University of Oxford-led RECOVERY trial of hospitalised patients, showed casirivimab and imdevimab reduced risk of death when given to patients hospitalised with severe COVID-19 who had not mounted a natural antibody response of their own (seronegative). In addition, a phase III trial for the prevention of COVID-19 in household contacts of infected individuals (REGN-COV 2069), showed subcutaneous administration of casirivimab and imdevimab reduced risk of symptomatic COVID-19 infections by 81%.
The antibody combination was authorised by the United States (U.S.) Food and Drug Administration (FDA) under an Emergency Use Authorization (EUA) for the treatment of mild to moderate COVID-19 in adults and paediatric patients (12 years of age and older weighing at least 40 kg) with positive results of direct SARS-CoV-2 viral testing, and who are at high risk for progression to severe COVID-19 and/or hospitalisation. The US EUA is temporary and does not take the place of the formal biologics license application (BLA) submission, review and approval process.
The European Medicines Agency's (EMA) Committee for Medicinal Products for Human Use issued a scientific opinion under Article 5(3) of Regulation 726/2004 supporting the use of casirivimab and imdevimab as a treatment option for patients with confirmed COVID-19 who do not require oxygen supplementation and who are at high risk of progressing to severe COVID-19. The scientific opinion can be considered by European Union member states when making decisions on the use of medicines at a national level before a formal authorisation is issued. The review under Article 5(3) was separate, but ran in parallel to the rolling review of casirivimab and imdevimab, which is currently ongoing by the EMA.
About Roche
Roche is a global pioneer in pharmaceuticals and diagnostics focused on advancing science to improve people's lives. The combined strengths of pharmaceuticals and diagnostics, as well as growing capabilities in the area of data-driven medical insights help Roche deliver truly personalised healthcare. Roche is working with partners across the healthcare sector to provide the best care for each person.
Roche is the world's largest biotech company, with truly differentiated medicines in oncology, immunology, infectious diseases, ophthalmology and diseases of the central nervous system. Roche is also the world leader in in vitro diagnostics and tissue-based cancer diagnostics, and a frontrunner in diabetes management. In recent years, Roche has invested in genomic profiling and real-world data partnerships and has become an industry-leading partner for medical insights.
Founded in 1896, Roche continues to search for better ways to prevent, diagnose and treat diseases and make a sustainable contribution to society. The company also aims to improve patient access to medical innovations by working with all relevant stakeholders. More than thirty medicines developed by Roche are included in the World Health Organization Model Lists of Essential Medicines, among them life-saving antibiotics, antimalarials and cancer medicines. Moreover, for the twelfth consecutive year, Roche has been recognised as one of the most sustainable companies in the Pharmaceuticals Industry by the Dow Jones Sustainability Indices (DJSI).
The Roche Group, headquartered in Basel, Switzerland, is active in over 100 countries and in 2020 employed more than 100,000 people worldwide. In 2020, Roche invested CHF 12.2 billion in R&D and posted sales of CHF 58.3 billion. Genentech, in the United States, is a wholly owned member of the Roche Group. Roche is the majority shareholder in Chugai Pharmaceutical, Japan.