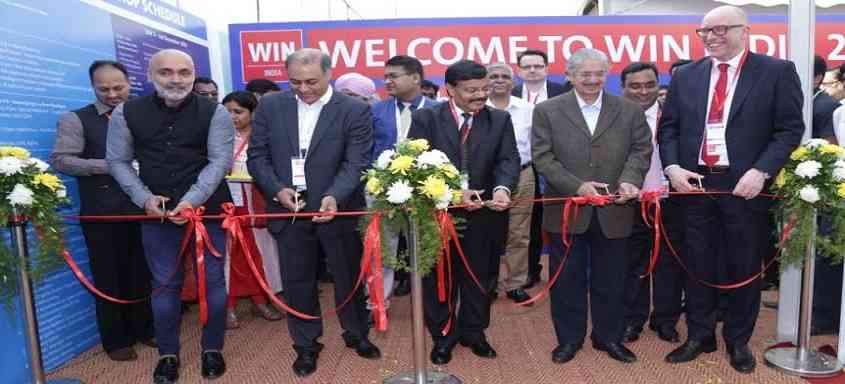 WIN INDIA 2016,  India's leading high tech engineering and manufacturing trade show took place from the 1st – 3rd December 2016 at MMRDA Grounds, Bandra – Kurla Complex, Mumbai.
The show which consisted of three trade exhibitions – CeMAT INDIA, focused on material handling, intra logistics& warehousing; Industrial Automation India (IA India) focused on factory and process automation; and Motion Drive & Automation India (MDA India) focused on hydraulics & pneumatics and electro – mechanical transmission, was organized by Hannover Milano Fairs India in partnership with Department of Heavy Industry (DHI), Government of India and FICCI. The 3 day trade fairs are organised under the umbrella brand of WIN INDIA, a sister event for Deutsche Messe's largest global industrial engineering trade fair HANNOVER MESSE.  
The trade fairs witnessed over 6000 visitors at the trade fairs in three days and participation from about 200 exhibitors from 10 countries. Speaking on the 10th edition of the trade fair, Mr. Mehul Lanvers Shah, Managing Director, Hannover Milano Fairs India said, "This year's success definitely underlines the importance of manufacturing and the logistics sector in the Indian market. Through the strategic partnership with the Department of Heavy Industry and FICCI, WIN INDIA 2016 will help the Indian market to position and prepare itself as a leading industrial and manufacturing destination in the world.  We are very happy with the quality footfall that we have received at this edition and grateful to all our exhibitors, international as well as domestic, for participating at this trade fair and making it a huge success."
The trio of trade fairs brought together renowned manufactures, suppliers, policy makers from the government, key players from the industry and the end users on one common platform to showcase their new products and technologies and to keep up with the latest trends and innovation in the industry. Some of the key exhibitor on display was Robert Bosch Engineering, Siemens, Festo, GreyOrange, Mahindra Logistics, Godrej & Boyce Mfg. Co. Ltd., Jungheinrich Lift Truck India Pvt. Ltd, Larsen & Toubro Ltd, Rittal, Pilz India and many more. One of the key attractions was an Interactive Humanoid Robot – 'ROBOTHESPIAN',jointly developed by FESTO and ENGINEERING ARTS that copies human movements. Visitors at WIN INDIA got the opportunity to see this interactive instalment for the first time. 
Shri. Girish Shankar,  Secretary, Department of Heavy Industry, Government of India said, "By providing a platform for hi-tech engineering companies to showcase their new technologies and products to the market, WIN INDIA is becoming an important driver for India's manufacturing industry. Manufacturing industry is the most important sector in India which contributes to nearly 16% of our GDP. We are expecting the manufacturing sector to grow to 25% by 2022."
The key highlights at the trade fairs included a 'CEO Conclave', organized by FPSI (Fluid Power Society of India) which was well attended by top CEOs from manufacturing companies presenting pneumatic and hydraulic sector who discussed the future of the industry and introduction of new technology in the field., An 'Automation Training Zone (ATZ) for professionals to know more about automation, received the highest participation of over 250 candidates across 8 training modules. Conducted by Automation Industry Association for the second year at WIN INDIA, ATZ saw a larger interest from the sector, making it a regular feature at WIN INDIA. Another key feature was also a 'Masterclass Session' on 'Harmonizing Warehouse Ecosystem for maximizing efficiency' which was conducted by Mr. Arif Siddiqui.
It was attended by CXOs, Supply Chain Heads, Vice-Presidents, Warehouse Owners and Strategic Planning Managers.  An interesting panel discussion on the topic of 'Industry 4.0 in manufacturing and skilling in the engineering  'Industry 'was organized by VDMA (German Engineering Federation) as a part of MDA Forum that saw participation fromMr.Gautam Dutta, Siemens Limited; Mr. Bipin Jirge, Ifm electronic India Private Limited; Mr. Suresh K.V, ZF India Private Limited; Mr. K.T. Vijayan, Volkswagen India Private Limited; Mr. Rashmikant Joshi, Festo India Private Limited; Mr.Anil Bhandari, Karnataka German Multi Skill Development Centre; Mr. Santanu Ghoshal, Schaeffler India, etc. An award ceremony was held for Industrial Excellence Award by India Product Finder (IPF – ASAPP Media), which felicitated various companies for their excellence in products and technology.
Mr. Deepak Sapre, Managing Director, Rittal, said, "WIN INDIA is an excellent platform for us to showcase our products to the Indian market and is very useful for us to understand the new trends in the market. We will look forward to participating at WIN INDIA in the next edition.
Mr. Vishwanath Kamath, National Sales Director, Fronius India Pvt. Ltd said, "We have been participating since a couple of years and we find this a very relevant platform to showcase our new products and technologies and meet potential clients as well as our existing customers. We would definitely visit the trade fair in the next edition."
Mr. Wolfgang Hӧltgen, Co-founder, Grey OrangePvt. Ltd. said, "WIN INDIA is an excellent place to be in for all the people connected to the manufacturing, logistics and the warehousing industry. It is a pleasure to be an exhibitor at WIN INDIA 2016 as we receive a lot of enquiries for our technologies and we can interact with a lot of new clients. We look forward to participating at WIN INDIA in the next edition."
Hannover Milano Fairs India Pvt Ltd. 
Hannover Milano Fairs India (HMFI) is a subsidiary of the global joint venture of Deutsche Messe (Germany) and Fiera Milano Group (Italy) in India. – World leaders in the fields of trade fair organization, venue management and conferences. HMFI organizes 7 international trade fairs annually which are leaders in their sectors in India. WIN India (World of Industry), CeBIT India (the leading Business IT exhibition and conference.), Food Hospitality World (a premier B2B food, drinks and hospitality exhibition event), Plugged In India (the largest consumer electronics and gaming event). 
Deutsche Messe AG
With revenue of 280 million euros (2014), Deutsche Messe AG ranks among the world's ten largest trade fair companies and operates the world's largest exhibition center. In 2014, Deutsche Messe planned and staged 134 trade fairs and congresses around the world – events which hosted more than 41,000 exhibitors and 3.6 million visitors. The company's event portfolio includes such world-leading trade fairs as CeBIT (IT and telecommunications), HANNOVER MESSE (industrial technology), BIOTECHNICA (biotechnology), CeMAT (intralogistics), didacta (education), DOMOTEX (floor coverings), INTERSCHUTZ (Rescue, fire prevention, disaster relief, safety and security), and LIGNA (wood processing and forestry). With about 1,200 employees and a network of 66 representatives, subsidiaries and branch offices, Deutsche Messe is present in more than 100 countries worldwide.