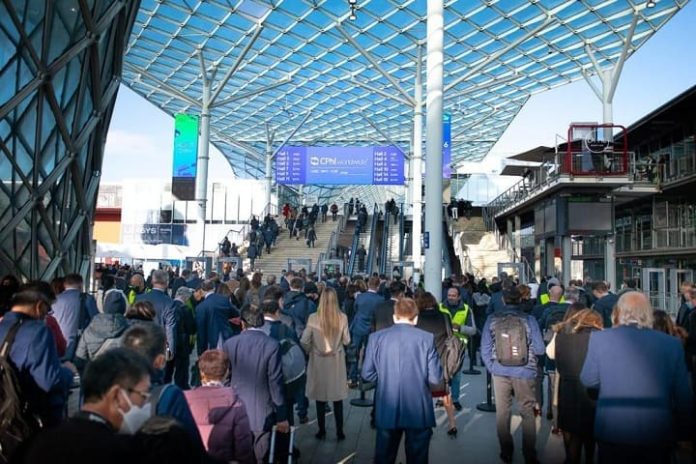 CPhI Worldwide (9-11 November, 2021), which held its first in-person event since 2019, hosted the global pharma community at the Fiera Milano, Milan, welcoming exhibitors and attendees from 146 countries.
This year's smart event was a combination of a three-day live exhibition, and a month-long online event featuring both the latest market insights through live and on demand content sessions and of course networking opportunities. The digital solutions and online partnering enabled attendees to target contacts for in-person meetings in advance as well as facilitating virtual networking for global audiences unable to travel.
Highlighting the industry's positivity for the return of in-person networking – in spite of the travel restrictions still in place in many countries – over 65% of visitors were international with over 23,000 in-person attendees. CPhI Worldwide's online figures were equally impressive, with a global audience of over 25,000 actively participating.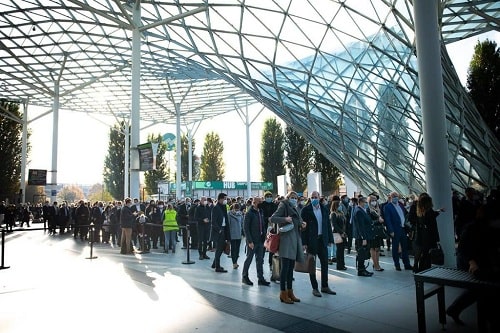 "It's really important for the industry to meet in person again, although we've been in touch with our customers for the entire period, it makes a huge difference to see people in real life and to discuss their business's needs," Karin Gerbens, Communications Director for DFE Pharma
The event is widely seen as a barometer of pharma industry strength. Confidence in industry growth and new partnering is high and there were 2,761 meetings at the event scheduled through the online platform alone. Host nation, Italy – home to the largest pharma industry in Europe – provided a large number of attendees, with Federfarma Lombardia and Aschimfarma-Federchimica hosting a press conference for dozens of national and international media.
"We were surprised not just by the high volume of foot traffic but also the quality of leads that we got. Even compared to 2019 we secured more quality leads this year." Tony Martin, Director of Regional Marketing, Grace.
CPhI Worldwide featured 58 content sessions, 104 speakers and 1,169 exhibitors. Key content covered some of the biggest issues in the last year including mRNA technology, connectivity, sourcing and supply chain transparency, sustainability and innovative approaches to manufacturing.
Speaking about the enthusiasm for the return of in person events, Group Director, Adam Andersen, commented: "All across the show floor and in partnering meetings our attendees are reporting a tremendous amount of excitement and appreciation of the benefits of being able to sit down again with both current and future business partners. Throughout the event's three days, we saw a collaborative environment, a desire to nurture deeper partnerships, with both exhibitors and visitors looking to maximise the value they get from being back at the world's leading pharma event."
CPhI Worldwide 2022 will take place at the Messe Frankfurt, Germany (1-3 November, 2022) with the entire supply chain represented from ingredients, machinery and bio to contract services finished dosage and packaging.
Andersen added, "it's been a really positive event to return to after the last two years, and the industry is extremely strong, with new supply networks and partners in high demand. There is a sense of optimism, enthusiasm, and positivity around 2022 and our CPhI and Pharmapack events globally, from North America to Europe and Asia. The industry has acknowledged the vital role in-person and hybrid meetings play in building networks and supporting a global supply chain." 
About CPhI
CPhI drives growth and innovation at every step of the global pharmaceutical supply chain from drug discovery to finished dosage. Through exhibitions, conferences and online communities, CPhI brings together more than 100,000 pharmaceutical professionals each year to network, identify business opportunities and expand the global market. CPhI hosts events in Europe, Korea, China, India, Japan, South East Asia, North America, and the Middle East and Africa. Co-locating with ICSE for contract services; P-MEC for machinery, equipment & technology; InnoPack for pharmaceutical packaging; bioLIVE for biopharma; and Finished Dosage Formulation for every aspect of the finished dosage supply chain.
About Informa Markets
Informa Markets creates platforms for industries and specialist markets to trade, innovate and grow. Our portfolio is comprised of more than 550 international B2B events and brands in markets including Healthcare & Pharmaceuticals, Infrastructure, Construction & Real Estate, Fashion & Apparel, Hospitality, Food & Beverage, and Health & Nutrition, among others. We provide customers and partners around the globe with opportunities to engage, experience and do business through face-to-face exhibitions, specialist digital content and actionable data solutions. As the world's leading exhibitions organizer, we bring a diverse range of specialist markets to life, unlocking opportunities and helping them to thrive 365 days of the year.