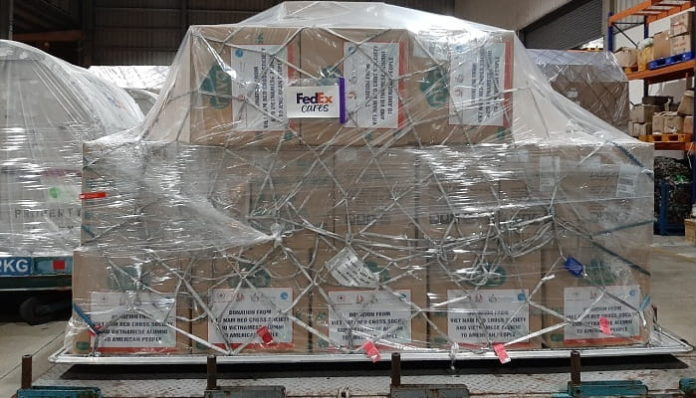 Amid the global COVID-19 pandemic, FedEx Express, a subsidiary of FedEx Corp. and the world's largest express transportation company, has been working with nonprofit organizations around the world to deliver much needed essential aid in the form of medical and protective equipment to countries in need.
FedEx is helping the Vietnam Red Cross Society transport thousands of donated medical masks to the American Red Cross in the United States. The donation was mobilized by the Vietnam Red Cross Society to help U.S. communities cope with the COVID-19 pandemic. This includes masks donated by the Vietnam Red Cross, and masks donated by the Vietnam-U.S. Alumni Club (VUSAC)-Hanoi.
The American Red Cross maintains a limited inventory of personal protective equipment (PPE) in order to maintain readiness to respond to disasters across the country and to support the collection of about 40% of the United States' blood supply.
President of the Vietnam Red Cross Society Nguyen Thi Xuan Thu said, "The donation is a small contribution compared to what is needed in the U.S., but there is so much love behind every one of those masks. The gifts show the solidarity and friendship between the Vietnamese people and our U.S. counterparts."
"During these extraordinary times, the actions of everyone and every sector of society matters greatly," said Hardy Diec, Managing Director of FedEx Indochina. "At FedEx Express, we are proud to contribute by donating essential shipping services and proactively supporting relief efforts to get important, lifesaving equipment to those who need it most. We will continue to work with our nonprofit partners and stakeholders in fighting this public health challenge."
Earlier in April, FedEx, in coordination with DuPont and the U.S. Embassy in Vietnam transported shipments from Vietnam to Texas carrying more than 450,000 Tyvek® protective suits. FedEx Express aircraft are being used to transport critical PPE supplies to locations they are needed around the world.
About FedEx Express
FedEx Express is the world's largest express transportation company, providing fast and reliable delivery to more than 220 countries and territories. FedEx Express uses a global air-and-ground network to speed delivery of time-sensitive shipments, by a definite time and date with a money-back guarantee.
About FedEx Corp.
FedEx Corp. provides customers and businesses worldwide with a broad portfolio of transportation, e-commerce and business services. With annual revenues of $70 billion, the company offers integrated business solutions through operating companies competing collectively and managed collaboratively, under the respected FedEx brand. Consistently ranked among the world's most admired and trusted employers, FedEx inspires its more than 475,000 team members to remain focused on safety, the highest ethical and professional standards and the needs of their customers and communities.