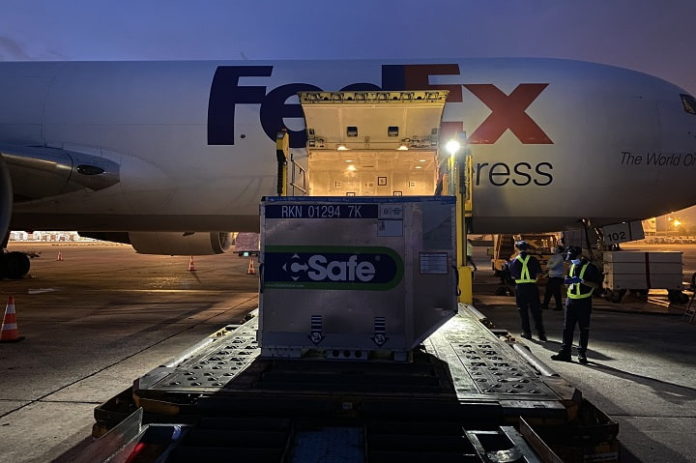 FedEx Express, a subsidiary of FedEx Corp. and one of the world's largest express transportation companies, has delivered a shipment of COVID-19 vaccines and test kits on September 23 from Hungary to Vietnam on behalf of PATH, a global healthcare non-profit organization. FedEx donated the shipping of these critical items to support the fight to end the pandemic.
A shipment of 100,000 doses of COVID-19 vaccines and 100,000 pieces of antigen test kits onboard a FedEx aircraft were transported from Budapest, Hungary to Hanoi, Vietnam. FedEx used its healthcare solutions and expertise to protect the integrity and security of this time-and temperature-sensitive shipment throughout the journey.
"Making critical connections around the globe and delivering strength to communities where our teams and customers live and work is what we do and who we are.  In these times of need, we are committed to delivering these lifesaving vaccines to move the world forward.  Since the beginning of 2020, FedEx has transported more than 13,800 humanitarian aid shipments globally toward COVID-19 relief efforts," said Kawal Preet, president, Asia-Pacific, Middle East and Africa region, FedEx Express, "We will continue to use our vast network for as long as it takes to assist with COVID-19 efforts around the world."
"We are grateful to support this vaccine shipment to assist in the country's recovery, and deliver much needed hope to Vietnam." said Hardy Diec, managing director, Operations, FedEx Express Indochina. "We are proud of our world-class team of healthcare experts who are working hard to ensure that these critical vaccines are delivered quickly and safely to Vietnam."
This shipment of vaccines and test kits is consistent with the company's FedEx Cares 50 by 50 goal to positively impact 50 million people around the world by the company's 50th anniversary in 2023. Through the FedEx Cares "Delivering for Good" initiative, FedEx lends its global network and unparalleled logistics expertise to organizations with mission-critical needs and helps communities before, during and after crises.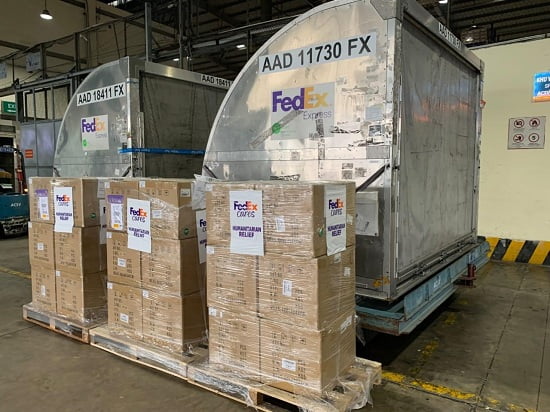 FedEx has a long history of supporting relief efforts across the globe during times of crisis. The company has committed in cash and in-kind transportation support to help non-profits reach underserved communities with COVID-19 vaccines and related supplies around the world. Most recently, FedEx delivered a shipment of COVID-19 vaccines in August to the Government of the Republic of Korea on behalf of the U.S. Government.
FedEx continues to collaborate with governments, healthcare customers, non-profit organizations and the producers of critical medical aid items to provide support where it is needed most.  FedEx has delivered COVID-19 vaccines to more than 50 countries and territories around the world, including the distribution of more than 200 million doses throughout the United States.
About FedEx Express
FedEx Express is one of the world's largest express transportation companies, providing fast and reliable delivery to more than 220 countries and territories. FedEx Express uses a global air-and-ground network to speed delivery of time-sensitive shipments, by a definite time and date.
About FedEx Corp.
FedEx Corp. provides customers and businesses worldwide with a broad portfolio of transportation, e-commerce and business services. With annual revenue of $87 billion, the company offers integrated business solutions through operating companies competing collectively, operating collaboratively and innovating digitally under the respected FedEx brand. Consistently ranked among the world's most admired and trusted employers, FedEx inspires its 560,000 team members to remain focused on safety, the highest ethical and professional standards and the needs of their customers and communities. FedEx is committed to connecting people and possibilities around the world responsibly and resourcefully, with a goal to achieve carbon-neutral operations by 2040.
About PATH Global Health Organization
PATH is a global nonprofit dedicated to health equity. With more than 40 years of experience forging multisector partnerships, and expertise in science, economics, technology, advocacy, and dozens of other specialties, PATH develops and scales up innovative solutions to the world's most pressing health challenges.