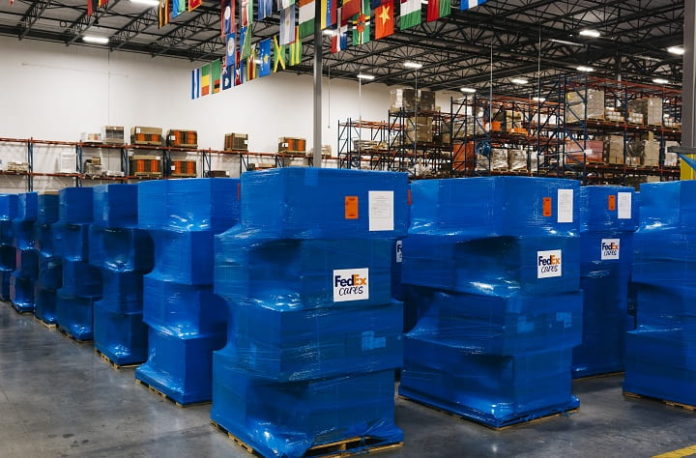 FedEx Express, a subsidiary of FedEx Corp and the world's largest express transportation company, has continued to donate shipping services and work with nonprofits to proactively support with relief efforts, helping prevent spread of the COVID-19 worldwide. These relief supplies shipped from China to the countries around the globe will be allocated by Direct Relief and Heart to Heart International to qualified health centers and hospitals with the most significant public health need, including underserved and vulnerable populations.
FedEx has provided expedited shipping as part of FedEx Cares "Delivering for Good" initiative and the relief shipments include:
Collaborated with Direct Relief to transport three batches of shipments including approximately 3,000,000 surgical masks from China to Santa Barbara, California, U.S. starting on April 3 and were delivered to support the Maryland Emergency Management Agency on April 13 (1 million masks), Massachusetts Emergency Management Agency (500,000 masks) and Delaware (300,000 masks.). The remaining 1.2 million masks will be distributed to U.S. clinics and hospitals.
Worked with Heart to Heart International to deliver 170,000 surgical masks from Shenzhen, China to Kansas City, Kansas, U.S. on April 16 that will be distributed to Kansas City area hospitals and to first responders.
Shipped out 50,000 face shields from China to Direct Relief in the U.S. on April 19 that will be distributed to U.S. clinics and hospitals.
Worked with Direct Relief to move 375,000 surgical masks from China to Mexico (350,000 masks), Ecuador (15,000 marks) and Peru (10,000 marks) starting from April 24.
Since the end of January, FedEx has donated shipping services to Direct Relief, International Medical Corps, Heart to Heart International, and other nonprofits to transport over 1,500 shipments of humanitarian aid weighing more than 175 U.S. tons globally. The supplies included more than 4,449,230 masks, and more than a million pieces of personal protective equipment such as gowns and gloves.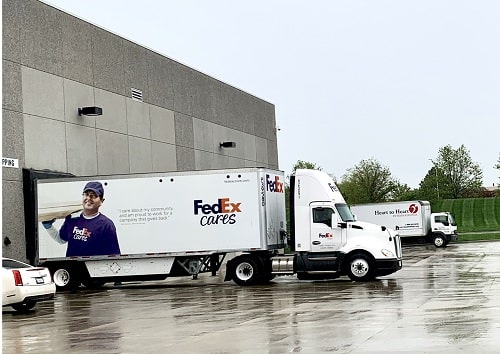 In addition to dedicating efforts to transporting urgent needed medical supplies, FedEx has also been providing continuous support to its customers in Asia Pacific as work and production resume in China.
With a global network covering 220 countries and territories, FedEx keeps operating more than 270 international flights in and out of China every week.
"At FedEx, we have been supporting essential and critical medical shipments to and from impacted areas since the COVID-19 outbreak began while adhering to local conditions and guidelines. As restrictions lift and China looks forward to return to normalcy, we are helping businesses and supply chains, facilitating trade and lifting local economies," said Karen Reddington, president, Asia Pacific, FedEx Express.
Catering to the needs of customers in different industries, FedEx provides "one-stop" solutions and customized services so that shipments are tracked and monitored during transportation and are delivered to the production line on time, helping customers optimize their production and inventory balance while helping ensure efficient operations.
About FedEx Express
FedEx Express is the world's largest express transportation company, providing fast and reliable delivery to more than 220 countries and territories. FedEx Express uses a global air-and-ground network to speed delivery of time-sensitive shipments, by a definite time and date with a money-back guarantee.
About FedEx Corp
FedEx Corp. provides customers and businesses worldwide with a broad portfolio of transportation, e-commerce and business services. With annual revenues of $70 billion, the company offers integrated business solutions through operating companies competing collectively and managed collaboratively, under the respected FedEx brand. Consistently ranked among the world's most admired and trusted employers, FedEx inspires its more than 475,000 team members to remain focused on safety, the highest ethical and professional standards and the needs of their customers and communities. To learn more about how FedEx connects people and possibilities around the world, please visit about.fedex.com.