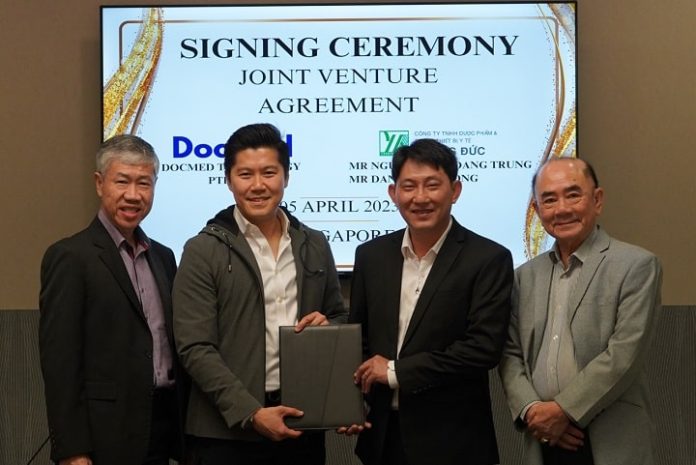 DocMed Technology Pte Ltd has formed a 51:49 joint venture with the equity owners of Hoang Duc Pharmaceutical & Medical Supplies Co., Ltd., a leading private pharmaceutical distribution company in Vietnam, to develop a B2B Virtual Medical Hypermart for pharmaceutical supplies in Vietnam.
The Vietnam Hypermart is envisaged to help digitalise Vietnam's pharmaceutical supply chain and level it up in terms of industry best practices, as well as to promote efficiency and transparency in the supply of authentic pharmaceutical drugs, OTC pharmaceutical products, medical devices and consumables. The Vietnam Hypermart platform is an extension of POM, DocMed's Virtual Medical Hypermart in Singapore.
POM is currently one of the largest B2B medical procurement platforms in Singapore, having achieved more than $30 million in transactions and 500,000 log-ins for 2022.
The pharmaceutical market in Vietnam was valued at around US$10 billion in 2020, compared to US$5 billion in 2015, and is estimated to reach US$16.1 billion in 20261.
The Vietnam Hypermart intends to address the growing pharmaceutical market in Vietnam and through the use of technology, systematically put in place the highest international standards and best practices of pharmaceutical distribution.
Targeting some 35,000 potential B2B customers in Hoang Duc's Vietnam distribution network, comprising hospitals, clinics, independent and chain pharmacies, and other retail outlets, the Vietnam Hypermart will have various digital tools that can be used by its customers to streamline their supply chain, and for local pharmaceutical companies to enhance the distribution of their products, and in doing so, help to promote a more orderly market.
The Vietnam Hypermart will leverage on Hoang Duc's existing distribution channels and DocMed's leading technology capabilities and experience in Healthtech/Pharmtech and the distribution of pharmaceutical products in Singapore. With DocMed's assistance, Vietnam Hypermart strives to raise the awareness of the authenticity of pharmaceutical products amongst its customers and could also potentially introduce the e-pharmacy concept to Vietnam.
Mr Timothy Chen ("陈芳仪"), CEO of DocMed remarked: "We are delighted to partner with Hoang Duc in this endeavour as they are one of leading pharmaceutical distribution companies in Vietnam with strong distribution channels and have adopted international best practices in terms of the storage and distribution of pharmaceuticals. With a strong partner like Hoang Duc, the expansion of DocMed's digital pharmaceutical platform business in Vietnam is off to a flying start."
Mr Trung Nguyen, Managing Director of Hoang Duc commented: "We recognise the capabilities of DocMed and the success of their digital pharmaceutical platforms in Singapore. By partnering DocMed, we can accelerate the digitalisation of our market in Vietnam and bring it to the next level."