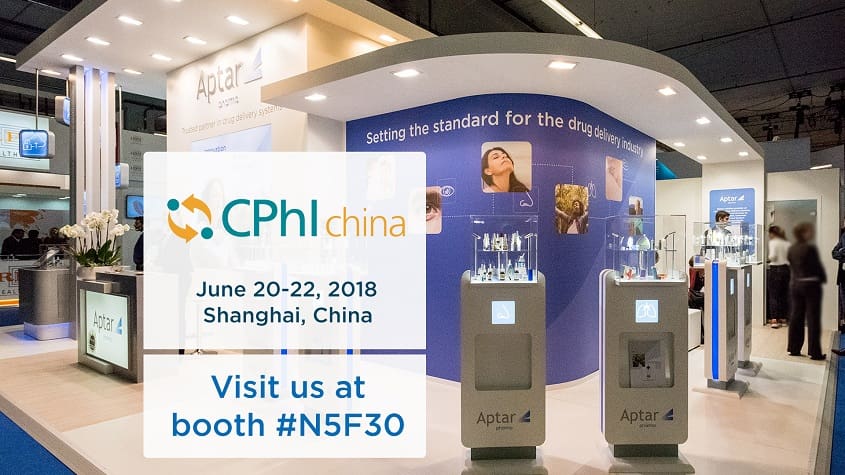 Aptar Pharma, a leading drug delivery systems provider, is pleased to be exhibiting once again at CPhI China 2018, taking place from June 20-22 at the Shanghai New International Exhibition Center, Shanghai, China.
At Booth No. N5F30, Aptar  Pharma will be introducing new market innovations in inhalation drug delivery for the Chinese market, demonstrating the benefits of these exciting respiratory solutions designed to combat the effects of air pollution.
They will also be showcasing their innovative Connected Device portfolio, which covers application fields such as Respiratory and Eye Care. Visitors will have the opportunity to discover these intuitive devices featuring fully-connected functionality and software integration for improving patient health outcomes.
Another highlight of the booth will be Aptar  Pharma's drug delivery systems expertise in dermal innovation. Specialists will be on hand to discuss the newly enhanced dispensing solutions for Aptar Pharma's Airless Dermal Drug Delivery Systems, providing insight into how their technologies and features can support pharmaceutical professionals' drug formulations and consumer products.
In addition to exhibiting, Aptar  Pharma is proud to be hosting a halfday seminar on Friday morning, June 22,featuringtwoAptar Pharma experts who will present  the following interactive sessions:
Healthy Nose, Healthy Life: A Glance at Global Successful Products for Upper Respiratory Health' with Guenter Nadler, Director Business Development, Consumer Health Care Division from 9.30-10.30am 
'Say No to Preservatives: Package Innovation for Ophthalmic & Dermal Products' with Tianjiao Fu, Business Development Manager China, Pharma Sales from 10.30-11.10am
A Q&A session will follow the seminar, which will take place at location N8 in Meeting Room D from 9.30am to 12.00pm.
Guenter  Nadler of Aptar Pharma, comments, 'We are delighted to once again participate in CPhI China, which connects us with the entire Chinese pharmaceutical market. We look forward to show casing our new market innovations and demonstrating our expertise to industry leaders through our broad drug delivery solutions and our seminar presentations at this event'.
CPhI China is Asia's leading trade and networking platform covering the entire pharma industry chain and welcomes over 40,000 experts from over 120 countries to network and collaborate on the forthcoming trends for China's pharma market.
Register for CPhI China today: https://registration.n200.com/survey/3o0tmuwtfnigm?cid=pr_VIS_CNV20180110%7C2&actioncode=CPHI1204
About Aptar Pharma
Aptar Pharma is part of AptarGroup, Inc. , a leading global supplier of a broad range of innovative dispensing and sealing solutions for the beauty, personal care, home care, prescription drug, consumer health care, injectables, food and beverage markets. AptarGroup is headquartered in Crystal Lake, Illinois, with manufacturing facilities in North America, Europe, Asia and South America. For more information, visit aptar.com/pharma.