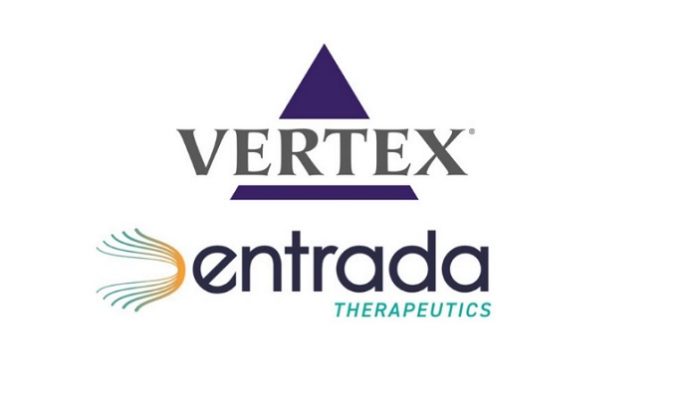 Vertex Pharmaceuticals and Entrada Therapeutics, Inc. entered a global collaboration focused on discovering and developing intracellular Endosomal Escape Vehicle (EEV™) therapeutics for myotonic dystrophy type 1 (DM1). The collaboration includes Entrada's program for DM1, ENTR-701, which is in late-stage preclinical development.
Entrada will receive $224 million upfront, as well as an equity investment of $26 million. Entrada is eligible to receive as much as $485 million for certain research, development, regulatory and commercial milestones, and royalties on future sales for any products resulting from the collaboration.
The agreement includes a four-year global research collaboration whereby Entrada will continue to advance and receive payments for certain research activities related to ENTR-701, as well as additional DM1-related research activities. Vertex will be responsible for global development, manufacturing, and commercialization of ENTR-701 and any additional programs resulting from Entrada's DM1 research efforts.
"Vertex's strategy is to discover and develop transformative medicines for people with serious diseases, and DM1 has therefore been a disease area of interest to Vertex for some time," said David Altshuler, M.D., Ph.D., Executive Vice President, Global Research, and Chief Scientific Officer of Vertex. "Entrada's innovative EEV approach, the significant progress in their DM1 program, and the potential for it to reach the clinic in the near-term hold exciting potential for patients. Working together, we believe we have the opportunity to develop a transformative treatment for this devastating disease."
"Our collaboration with Vertex represents an important step for Entrada as we work to make intracellular therapeutics a reality through our novel EEV approach," said Dipal Doshi, President and Chief Executive Officer of Entrada Therapeutics. "DM1 is a progressive disease with no treatment options available. Working with Vertex will enable us to expeditiously move this program forward, while focusing the majority of our internal resources on advancing new therapeutic options for patients living with Duchenne and expanding our commitment to non-neuromuscular disease programs."