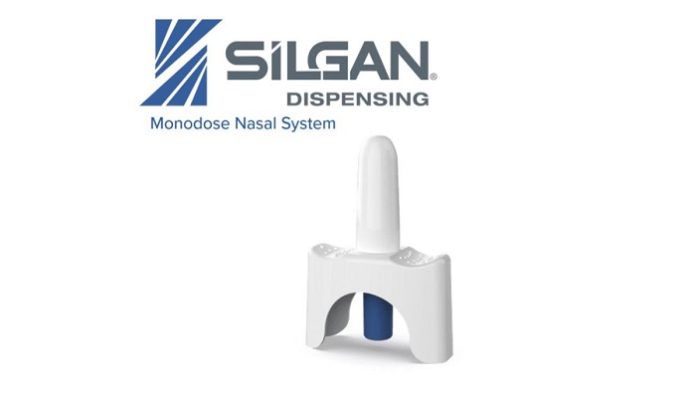 Silgan Dispensing, a global leader in the design, development, and distribution of highly engineered pumps and sprayers in the healthcare, home and personal care markets, will be showcasing the full extent of their healthcare capabilities and portfolio at CPHI Barcelona, highlighting the company's regulatory expertise, dispensing experience, and patient-centered approach.
Silgan Dispensing will be highlighting recent solutions including their multidose eye dropper, Iridya®,  Gemini™ BE Nasal Pump, and their newest innovation, the recently launched Monodose Nasal System.
The Monodose Nasal System
The Monodose Nasal System is a primeless, ready-to-use device that can be used with one hand from any direction, a benefit of its 360-degree delivery capability. The solution is optimized for bioequivalence to help brands expedite product commercialization.
"The nasal cavity presents the most direct passage to the brain and central nervous system, which in certain emergency situations, can mean life or death," said Allan Houston, Vice President, Healthcare Sales & Marketing at Silgan Dispensing. "Monodose supports a range of different use cases, which could include aiding those experiencing an opioid overdose, seizure or anaphylactic shock, to name a few."
Increasingly, intranasal solutions, like Monodose, have shown to be effective at administering drugs such as naloxone that counter the potentially lethal effects of an opioid overdose. The single-dose system allows emergency and health professionals to quickly deliver these life-saving interventions.
Subject to clinical testing, other applications for Monodose may include treatment for migraines, epileptic seizures, anaphylaxis, treatment-resistant depression, severe hypoglycemic episodes and chronic cancer pain.
Regulatory Expertise 
"Between regulatory demands, supply chain issues, and medication adherence concerns, pharmaceutical and healthcare companies face enormous challenges in bringing new drug delivery devices (DDD) to market," added Houston. "While the design and development of these devices is anything but simple, our approach is this: we are a global, cross-functional partner that develops patient-centered solutions to maximize patient outcomes and our customers' success and growth."
Silgan Dispensing's commitment to regulatory compliance and collaboration with industry stakeholders are pivotal factors in averting costly regulatory delays. The company's Bioequivalence (BE) Program, meticulously designed to align with FDA and EMA regulatory requirements, not only expedites DDD development but also instills confidence in the company's customers regarding healthcare packaging compliance.
BE testing helps healthcare companies overcome regulatory and technical barriers that have previously slowed product commercialization. Solutions like Monodose and Gemini™ BE Nasal Pump showcase Silgan Dispensing's ability to deliver expedited DDDs that fit its customers' needs as a replacement or secondary supply chain option.
Silgan Dispensing also develops and submits extensive drug master files including full biocompatibility data and reliability studies to ensure the appropriate regulatory bodies, whether that be the FDA or EMA, have critical information.  Working closely with the different authorities and constantly being up to date is key to a quick and trouble-free qualification.
 Dynamic Production Facilities
Silgan Dispensing has manufacturing facilities across the globe, which allows them to be responsive to changes in the market to meet the needs of its brands. The company's Healthcare Centre of Excellence in Hemer, Germany, is compliant with the highest manufacturing standards and boasts a variety of certifications:
ISO Class 7 clean room for products
ISO Class 8 clean room for warehousing
ISO Quality System Certifications for cGMP ISO 15378
Medical Device Quality Systems ISO 13485
Registered as an FDA Medical Device Establishment
 Empowering Ultimate Patient Care
Getting patients on the road to recovery starts with providing solutions that dispense the right dose easily and reliably. All of Silgan Dispensing's healthcare solutions are rooted in precision and ergonomics. In addition to Monodose, Iridya® utilizes an elongated tip, exceptional ergonomics, and NO-JET technology to ensure an easy, consumer-friendly experience.  Its advanced flow control system makes adapting to increased or decreased viscosity needs simple for even the most difficult formulations, including emerging trends such as gels and suspensions.