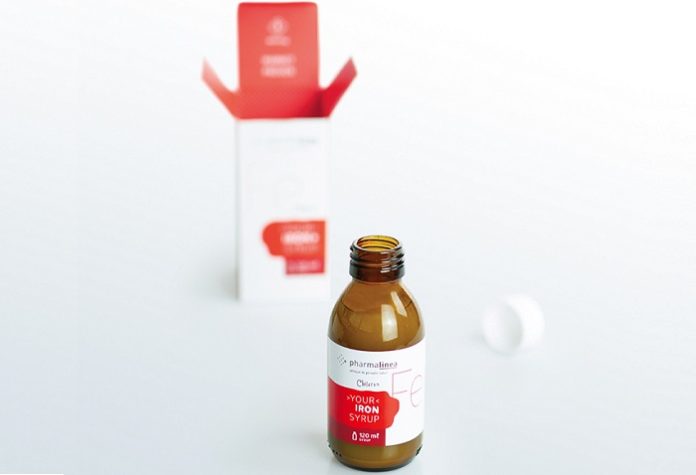 PharmaLinea, a European provider of clinically supported private label food supplements, has announced the publication of a clinical trial on their liquid iron product for children. >Your< Iron Syrup was shown to increase ferritin levels by 69%, from values at-risk of anemia, to healthy values. The product is the first iron supplement that is clinically proven to help iron-deficient children avoid iron deficiency anemia.
PharmaLinea's line of private label iron supplements has already been of interest to pharmaceutical brands and has been launched by companies such as subsidiaries of STADA and Teva, because of the advantages compared to the current market. Maja Orešnik, Science and Research Director at PharmaLinea claims that "With the increasing numbers of pharmaceutical companies entering the food supplement space and showing interest in our products, the pressure for high-quality clinical evidence of efficacy is growing. Hence our investment into a gold standard clinical trial on >Your< Iron Syrup. With the applied good clinical practice standards and the outstanding results, the trial will be a powerful tool for our clients' medical detailing. No iron supplement in the market has a comparable study behind it."
Results present the first clinical evidence that iron deficiency in children can be avoided with an iron supplement. After 12 weeks of supplementation, >Your< Iron Syrup increased mean ferritin levels by 69%, from the starting depleted values, at risk of anemia (14,5 ug/l), to healthy end values (24,5 ug/l). In contrast, children receiving placebo retained suboptimal ferritin levels despite being advised on an iron-rich diet. The study also examined several other biological markers of iron status and found that beside ferritin, children who took >Your< Iron Syrup also showed significantly higher end-point values of hemoglobin (p = 0,02), hematocrit (p = 0,02), and erythrocytes (p = 0,03).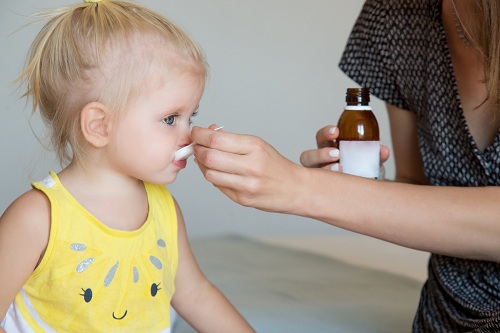 Four widely recognized indicators of iron status were thus improved with statistical significance. The mean compliance was 92%, without a significant difference between both experiment arms. Only 8% of scheduled doses were missed both by subjects in the test group and placebo group and the presence of iron in the product did not decrease compliance at all. Additionally, there was no significant difference in adverse events between the experiment arms and there were no confirmed related severe adverse events in the entire trial. Researchers concluded that >Your< Iron Syrup is very well tolerated and safe.
Orešnik goes on to explain the implications of the trial: "Around 15% of preschool children are iron-deficient and not yet anemic. The only choice their doctors had up till now is to either advise a change in diet or supplements without any proof of efficacy and hope for the best. If children's iron levels continue to drop, they can progress to iron deficiency anemia at which point it is characterized as a disease and is treated with drugs. The latter frequently cause severe side effects such as diarrhea, nausea, gastric irritation, and constipation. You can imagine that both doctors and parents want to avoid this at all costs. Unfortunately, most iron supplements are based on poorly bioavailable iron salts, have bad metallic taste, and can cause similar side effects as drugs, on top of lacking clinical evidence. There really are no good solutions for this large population of children. In fact, about 20% of preschool children reach a deficiency level considered anemic. Many cases among these 20% could be prevented with efficient supplementation. There is a great market need for an iron supplement with clinically proven efficacy, as well as good taste, child-friendly form, and absence of side effects."
PharmaLinea claims this need can be proven by case studies of their products launched in various markets. "A partner of ours in Europe launched >Your< Iron Line and is now reaching 500.000 ordered units a year, in a market of under 20 million people. The market opportunity is not very obvious to everyone, because iron supplements can be a relatively small and undeveloped market in certain countries. Iron drugs usually dominate the market but we have seen many cases now where our products, or even competitors, are launched into the market and create market growth. With the addition of the clinical trial, the opportunity has become unmatched," adds Blaž Gorjup, Chairman & Founder of PharmaLinea.
With >Your< Iron Syrup, children who are at risk of anemia and drugs with severe side effects now have a supplement alternative that is clinically shown to raise ferritin to healthy levels. Without causing side effects and with them likely consuming as much as 92% of the syrup. Pediatricians thus have an option they can confidently prescribe.