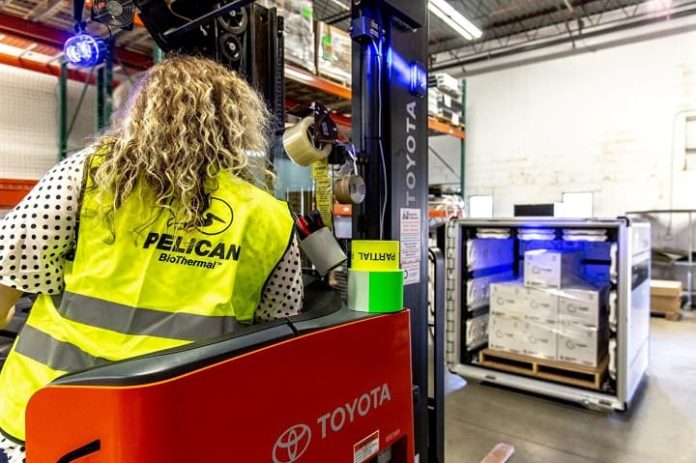 PeliBioThermal, the global name in temperature controlled packaging solutions, announces new service offerings that support customers who use single use products, such as CoolPall™ Flex single use bulk shippers and CoolGuard™ Advance single use parcel shippers. The company now offers the option to condition BRIC coolants for single use products at locations worldwide.
"Over the past several years, we've worked to expand our presence across the globe to make our services more accessible to our customers," said David Williams, President of PeliBioThermal. "Yet not all of our customers could benefit from our global network. We're excited to extend services to our single use packaging customers, allowing them to focus on their core business–developing pharmaceutical products."
PeliBioThermal is known for its ability to condition and deliver ready-to-use reusable products worldwide. This service helps customers who do not have the facilities, equipment or staff to condition their temperature controlled packaging. Some customers of single use packaging have the same needs, which is why the company is expanding its offerings to support this segment.
Strategically placed in pharmaceutical hubs and high-traffic shipping lanes across the globe, PeliBioThermal's network includes more than 80 locations. The company's service centres and network stations refurbish, repair and condition a variety of reusable temperature controlled packaging.
Peli BioThermal is a division of Peli Products, S.L.U., which is the European arm of Pelican Products, Inc., which is a portfolio company of Behrman Capital, a private equity investment firm based in New York and San Francisco.
AboutPeli Products
Peli Products, S.L.U. is the global leader in the design and manufacture of high performance protective cases, temperature-controlled packaging solutions, advanced portable lighting systems and rugged gear for professionals and outdoor enthusiasts. Their products are used by professionals in the most demanding markets including fire safety, law enforcement, defense / military, aerospace, entertainment, industrial and in numerous outdoor markets.
Peli™ products are designed and built to last a lifetime. Headquartered in Torrance, CA, Pelican Products, Inc. operates in 25 countries, with 23 international sales offices and twelve manufacturing facilities across the globe.  
About PeliBioThermal
PeliBioThermal Ltd. offers the widest range of temperature controlled packaging and service solutions to the global life sciences industry. The company is the recipient of two Queen's Awards for Enterprise: International Trade in 2018 and Innovation in 2017. The company's products ensure that delicate biological materials arrive intact and effective, despite exterior environments. PeliBioThermal is dedicated to developing innovative products designed to fulfil the complex needs of the global life sciences industry. The company's customers benefit from its extensive expertise in ensuring that temperature stability is maintained throughout the distribution chain. The company also offers a complete portfolio of services and software to support end-to-end temperature-controlled packaging asset management. Outside of Europe, the company does business under the name Pelican BioThermal LLC.