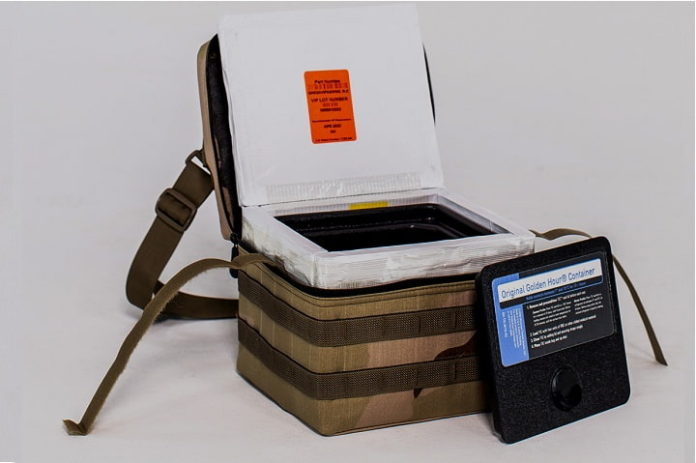 Peli BioThermal, the global name in temperature controlled packaging solutions, will showcase its latest version of Golden Hour™One products for the first time at DSEI 2021, the world's largest gathering of the defence and security community.
The Peli BioThermal team of experts will be located at stand H1-748 in the Medical Hub dedicated to those at the forefront of military medicine solutions,where the company will introduce its innovative Golden Hour One products at the bi-annual event, being held at ExCel, London from 14 – 17 September, 2021.
The Golden Hour One equips individual soldiers with life-saving blood products in far-forward combat areas and the two newest versions of the company's ultra-light, reusable thermal packaging containers are designed to carry and protect one unit of whole blood. Both the rectangular and cylinder versions are equipped with built in data loggers to track temperature information and reliably protect the safety of the life-saving blood product payload.
"For more than a decade, military personnel worldwide have trusted our pioneering products and world leading technology to securely, safely transport blood supplies, pharmaceuticals, tissues, biologics and vaccines globally to where they are needed most," said Paul Terry, Director of Sales EMEA, at Peli BioThermal. "We are delighted to be able to share our knowledge and extensive expertise within this specialist sector at DSEI. We will be exhibiting products incorporating our Golden Hour™Technology, winner of the 2003 US Army's Greatest Invention Award, which have helped save so many military lives on the front line and beyond over the years."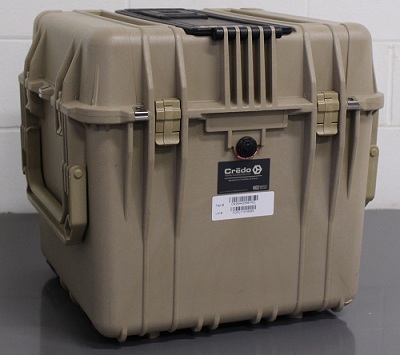 Peli BioThermal will be exhibiting its family of Golden Hour products, which safely transport critical blood to troops fighting in far-forward combat areas without access to fixed medical facilities. Peli BioThermal's patented, award-winning Golden Hour technology provides military personnel access to the whole blood or platelets needed to save lives on the battlefield during the critical first hour after injury.
The Golden Hour technology was invented by Peli BioThermal in 2003 in response to the US Army's request for a reliable temperature controlled container that medics could use to transport blood and platelets in combat zones and serves as the foundation for Peli BioThermal's products Credo Cube™ and Credo DURACUBE™ HD, which will also be exhibited at DSEI alongside the low profile and life-saving Golden Hour systems including:
Golden Hour™One–The next generation of Golden Hour products making its debut at the event, both versions (F & V) of this ultra-light package solution protect a single unit of whole blood, maintaining temperature for 18 hours under extreme conditions and perform for 36+ hours under optimal conditions. Ideal for easy, fast assembly and simple pack-out for all seasons.
Golden Hour™Mobile – Winner of US Army's Greatest Invention Award which easily transports up to four units of whole blood and maintains temperature control for 72 hours or more.
Golden Hour™Medic – Combat-portable medic pack, this nimble option stores two units of whole blood, keeping blood cool for 24 hours under extreme conditions and up to three days under optimal conditions. Reusable carrier mounts on medic's kit.
Peli BioThermal is a division of Pelican Products, Inc., which is a portfolio company of Behrman Capital, a private equity investment firm based in New York and San Francisco.
About Pelican Products
Pelican Products, Inc. is the global leader in the design and manufacture of high performance protective cases, temperature controlled packaging solutions, advanced portable lighting systems and rugged gear for professionals and outdoor enthusiasts. Their products are used by professionals in the most demanding markets including fire safety, law enforcement, defense / military, aerospace, entertainment, industrial and in numerous outdoor markets. Pelican™ products are designed and built to last a lifetime. The company operates in 25 countries, with 23 international sales offices and twelve manufacturing facilities around the globe. In Europe, the company does business under the name Peli Products, S.LU.
About Peli BioThermal
Peli BioThermal Ltd. offers the widest range of temperature controlled packaging and service solutions to the global life sciences industry. The company is the recipient of two Queen's Awards for Enterprise: International Trade in 2018 and Innovation in 2017. The company's products ensure that delicate biological materials arrive intact and effective, despite exterior environments. Peli BioThermal is dedicated to developing innovative products designed to fulfill the complex needs of the global life sciences industry. The company's customers benefit from its extensive expertise in ensuring that temperature stability is maintained throughout the distribution chain. The company also offers a complete portfolio of services and software to support end-to-end temperature-controlled packaging asset management.