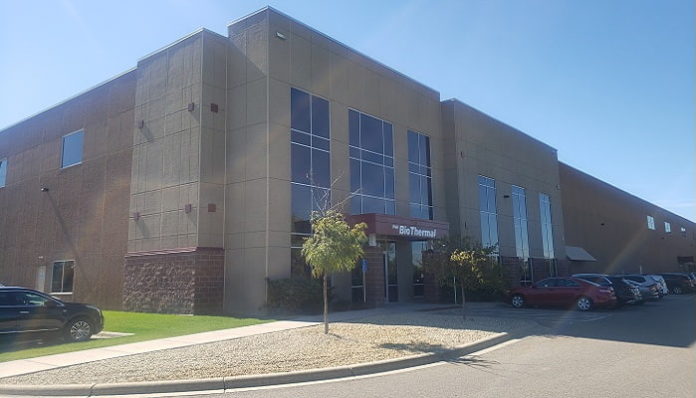 Peli BioThermal, the global name in temperature controlled packaging solutions, announces the relocation of its Minnesota-based corporate headquarters from Plymouth to Maple Grove, MN. The new space adds 40 percent more square footage, positioning the company to meet increasing demand for thermal packaging that maintains the efficacy of blood supplies, tissues, biologics, pharmaceuticals, diagnostics, and vaccines during transit.
"COVID-19 vaccines and therapeutics created unprecedented demand for temperature controlled packaging," said David Williams, president of Peli BioThermal. "Fast-growing markets like cell and gene therapy will continue to increase demand and the need for product innovation. Our new building will allow us to achieve the capacity we need to grow and evolve alongside our customers."
Located at 10050 89th Avenue North in Maple Grove's Red Rock Business Park, the new facility is over 100,000 square feet. The space will include additional production lines and will house Peli BioThermal's 80 plus Minnesota-based employees, with room for future growth.
Earlier this year Peli BioThermal shared its plans to evolve its offerings, including launching an additional portfolio of thermal shippers, rental programs, outsourcing services and new technology that connects all aspects of the cold chain for its customers. The company will also add new service centres to support the expanded offerings, growing its already robust and unmatched global network.
Peli BioThermal is a division of Pelican Products, Inc., which is a portfolio company of Behrman Capital, a private equity investment firm based in New York and San Francisco.
About Pelican Products
Pelican Products, Inc. is the global leader in the design and manufacture of high performance protective cases, temperature controlled packaging solutions, advanced portable lighting systems and rugged gear for professionals and outdoor enthusiasts. Their products are used by
professionals in the most demanding markets including fire safety, law enforcement, defense / military, aerospace, entertainment, industrial and in numerous outdoor markets. Pelican™ products are designed and built to last a lifetime. The company operates in 25 countries, with 23
international sales offices and twelve manufacturing facilities around the globe. In Europe, the company does business under the name Peli Products, S.LU.
About Peli BioThermal
Peli BioThermal offers the widest range of temperature-controlled packaging and service solutions to the global life sciences industry. The company is the recipient of two Queen's Awards for Enterprise: International Trade in 2018 and Innovation in 2017. The company's products ensure that delicate biological materials arrive intact and effective, despite exterior environments. Peli BioThermal is dedicated to developing innovative products designed to fulfill the complex needs of the global life sciences industry. Peli BioThermal's customers benefit from its extensive expertise in ensuring that temperature stability is maintained throughout the distribution chain. The company also offers a complete portfolio of services and software to support end-to-end temperature- controlled packaging asset management.