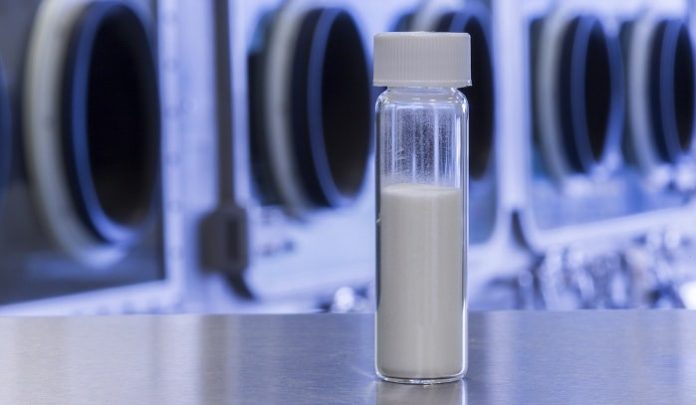 Heraeus Pharmaceutical Ingredients, a business line of Heraeus Precious Metals, has expanded its capacity for Platinum-based highly potent active pharmaceutical ingredients (Pt HPAPIs) with an additional production line built at the company's headquarters in Hanau, Germany.
Heraeus is the leading market supplier for Platinum-based HPAPIs, which are a key component used in cancer chemotherapy. As cancer cases rise across the globe, Heraeus has increased its production capabilities to ensure it leads the drive for much-needed capacity to meet the long-term global market demand.
The technical set-up of the new production line is now complete and commercial production is scheduled to begin in 2020 upon completion of the validation process.
Dr. Marcus Hannakam, Head of Heraeus' Pharmaceutical Ingredients Business Line said: "This multi-million Euro investment in additional capacity underlines our commitment to lead in this field and help our customers in the vital job of providing the drugs to treat cancer patients across the globe.
"We have a proud tradition in high quality precious metal technologies and a continued focus on fostering long-term partnerships with our customers who work on therapies to fight cancer.
"With the technical set-up of our new production line now complete, we are primed and ready to meet the growing market demands from our clients for Platinum-based HPAPIs and lifesaving treatments for cancer patients."
Platinum-based HPAPIs are used in chemotherapy treatments to combat a range of cancers, including lung, colorectal, ovarian and testicular cancer. The need for Pt HPAPIs in cancer treatment has been rocketing due to demographic changes leading to more cancer cases, emerging countries gaining access to chemotherapy and usage of Platinum-based HPAPIs in combination therapy.
For more information on Heraeus Pharmaceutical Ingredients visit: www.heraeus-pharma.com
About Heraeus Pharmaceutical Ingredients
All Pt HPAPIs are developed and manufactured by Heraeus Pharmaceutical Ingredients at Heraeus' headquarters in Hanau, Germany. For more than 30 years, Heraeus has been building its reputation as number one supplier of Pt HPAPIs used in cancer therapies worldwide. By putting great emphasis on the highest quality of all its products, Heraeus Pharmaceutical Ingredients takes pride of being certified by all major health authorities and agencies, including the U. S. Food and Drug Administration.
About Heraeus
A globally leading technology group, Heraeus is headquartered in Hanau, Germany. Founded in 1851, it is a family-owned portfolio company which traces its roots back to a pharmacy opened by the family in 1660. Today, Heraeus combines businesses in the environmental, energy, electronics, health, mobility and industrial applications sectors.
In the 2018 financial year, Heraeus generated revenues of €20.3 billion with approximately 15.000 employees in 40 countries. Heraeus is one of the top 10 family-owned companies in Germany and holds a leading position in its global markets.
With technical expertise, a commitment to excellence, a focus on innovation and entrepreneurial leadership, we are constantly striving to improve our performance. We create high-quality solutions for our clients and strengthen their long-term competitiveness by combining unique material expertise with leadership in technology.