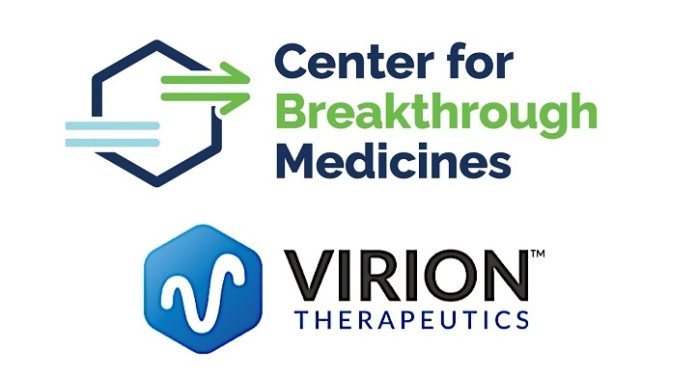 Center for Breakthrough Medicines (CBM), a contract development and manufacturing organization (CDMO) dedicated to addressing critical challenges associated with the commercialization of cell and gene therapies, and Virion Therapeutics (Virion), a clinical-stage biotech company focused on the development of accessible CD8+ T cell-based technologies for cancers and infectious diseases, entered a strategic collaboration agreement wherein CBM will manufacture and partner with Virion on their checkpoint modifier clinical development programs, including the First-in-Human VRON-0200 immunotherapy for patients with chronic Hepatitis B Virus (HBV) infection.
"Virion is working to revolutionize the immunotherapy treatment landscape, and we are honored to partner with them on this bold mission as we share a common goal, to create a future free of cancer and chronic infectious diseases," said Audrey Greenberg, co-founder and chief business officer of CBM. "We have assembled best-in-field technical teams, supported by industry-leading product and process development, manufacturing, and testing capabilities, all located within a single, world-class manufacturing facility. We look forward to working with Virion to bring their life-saving therapies to the patients who need them most, as quickly as possible."
"Virion is delighted to expand our partnership with CBM through this key strategic collaboration," said Virion's chief operating officer, Sue Currie. "As we head to the clinic with our first-in-class, first-in-human program, VRON-0200, for a functional cure for HBV, as well as our other IND-enabling activities for our oncology programs, it is critical to have a manufacturing partner like CBM that has not only the capabilities and breadth of services, but also a highly dedicated and experienced team. We are pleased to have this partnership that is also invested in our corporate goals and values."
Andrew Luber, Virion's CEO, said: "CBM is a great partner to support Virion's pipeline and help address high unmet medical needs for persons with cancer and infectious disease worldwide. "We look forward to our continued collaborations and for their assistance in advancing our programs from early- to later-stage clinical trials." vested in our corporate goals and values."
One of the key programs CBM and Virion will be working on is the VRON-2000, a pan-genotypic, global therapeutic immunotherapy for the treatment of chronic HBV infection, which is estimated to impact over 295 million people around the world. HBV infection impairs CD8+ T cells, resulting in the loss of viral control.
According to the companies, research has shown that VRON-0200 induces a very potent and broad CD8+ T cell response that includes responses to the core and pol regions not normally induced by the infection; as such, a new and highly functional immune response is stimulated to help clear the virus.